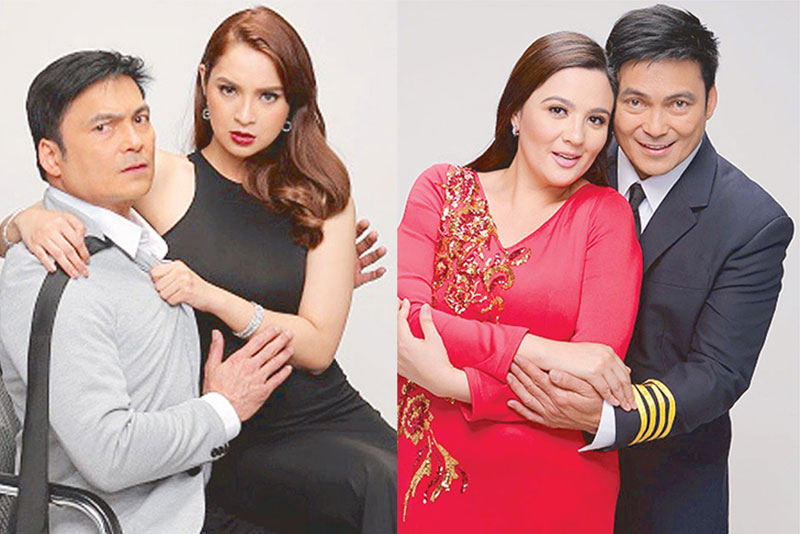 In the hit GMA adult drama "Ika-6 Na Utos," Gabby Concepcion is torn between his mistress (Ryza Cenon, left) and his wife (Sunshine Dizon, right).
Gabby Concepcion big winner at Seoul Drama Awards
(philstar.com) - September 8, 2017 - 1:14pm
MANILA, Philippines — Filipino actor Gabby Concepcion won the Asia Star Award for his outstanding performance in the drama "Ika-6 Na Utos" at the 12th Seoul International Drama Awards that took place on September 7 at KBS Hall in Seoul, South Korea.
Gabby was the second Filipino to receive the award. Actor Dennis Trillo bagged the same award in 2016.

Malaysia's Debbie Goh, Japan's Hyunri, India's Satyadeep Misra and Thailand's Sukollawat Kanarot also received the Asia Star Award for their outstanding portrayals in their respective dramas.

NBC breakout hit "This is Us" brought home the Grand Prize. Produced by 20th Century Fox, the American television series follows the intertwined lives of unlikely triplets, and stars actors Milo Ventimiglia, Mandy Moore, Sterling K. Brown, Chrissy Metz, Justin Hartley, Susan Kelechi Watson, Chris Sullivan, and Ron Cephas Jones. The series will premiere its second season on September 26, 9 p.m., still at NBC.

"Redemption Road (Germany)" and "The Red Teacher" (Korea) both won Golden Bird Prize for TV Movie category.

The Golden Bird Prize for the Mini-Series category went to "Please Love Me" (Belgium). "Deep Water" (Australia) won the Silver Prize.

For Serial Drama category, "The Slave Mother" (Brazil) took the top prize, while "Brave and Beautiful" (Turkey) came second. Hilarious drama "Fleabag" garnered the top prize in the Comedy category.

Switzerland's Urs Egger was named Best Director for his directorial work in "Gotthard," while Austria's Rodica Doehnert, who took the helm in "Das Sacher," was the Best Screen Director. Best Actor went to Turkey's Kerem Bursin for his outstanding portrayal in "Heart of the City," while Russia's Aleksandra Nikiforova, who starred in "Anna Detective," was the Best Actress.

"We Are One" (Taiwan) and "P.O.W – Bandi Yudh Ke" (India) received the Special Jury Awards.

Well-loved Korean dramas shone brightly at the awarding. Romantic drama "Love in the Moonlight" was judged as Excellent Korean Drama. Its leading actor, Park Bogum, was named Outstanding Korean Actor.

Park Bo-young, who played lead character, along with actor Park Hyungsik, in "Strong Woman Do Bong Soon," was named Outstanding Korean Actress. "W: Two Worlds," starring actors Lee Jongsuk and Han Hyo Joo, and "Doctors" tied for the Outstanding Korean Drama awards.

The Best Theme Song Award for Hallyu Drama went to "I Will Go to You Like the First Snow,''an OST from the fantasy drama "Goblin" and performed by singer Ailee.

"Mozart in the Jungle Season 3" (United States) received Special Invitation citation.

On its 12th year, the Seoul International Drama Awards gives recognition to excellent drama productions worldwide. The annual award ceremony hosted by the Korean Broadcasters Association broke its submission record with the highest number of participating countries and drama submissions, counting to 266 entries from 55 different countries. This was despite the absence of submissions from China, an incident that happened for the first time in 12 years.

Hosted by comedian Shin Dong Yup and actress Kim Jung Eun, with singer Ailee, Red Velvet, dance crew Prepix and The Barberrettes as guest performers, the 12th Seoul International Drama Awards was not broadcast live as it was in the previous years. The live broadcast was previously scheduled to take place last September 7, at 5:30p.m. (KST) at KBS channel, but it was cancelled due to the KBS general strike. KBS2 aired the the recorded broadcast on September 8 at 12 a.m.