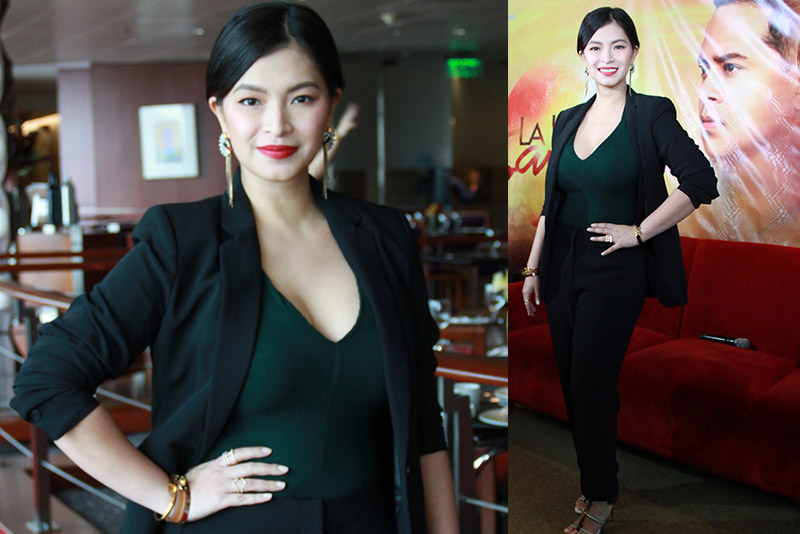 Meet Jacintha Magsaysay - the new character Angel Locsin is playing in primetime series "La Luna Sangre." ABS-CBN/Released
Angel: Richard's character might fall in love with the new me in 'La Luna Sangre'
MANILA, Philippines — When Angel Locsin was asked if her new character in "La Luna Sangre," Jacintha Magsaysay, will fall in love with Richard's character, Sandrino, she quipped: "Baka s'ya po ang ma-fall!"
"Baka may problema na po s'ya sa mata kung 'di pa s'ya ma-in-love (with Jacintha)!" said Angel, who added that she is willing to get bitten by Richard's vampire character.
She did not expect that fans' dedication for the #ChardGel love team is still on. She knows that people have been waiting for their "balik-tambalan," which is also something she has been hoping for in her return in "La Luna Sangre."
At first, she cannot believe that she will return in the series. "Nu'ng una nilang sinabi sa'kin na babalik ako, akala ko joke lang. Ang sabi ko, 'Di nga? Ows?'"
Now, she is happy to be "back into action." "Excited na ko na makita sila ulit at makasama sa set," she enthused.
"I didn't have the chance to tell Kathryn earlier since it was a secret. I didn't know who else knew about my character. However, before the episode aired last night, I already texted her and said 'Kath, I'll see you soon.' Then she replied with so many emoticons so I think she's just as happy as I am," Angel shared.
She said she is even physically prepared to be strapped in a harness as she no longer feels pain in her body since she had two spine surgeries last year.
"I'm willing to do all things 'wag lang pong hubad!" Angel enthused.
Why Jacintha with an H?
Besides surprising fans with her comeback, Angel also took watchers at the edge of their seats with her new name in the show, Jacintha Magsaysay.
According to her, she and the series' staff had a debate on what name she should take and among those suggested were Lotlot and Len-len.
"Ayoko talaga ng Lotlot! 'Di ko alam kung papano 'yun i-acting," Angel said.
Star Creatives creative manager Henry Quitain said he also initially wanted the name Marikit. But after finding out that Jacintha has a vintage ring to it and has never been used often or at all in a soap opera, they stuck with it. Angel likes the name because it sounds "labas dila" with an H.
Jacintha is the campaign strategist of Sandrino (Richard Gutierrez) who wants her on board to make sure he wins the presidency.
"Jacintha is a very mysterious person. She used to live abroad and became popular after she helped a presidential candidate, who got involved in a big scandal, win. She is really good at what she does, so Sandrino looked for her so she can help him become the next president of the Philippines," Angel explained.
But compared to Lia, Kathryn Bernardo's provincial lass mom who got killed together with John Lloyd Cruz in the series' first episodes, Jacintha is a human, who is fiercer and more sophisticated, said Angel.
"If we watch closely, we can see her sophistication while she speaks and she is affluent. She can keep up with anybody and she speaks her mind," Star Creatives creative manager Henry Quitain added.
With Jacintha's appearance, fans are now wondering if she is a reincarnation of Lia or Lyka? Is she a friend or a foe to the characters of the main stars, Daniel Padilla and Kathryn Bernardo?
Angel did not answer these questions in the press conference following her great reveal on Wednesday night. Instead, she said: "Gusto ko maging bida sana pero kung ano 'yung kailangan…Nakakapagod din na Lia or Lyka parati."
This time around, Quitain assured that Angel will stay in the series "hangga't kailangan s'ya ng kuwento."
Now that Angel's desire to be back has come true, the actress, who flew to Marawi to comfort Marawi refugees, only has one wish: "Sana matapos na 'yung gulo sa Mindanao at makauwi na ang mga kababayan natin."