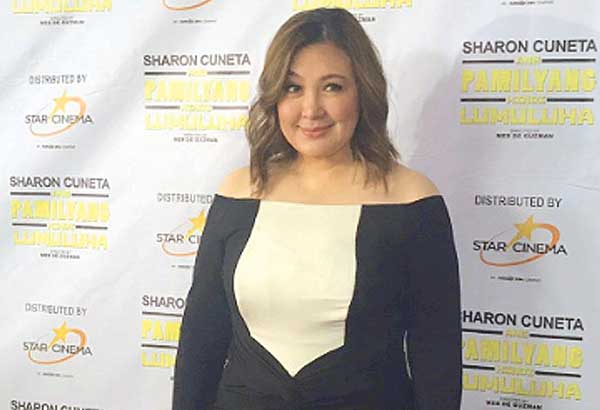 Sharon Cuneta on acting in Ang Pamilyang Hindi Lumuluha: Yan ang masarap sa indie. You can do anything you want. You can gamble.
Sharon & the family that never weeps
Jerry Donato
(The Philippine Star) - September 7, 2017 - 4:00pm
MANILA, Philippines — Sharon Cuneta has essayed varied images of motherhood on the big screen. Remember, the young mom to an innocent child in Kahit Wala Ka Na; the affectionate stepmother in Madrasta; the sacrificing, battered woman in Minsan, Minahal Kita; and the working Pinay abroad in Caregiver, to name a few?
With her recent artistic collaboration with director Mes De Guzman in the Cinemalaya Independent Film Festival entry Ang Pamilyang Hindi Lumuluha, Sharon has added Cora, an exciting and fascinating character as a pair of lens to look at motherhood, perhaps giving another layer to that mater dolorosa image moviegoers are acquainted with. Distributed by Star Cinema, the comedy drama is now showing in theaters.
"In this movie, I didn't have any inhibitions," said Sharon, in a recent media call, of Cora, who looks for ang pamilyang hindi lumuluha (the family who does not weep) to make her family complete again. "I felt I had the license to play a role that's a bit crazy (offbeat) because I was doing an indie. Yan ang masarap sa indie yata. You can do anything you want. You can gamble. Dito lasinggera ako, iisa lang yung suot kong damit sa buong pelikula." And the cineastes are challenged to infer the meaning of a scene when the actress changes the color of her clothes. Sharon shared that Cora's desperation emanates from the latter's troubled family life, living in a house with a trustworthy househelp (played by Moi Bien), who, "In the end, she has become part of my family," Sharon added.
The film narrative follows Sharon as the landowner-turned-media personality whose children (one of them is portrayed by Michelle Vito) and husband have pursued a life of their own. Left with an empty nest, Cora is resolved to bring back what she used to have by again seeking for that fabled family's help.
"It's a myth in my (character's) town that the family brings prosperity, peace and happiness," she said. "Since Cora is desperate to locate the whereabouts of the family, dun siya nag-focus at hindi sa Panginoon. Parang nanampalataya sa tao, sukdulan na sambahin niya. She believes in the (myth) and she has finally found the family." What's also interesting to know in the movie is the hint of the "history-repeats-itself" theme. Cora's mother also seeks ang pamilyang hindi lumuluha and asks the family to stay with her.
"Kaya pamilyang di lumuluha kasi literal silang di lumuluha kahit patakan mo daw ng juice ng sibuyas sa mata," said Sharon. "The family members couldn't cry even if they wanted to. One day, one of the children cried with no reasons at all. That destroyed whatever Cora's townmates had imagined about the special power the family possessed. So parang umalis o pinaalis yung pamilya, there were rumors that they sought refuge in a mountain or in a cave." So the sub-story about the family is important to and intertwined with Cora's personal story.
"The movie is a reminder (to all) that there's a higher power you can really run to," Sharon said.
The movie somehow reflects the beginnings of Mes' story in writing and making the film.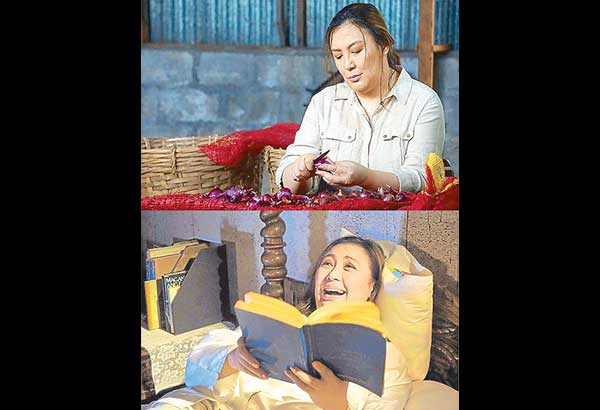 As Cora, who is desperate to make her family complete again
"I'm from Nueva Vizcaya. It is known for onion farming," he said. "Lumalaki ako na naamoy ko yung sibuyas. I told myself that someday, I would write a novel or make a film about onions. When I thought about this film for Ms. Sharon Cuneta, I also saw the irony in onions na kapag naghihiwa tayo, nasinghot natin (ito), hindi naman dahil pumatak sa mata natin o natalsikan tayo, nasinghot natin kaya tayo naiiyak. I just wanted to toy with the idea. That's the metaphor or the irony of the film. It seems to be the film's core. Most of my films have a symbol or a metaphor where they are coming from."
After many years of starring in mainstream movies, Sharon had finally plunged into independent film acting and for sure, her experience was liberating.
"At this stage in my life and in my career, I had dreamed of having an independent film like what Ate Guy and Ate Vi did. I wanted to experience everything an artist like me could experience in my industry. And people would send me storylines and... ay parang nakita ko na ito somewhere. Direk Mes sent me a letter introducing himself with a storyline and the list of his works. I liked the storyline (of Ang Pamilyang Hindi Lumuluha) right away because it's unique and because of the irony."
Sharon said it took them three years before they could roll or start shooting. "I was impressed by the works of direk Mes. I have DVDs of (Ang Daan Patungong) Kalimugtong and (Ang) Kwento ni Mabuti." When she learned about the movie, Sharon became excited and it was a sign that she had to give it a go.
(The movie also stars Niño Muhlach, Cris Villanueva, Kiko Matos, Richard Quan, Flor Salanga, Joe Gruta, Alonzo Muhlach, Philip Olayvar, Tadz Obach, Ren Escano and Marion Dizon.)