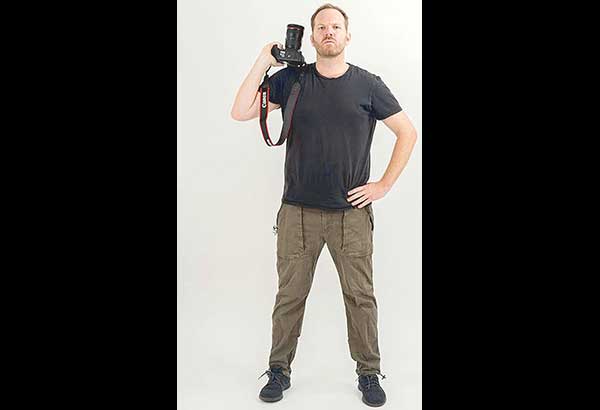 Award-winning photographer Justin Mott
Showdown of Asia's best amateur fotogs on History
MANILA, Philippines - It's Asia's shutterbugs' turn to shine once again.
Four Filipinos will be among 23 amateur lensmen from across the Asian region who will compete in the fourth season of the top photography reality contest TV series in Asia, Photo Face-Off, to kick off on Aug. 24 on History Asia.
Presented by Canon PhotoMarathon, the five one-hour episodes (Thursdays at 9 p.m.) will each feature the best amateur photographers from Indonesia, Malaysia, the Philippines, Singapore and Vietnam battling against each other in their respective home cities that will test their skill, technical knowledge and creativity to the limit.
Internationally-acclaimed photojournalist and commercial photographer Justin Mott will return as the chief judge. Not only he runs an internationally-renowned commercial photography and video production studio, his editorial shots are also published frequently in The New York Times, TIME, The Wall Street Journal, BBC, CNN, The Guardian, Forbes and Bon Appetit, among many others.
"I'm looking for a shot that always stands out, one that has great emotions, and with great lights and color," Mott told The Philippine STAR. "Pictures are straight out of the camera so they (contestants) cannot tone (a photo) or crop it. They can only use camera filters but nothing in post-production so the shots are very raw and very genuine."
"I'm treating these amateur contestants like real pros so I wanna put them to a lot of tests," Mott said. "People take nice pictures but how do you do it under pressure from a real client? How do you do it in a real photography situation? I may come off a little bit mean on the show because I want them to learn. I hold them and myself to high standards."
Mott will be joined by local expert guest judges in each country, who will also offer an array of practical advice and handy tips.
The three-round battle in each episode comprises a speed challenge (first round) making contestants race against time to produce a professional shot (one contestant will be eliminated); a themed challenge (second round) to deliver on a client's creative brief (one will be eliminated); and a final face-off (third round) where the two remaining contestants will compete against Mott. The last man standing earns a spot as the country's representative to the finals, with additional cash prize if he or she beats Mott, plus bragging rights for beating an award-winning ace photog.
Despite his credentials and vast experience, Mott has lost in the past seasons to amateurs during face-off.
"I still hate it when I lose," he said, laughing. "I'm still arguing that my photos are better. In my opinion, I shouldn't have lost at all."
The five champions from each country plus a wild-card hopeful will move on to the final round to be held in Chiang Rai, Thailand. The crowning of the Photo Face-Off ultimate champ will be telecast in a one-and-a-half-hour grand finale.
Prizes at stake include a Canon DSLR, an all-expenses-paid trip in the esteemed Canon PhotoMarathon Asia Championship, as well as a cash prize.
Competing from the Philippines are Janos Leo Andanar, 29, a registered nurse; Mary Princess Ayana Ibajo, 26, a creative service supervisor; Blaine Jarligo, 19, a student; and Michelle Kimberly Chua, 25, a sales manager.
Serving as local judges in the Philippines are Jijo de Guzman as resident judge and Joseph Pascual as face-off judge, with Lea Bernardo as client judge.
De Guzman, specializing in action photography and sports, is the 2015 Master Photographer of the Camera Club of the Philippines and 2016 Canon's Brand Ambassador. Pascual, specializing in portrait and street photography, shoots for Esquire and Town and Country Philippines, and counts Coca Cola, Dove and Wilkins Water among his commercial clients. Bernardo, the finance and risk management director of Kidzooona Philippines, knows the kind of photos Kidzooona is after to promote its unique children's indoor playgrounds.
"Being the resident Filipino judge, I am really pushing the contestants to give their best and show what a Filipino photographer can do," De Guzman stated. "I never hold back giving constructive comments."
"There are so many twists in the show that even I as a judge was surprised," shared Pascual, the Philippines' Face-Off judge. "The challenges are out of the box."
In the show's third episode featuring the Philippine competition, a dim-lighted walled city of Intramuros, Manila will be the backdrop in the face-off challenge, during which contestants must capture fashion shots of models in avant garde make-up and outlandish costumes at night.
Mott said Photo Face-Off is an entertainment show not just for those who are into serious photography but also for ordinary people who love taking selfies with their cellphones.
"Just watching the contestants compete, what the judges say or how we critique them, you'll learn something about photography," he pointed out. "It's now the biggest and most popular hobby in the world because everyone has a phone with camera so everyone is a photographer now. Instagram alone has several hundred million users so this is an open show for everyone."
Produced by Beach House Productions for A+E Networks, Photo Face-OffSeason 4 is hosted by Kelly Latimer.
Visit the HistoryAsia Facebook or HistoryAsia.com for more information.