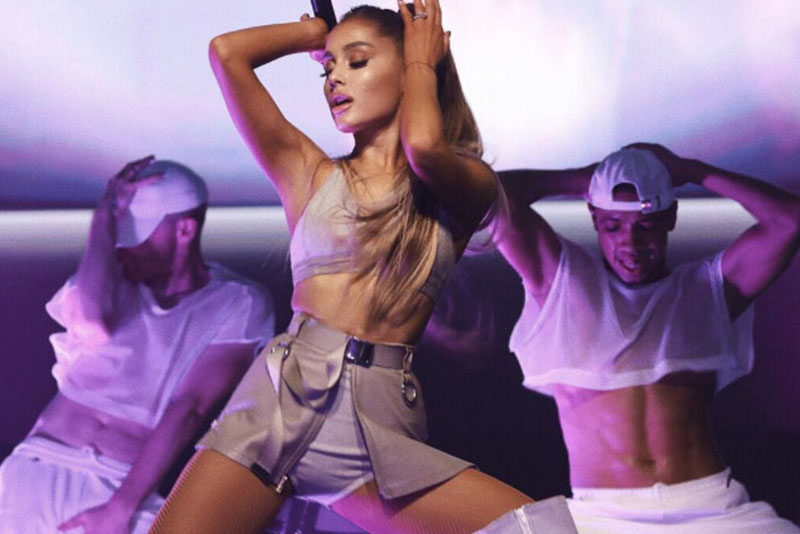 Ariana Grande performing in Bangkok before her Manila concert last night. Instagram/Ariana Grande
Ariana Grande brings entire gym to Manila concert
MANILA, Philippines — Everyone can sing or spin, but not everyone can sing while spinning, a stunt Ariana Grande effortlessly pulled off even if she was reportedly sick at last night's Manila concert at the Mall of Asia Arena.
As part of her "Dangerous Woman World Tour," the American pop star brought an entire gym into the stage. She sang her hit single "Side to Side" while spinning a stationary bike — on high heels.
While her backup dancers worked on other gym equipment, Ariana wowed the crowd with her powerful vocals that seemed uninterrupted even as she moved from biking to dancing.
Grande opened the concert with her more mellow songs like "Be Alright" and "Moonlight" before transitioning into her more upbeat and bigger hits "Into You," "Bang Bang" and "Break Free" halfway through the concert. She sang around 20 songs both from her third and latest album, "Dangerous Woman," and second album, "My Everything." Her collaborators in the songs such as Nicki Minaj for "Side to Side" were flashed on the giant LED screen backdrop. Apart from a live band, the concert featured smoke effects, confetti and pink balloons showering over the crowd.
Ari, as she was fondly called repeatedly by her fans in the concert, presented a wide repertoire of songs and hymns for everyone of all ages to enjoy. Besides dancing to the beat of her "very millennial" and hiphop-rap anthems, she also sang a lounge-like cover of the Judy Garland classic "Somewhere Over the Rainbow." She is really among those "small girls with big voices" that do not need spectacular sets or costumes because her talent and belting prowess alone is enough to make it all worthwhile to watch her on a stormy day and despite stricter-than-usual security measures. More than half of the concert was carried out without backup dancers or singers, only Ari showcasing her raw, unedited, live voice.
Although, of course, people also saw her for her sexy curves, costumes, bit of bravura, and signature long hair that has a life of its own. Ariana did not disappoint with her several costume changes that include her trademark cropped tops and leather knee-high boots. Oversized jackets and bottoms augmented her stage presence. She looked like as if she won the plum role of Princess Jasmine in the live action adaptation of Disney's "Aladdin" as her highly pony-tailed hair swagged along with her jodhpur pants. Occasionally, she indulged fans with a naughty playing of her tongue and by repeatedly sending flying kisses together with the Filipino way of saying I love you, "Mahal kita!"
Judging by the cheers and the active dance-and-sing-along the sold-out crowd gave back, Filipinos are also so into you, Ariana!
RELATED: What vegan diet Ariana Grande ate while in Manila
Fans complain of 'security nightmare' at Ariana Grande's Manila concert
WATCH: Ariana Grande in Manila, singing while spinning
Can you sing while spinning? #Manila is so into @ArianaGrande ! #DWTourManila @PhilstarNews @PhilstarStyle @mmilive pic.twitter.com/ViGUIQFuTY

— PhilstarShowbiz (@PhilstarShowbiz) August 22, 2017
Side to Side #DWTour #DWTourMNL #DWTourManila pic.twitter.com/2glV1Btu3N

— Sarie Yao (@sarieyao) August 22, 2017