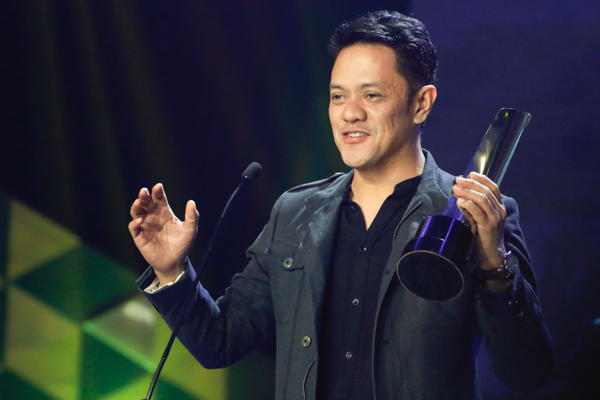 Sheron Dayoc of Zamboanga won Best Director and Best Screenplay for "Women of the Weeping River," which also won Best Picture at the 40th Gawad Urian Awards. Philstar.com/Efigenio Christopher Toledo IV
Film from martial law-stricken Mindanao Urian big winner
MANILA, Philippines — With six awards and 11 nominations at the 40th Gawad Urian held in ABS-CBN Thursday night, "Women of the Weeping River" surely did not go home weeping, one of the event's hosts and Manunuri ng Pelikulang Pilipino (MPP) member Butch Francisco said.
According to MPP member Bienvenido Lumbera, for its ingenious interweaving stories of tribal wars in Mindanao that are actually a metaphor of what is happening in the region, "Women of the Weeping River" swept most of the major awards, including Best Picture and Best Director and Best Screenplay for Sheron Dayoc.
Other awards won by the film include Best Cinematography by Rommel Sales; Best Editing by Carlo Francisco Manatad; and Best Supporting Actress for Mindanao actress Sharifa Pearlsia Ali-Dans. The film was also nominated for Best Actress (Laila Ulao), Best Supporting Actor (Taha Daranda), Production Design (Harley Alcasid), Music (Kit Mendoza) and Sound (Albert Michael Idioma and Emmanuel Verona).
Tito Valiente, Urian Chairman, said the awards was born in 1976, when martial law was in its fourth year and at a time when it was hard to tell the truth. But thanks to films, these truths were eventually told, he said.
"How much Urian has evolved in these past 40 years," he said, further explaining that the awards are now focusing not only on independent films, but also on regional movies and the arts, culture and dialects they showcase.
"Women of the Weeping River" producers said that from 1976, when there was martial law, to 2017, when there is martial law in Mindanao, history has come full circle with the big win of their film, which was shot for 18 days without electricity in mud-drenched Jolo and Zamboanga.
"Parang fast-forward ang nangyari ano?," said one of the producers, who thanked executive producers Fernando Ortigas and Ed Rocha for backing the film. He said the film's non-actors did an incredible performance for the first time in their lives.
According to Dayoc, who is from Zamboanga, "as a filmmaker, hindi ako masyadong kumikita," but recognitions like the Urian "fuel our spirits as storytellers."