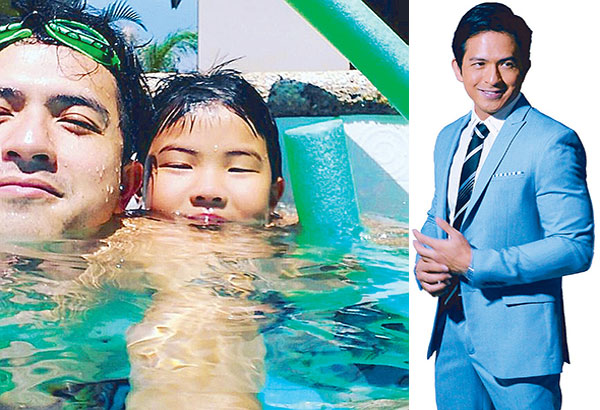 Dennis Trillo, who topbills the GMA 7 telefantasya Mulawin vs Ravena, never fails to spend quality time with son Calix — Photos by VER PAULINO
Dennis & his daddy duties
MANILA, Philippines - By this time, Dennis Trillo has already returned to Manila from Baguio City where he spent the weekends with son Calix, and his family in celebration of Dennis' mom's birthday. It was last Thursday afternoon — and before heading straight to Baguio — when Dennis granted an interview with the entertainment press, including The STAR, and shared that he always makes it a point to bond with Calix whenever he is free from tapings for GMA 7's primetime telefantasya Mulawin vs Ravena where he reprises the role of Gabriel, a Ravena who is now King of Halconia.
Summing up the kind of father that he is, the Kapuso actor admitted to be a spoiler with reasons that are acceptable and display nothing but absolute love for his child. "I want to give all the best to him and everything that will make him happy. Natutuwa kasi ako 'pag happy 'yung anak ko s'yempre so as much as possible lahat ng pwedeng magpasaya sa kanya binibigay ko talaga."
But it doesn't mean Dennis would allow Calix to go beyond the boundaries of good manners and right conduct. When things do not work out fine, Dennis does not resort to pulling out the rod. He believes it is best to talk things in a manner that can be easily understood by a child. "We sit down and have a heart-to-heart talk so I could very well explain to him the pros and cons of his actions. My son is smart so he easily absorbs what I tell him."
Dennis said that his son, who is turning 10 on Sept. 22, once told him that he also wanted to be an actor "probably because he sees what I am doing but I think he is too young to decide on his future so there are still much time ahead of him to think what he really wants to be.
"If I were to choose for him, definitely hindi pag-aartista because I want him to explore other possibilities. I want him to be successful in another field although I cannot exactly tell now which one. Feeling ko mas sa arts but I want him to excel more on the academics."
The proud dad shared that his son has an ear for good music. At a young age, he excels in playing the guitar and pounding on the beat with drums. In fact, Calix is often assigned as the drummer boy of their school choir during Mass.
"I taught him basic lessons on drums when he was small so now he's quite familiar with them and until this time, we still practice to improve his skills."
Apart from their passion for music, father and son also love watching movies and playing basketball and video games at home. Dennis has put up a home theater for them to spend quality time on days when Calix stays with him and is free from schoolwork. "Habang lumalaki s'ya, the possibilities of having fun together get a lot wider. That's why, I always make sure to be with him every chance I get."
Asked if Calix knows that his dad is romantically attached to Jennylyn Mercado, Dennis affirmed with a nod and went on to say that his son also gets to bond with the actress whom he calls Tita Jen.
"We go out together and I usually bring him to Jen's place. Calix has nothing against the relationship probably because he knows that I am happy with Jen."
Unlike other kids who frown on their parents having respective partners after a breakup, Calix understands his parents' situation. According to Dennis, it is normal for the child to ask but not all parents are willing to tell the truth "because they don't want to hurt their child but in truth you just have to be honest. It is harder to keep a secret and once the child learns that you are telling a lie, he might get traumatized. It is really important to be transparent."
He continued, "In our case, my son was curious and eager to find answers to his questions and I answered him without excuses. I told him the truth and I am thankful that he is smart enough to understand and adjust to the situation." No wonder, Dennis said that Calix gets along too well with his half-siblings in his mom Carlene Aguilar's side.
What similarities does Dennis share with Calix?
"Aside from our passion for music and arts, I think Calix and I are both sweet. Sobrang sweet n'ya at yung pagiging malambing. There are times when he is in a 'bad boy' mood but once he shook off that kind of vibe, he would return to being sweet."
(Mulawin vs Ravena airs weeknights after 24 Oras on GMA Telebabad block.)