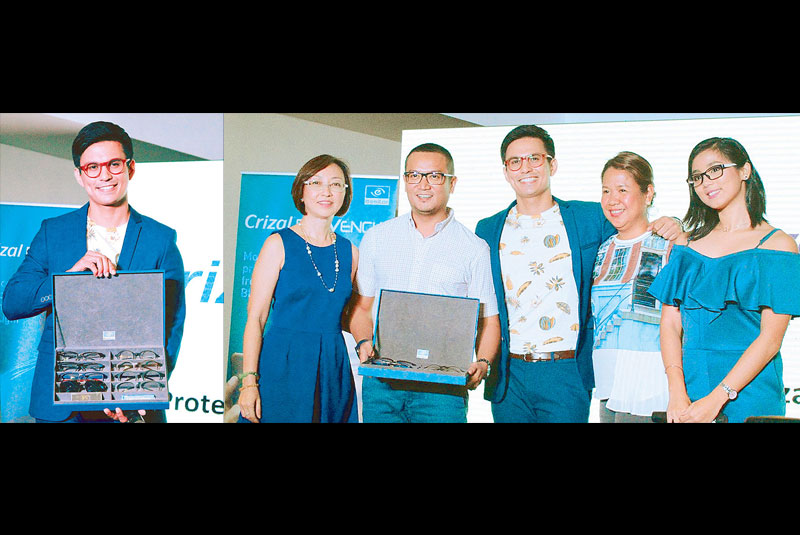 Crizal Prevencia brand ambassador Tom Rodriguez's passion for digital art is evident in his artworks that showcase creatures from Philippine folklore, superheroes and characters from animé. Above: With (from left) Essilor GM Dr. Emelita Roleda, Crizal Prevencia manager for commercial Dr. Kyle Galias, Crizal Prevencia marketing manager Jinky Navo and host DJ Rica Garcia.
Tom finds solace in other 'passion'
Ver Paulino
(The Philippine Star) - June 10, 2017 - 4:00pm
MANILA, Philippines - Everyone is encouraged to see the world in a better light as Essilor recently launched a campaign to raise awareness on the importance of healthy vision featuring brand ambassador Tom Rodriguez.
Tom, with his tantalizing brown eyes, can captivate anyone. But his eyes are not only physical assets that enhance his good looks. Unknown to many, the actor is also a digital artist. As such, Tom gives due importance to eye protection as he teams up with Essilor to take care of his eyes against harmful blue light with Crizal Prevencia.
In the new TVC, Tom is seen going through his everyday routine. It shows that the actor is like many of us, who are also easily exposed to harmful blue light — whether we are in front of our laptops and computers doing work, commuting or checking messages and schedules on our phones.
Tom's passion for digital art is evident in many of his Instagram posts. Many of his artworks showcase creatures from Philippine folklore, plus superheroes and characters from animé, games and comics. The actor also sketches and sculpts in-between takes during filming or photo shoots. In addition, he is an aspiring app designer.
With all these activities taking up his spare time, Tom can't help but be exposed to harmful blue light and he admits that this has affected his vision.
"Belonging to a technically-savvy generation and with my love for creating digital art, I cannot do without my phone and digital devices. What's more, my active lifestyle also keeps me under the sun a lot. It's quite alarming to know how being exposed to UV rays and blue light can cause long-term damage. With Crizal Prevencia, I can protect my vision, and also prevent blue light from harming my eyes," recommended Tom during the event.
Tom further encourages the public to take care of their eyesight by getting a comprehensive eye exam and taking preventive measures against irreversible eye conditions.
"Exposure to harmful blue light may be inevitable, but we can minimize the risk by doing our part," he said. "We can protect our eyes on a daily basis and maintain a healthy vision."
(For more info on Crizal Prevencia, visit your preferred eye care professional or a leading optical shop. Or log on to www.essilor.com.ph.)