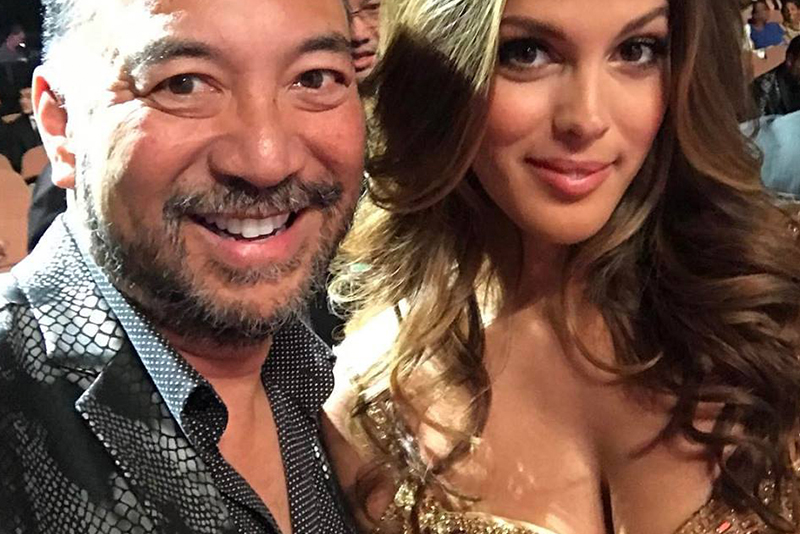 Fil-Am designer Joey Galon with Miss Universe 2016 Iris Mittenaere Joey Galon/File photo
Fil-Am designer on designing gowns at Miss USA 2017
MANILA, Philippines — "I believe every woman should be celebrated in a beautiful gown!"
That is the long-standing philosophy of Joey Galon, who created two memorable gowns at the recent Miss USA 2017 pageant. One is a red dupioni silk and Swarovski crystals-encrusted gown for Miss Alaska Alyssa London and an orange silk chiffon and Swarovski crystal gown with custom-designed matching earrings for Miss Hawaii Julie Kuo.
In what has become a national predilection, we try to find a Filipino connection to anything happening in the international scene. At the onset of the prestigious competition, we thought we found it in Miss North Dakota, Raquel Wellentin, who was born in the Philippines. But when she did not make it to the Top 10, we thought we lost a reason to cheer someone on, unlike last year when Miss Hawaii Chelsea Hardin, a half-Filipina, almost won the crown eventually snatched by Miss District of Columbia Deshauna Barber.
But then, stories started to emerge after the preliminary rounds that there was indeed something Filipino taking the spotlight onstage at the Mandalay Bay hotel in Las Vegas. And it is not a stretch to claim this outstanding talent as one of our own, as Joey Galon unabashedly hashtags himself a #filamfashiondesigner.
Through a bio sent by my cousin Gilda Stiefel, who met Galon when she won the Mrs. American Pinoy 2015 title, I learned that the fashion designer-cum-pageant coach was born in San Francisco. His father was from Bohol while his mother hails from Cebu. He went to Hillsdale High School (where he was recently inducted to the alumni hall of fame), earned his Bachelor of Arts in Fashion and Textile Design from San Francisco State, studied business management at San Diego State and opened his Joey Galon, Atelier in Los Angeles.
No stranger to television, you can find Galon as a fashion correspondent on Fox 5 TV and a reality TV personality on Lifetime Network's "24 Hour Catwalk," TLC Network's "Vegas Brides" and on NUVOtv's "Model Latina," with an upcoming show to release, "Veganista," as a fashion makeover expert on the Las Vegas strip.
His creations have been showcased at LA Fashion Week, editorials and TV shows, and pageants at all levels (state, Miss USA, Miss America, Mrs. Universe, Miss Asia USA, Mr. International).
"I prayed and wished and dreamed to one day have my gown on the stage at Miss USA. Seeing it tonight on TV for the preliminary competition at MISS USA is so surreal. I'm speechless, I'm grateful & I'm so so so so blessed. Prayer works!" he posted on social media.
"Miss Nevada USA 2015, Brittany McGowan, in a silver, platinum, (over 2000) hand-applied encrusted Swarovski crystal gown with platinum silver dupioni silk Edwardian train," Galon added in a post on his Facebook page in 2015 of his first foray into the national pageant and fashion scene.
In 2017, Galon not only had two gowns worn by contestants onstage but he also created the gown worn by Deshauna during her pre-turnover interview by host Juliana Hough. He gushed: "Miss USA 2016, Deshauna Barber wore my purple floral gown on the internationally televised Miss USA pageant stage. She blessed my gown and me with her!"
Of her unique gown, which she sashayed again as one of the Top 10, Miss Alaska Alyssa London wrote on her FB page: "By wearing a gown with this design work, I felt I had the strength of my ancestors and my whole community behind me on stage. Also, in doing so, I am blending tradition with modernity, showcasing the vitality of our indigenous cultures today. Thank you Joey Galon, Atelier for honoring my culture and vision for my gown. I am the cultural ambassador for my tribe appointed by Sealaska Heritage and this is what I envisioned to show the beauty and vitality of our art and culture. I am very proud of making this statement through this gown, it will always be a treasured moment and memory."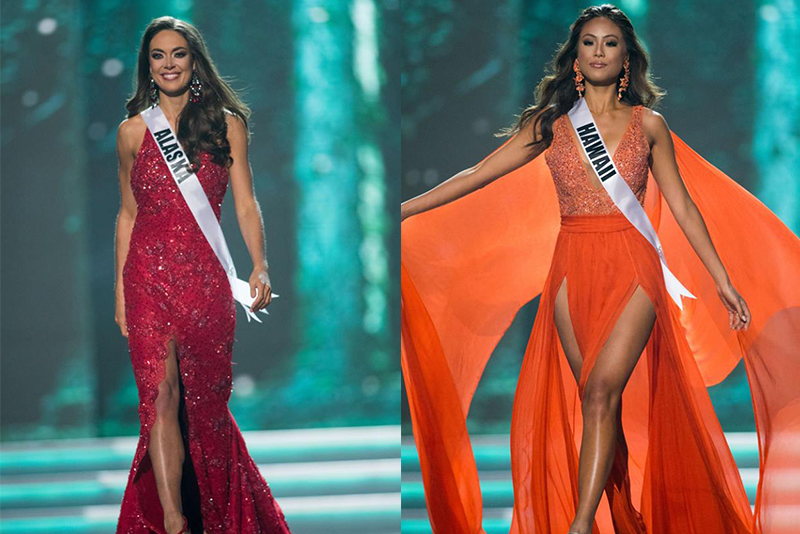 Joey Galon's designs for Miss Alaska and Miss Hawaii Joey Galon/File photos
Galon was referred to Alyssa by his client and dear friend, former Mrs. Universe and First Nations Ashley Callingbull. He wrote on his FB: "Alyssa is proud of her Native American Tlingit tribe and is a sought out keynote speaker across the country on behalf of her Native American culture. She wanted me to incorporate some symbolism into her gown. After researching the various Native Indian tribal robes, I thought it would be cool to have the train of the gown mimic a tribal robe over her shoulders. Alyssa commissioned renowned Native American artist [Preston Singletary] to draw traditional Native American (whale) symbols onto the gown. I then crystallized his work then when Alyssa entered into the stage, she had the train draping over her shoulders like a traditional tribal presenting the animal artwork then dropped it to the floor revealing her gown underneath. The gown has over 5,000 hand applied Swarovski crystals."
For her part, Taiwanese-Hawaiian beauty Julie Kuo wrote on her FB: "I'm so happy I got to be very involved in the process in creating my gown. I am also very fortunate to have met Joey because he saw my vision and executed it with perfection!"
Galon wrote: "Julie asked me to design something with bold, tropical colors that represent the beauty of Hawaii and that would compliment her gorgeous island beach tan along with something feminine and flowy to match the soft and beautiful trade winds of the Hawaii islands.
"When I selected the color of this fabric to run by Julie for approval, it reminded me of the Bird of Paradise flower that is all over the islands when I lived on Maui. She loved the color and the rest was history. Her body suit has over 3,000 hand applied Swarovski crystals to accent the flowy silk chiffon cape and skirt."
Galon used to work full time as an event designer before taking the plunge to become a fashion designer. Well into his fab 50s, he aims to inspire and tell people that it is never too late to pursue their dreams:
"YOU'RE NEVER TOO OLD!!!!" he said in social media.
"A few years ago, I was challenged by my best friend Joey Luna to once and for all dig deep, soul search and fulfill a personal goal of designing my own fashions," he said.
"I remember talking about the idea but not quite ready to make the jump and create something. Yet in the 'talks' of this new venture, news traveled fast and one of my other dear friends & mentor, Maureen Atwell, offered me a booth at the Miss USA Pageant Expo to showcase my dresses in support of my dreams when unbeknownst to her I didn't actually have any gowns yet. So I quickly made two dresses to display in just a few days for the booth & expo. Gratefully & blessed, that was my official launch of Joey Galon, ATELIER evening gown designs and even had Miss USA, Crystle Stewart stop by my booth and praise my gowns."
He continued: "It's been a whirlwind ever since and I'm continually amazed at how my dresses are reaching clients all around the world. Special thanks to my best friend Joey Luna who encouraged me to pull up, dust off a dream that I had thought I shelved away for life, for Maureen Atwell and her generous offer at Miss USA and the countless friends and family that believe in my fashion design work....sometimes even stronger than I believe within myself. I am humbled, blessed & eternally grateful. While the growth may be slow of this company, I'm building it smart & slow...one gown at a time!"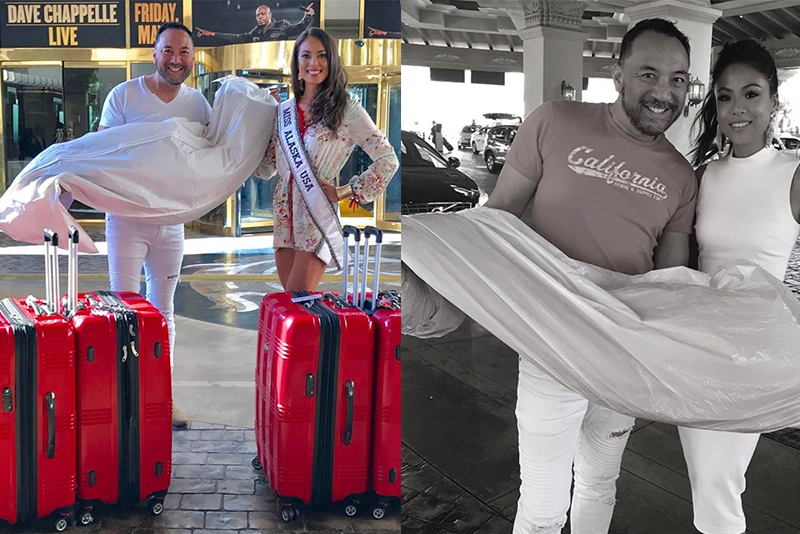 Galon handing the gowns to Miss Alaska and Miss Hawaii. Joey Galon/File photos