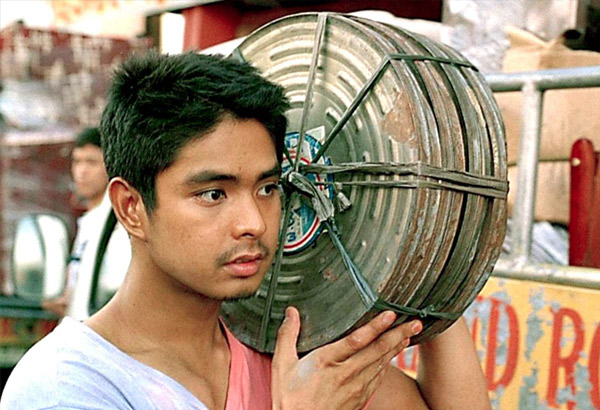 Coco Martin in Brillante Mendoza's "Serbis" (2008) Philstar.com/File
Brillante Mendoza on his films: Depicting Filipinos as poor not intentional
MANILA, Philippines — While prestigious film award-giving bodies like Cannes Film Festival and Venice International Film Festival glorify Filipino filmmaker Brillante Mendoza's poverty-driven films such as "Kinatay" and "Serbis," there are critics that allege that by making films revolving around poverty, the director is not painting a good picture of Filipinos and the Philippines in the international community.
In a recent interview with Philstar.com following the launch of his movies for TV5, Brillante stressed that first, his films are not about poverty, and more importantly, he does not want to depict the Philippines as poor.
"First of all, I don't want to exalt poverty. So, I just tell real stories. So, I don't think I'm guilty of that (showing that the Philippines is poor)," he said.
He does not think that a movie dwelling on poverty can win it a ticket to Cannes.
"Not really. But maybe, we are guilty. Baka tayo lang ang nakakaramdam n'un. It just so happened that the characters, the people in my films are poor. But I don't show poverty. Mahirap lang sila, but the stories are not about poor people. Those are stories of people who happen to be poor," he explained.
To prove that he does not only delve on poverty, Brillante recently launched a series of movies made for free TV, with one film shown every month on TV5.
"Don't just look at the poverty. Credit naman the story because if you talk about people, you kind of make it universal. Universal kasi ang kwento ng tao. It's not just about poverty," he clarified.
Born and raised in Pampanga, Mendoza took Advertising Arts at the University of Santo Tomas. Since 2005, he directed 16 films, including "Kinatay," for which he won Best Director in the 62nd Cannes Film Festival.
His other Cannes entries, "Service" (2008) and "Ma' Rosa" (2016) were both in the main competition. "Taklub" was also selected for screening in Cannes in 2015.
His 2009 opus, "Lola," won Best Film at the 6th Dubai International Film Festival, while "Captive" (2012) competed at the 62nd Berlin International Film Festival. Also in 2012, "Thy Womb" competed for the Golden Lion award at the 69th Venice International Film Festival.
On July last year, he directed President Rodrigo Duterte's first State of the Nation Address.
Mendoza is now working on his latest Cannes Festival entry, "Amo."