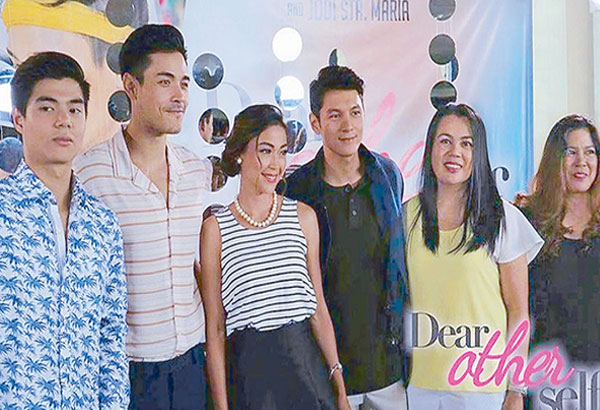 The talents behind Star Cinema's Dear Other Self (from left): Stars Paul Salas, Xian Lim, Jodi Sta. Maria and Joseph Marco; direk Veronica Velasco; and writer Jinky Laurel. 'Every director strives to find a good audience,' says Velasco.
Direk Veronica on questions millennials often ask
MANILA, Philippines - Direk Veronica "Roni" Velasco says the story of Dear Other Self was inspired by questions millennials often ask about career choices, which ultimately boil down to life choices as well.
"I am a mother of a 21-year-old millennial," she admits and from that confession, she ventured into her latest project which probes how far this generation will go to prove themselves capable of unlikely choices.
First order of the day was to work with her co-writer, Jinky Laurel, and from there on, they worked on a lead character torn between choices of a predictable life as offered by the character of Joseph Marco and the free-spirit lifestyle personified by Xian Lim.
How the latest film outing relates to her previous output is anybody's guess.
Her last Star Cinema project was Tuhog (2013), the nature of which was more indie than mainstream.
Which was just expected because she made her first positive impact as indie director.
Someone noticed her promising streak in Prinsesa where Romnick Sarmenta plays a young father struggling to renew his ties with his estranged daughter.
Film observers gave her Last Supper Number 3 a good nod as it took a humorous look at the country's legal system.
Then came her first encounter with Jodi Sta. Maria in Maling Akala, where a gay partner and a pregnant woman figure in a marriage charade.
Her maiden effort was the well-received Inang Yaya where she took another look at the Filipino yaya.
The film won a bronze medal at the 2008 Cairo International Film Festival for Children. She also won a Balanghay Trophy for Best Film for Last Supper No. 3 at the 2009 Cinemalaya Independent Film Festival.
To be sure, direk Roni doesn't belong to the conventional kind of director, who is happy with formula films.
She said she came from the world of advertising and cinema was the field on which she could try new things.
But before the movie projects were assorted television assignments (Pure Love, Maalaala Mo Kaya, among others).
In cinema, she found a bigger medium on which to try out her story ideas on a grander scale.
She is not the kind who can articulate the new direction she is taking and how her latest project relates to previous efforts.
What she is sure of is that she works hard to find her audience.
"In every work that I do, I always hope that I find a good audience," she points out. "What do I try to achieve in every project? The initial goal, of course, is to reach out to as many people as possible. For this reason, you must try to tell a good story. At the outset, it has to be a good story and clearly defined at all angles. After all, audiences expect their directors to be in command. Audiences like to follow a good story and a director should try to avoid confusing them in the process. That is the only way to connect to an audience."
Dear Other Self is now showing in cinemas.