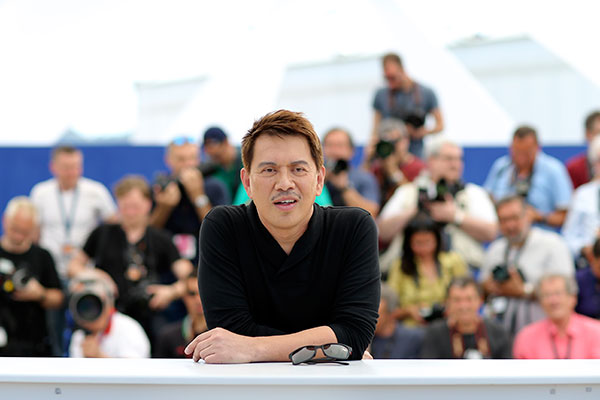 Brillante Mendoza will serve as "Parrain" or "Godfather" of the upcoming La Fabrique des Cinémas du Monde during the Cannes International Film Festival. AP/Thibault Camus
Brillante Mendoza to serve as 'godfather' to Cannes Festival directors
(philstar.com) - May 18, 2017 - 10:55am
CANNES — Director Brillante Mendoza returns to the prestigious Cannes International Film Festival in May 21 to 23 not as a participant, but as a mentor of 10 upcoming directors from different countries.
It was announced during the press conference held at the SM Megamall Director's Club that Institut Français invited Mendoza to be the "Parrain" or "Godfather" of the upcoming La Fabrique des Cinémas du Monde during the Cannes International Film Festival.
As Parrain, Brillante will mentor 10 new and upcoming directors, sharing his own experience and bringing a unique support to this new generation of directors, selected for their talent, daring attitude and perseverance. This year's batch of directors comes from South Africa, Brazil, Egypt, Kenya, Lebanon, Malaysia, Mali, Myanmar, and Peru.
This year is La Fabrique's ninth edition, with mentors through the years playing an important role for the full working program. They are chosen among the Festival de Cannes awarded directors and also for their south-north relation and concern.
With that, Brillante will follow the footsteps of previous mentors, such as Chinese film director and screenwriter Jia Zhan-Ke, French film director and writer Claire Denis, Brazilian filmmaker and film producer Walter Salles, Haitian filmmaker of both documentary and feature films Raoul Peck, Palestinian film director Elia Suleiman, Portuguese director Maria de Medeiros; French film, TV, and stage actress Elsa Zylberstein; Argentine film producer, editor and director Pablo Trapero; French film director and screenwriter Sandrine Bonnaire; Cambodian documentary film director and screenwriter Rithy Panh; French actress, artist and dancer Juliette Binoche; and film director and producer Abderrahmane Sissako.
La Fabrique des Cinémas du Monde is a professional program set up by Institut Français's Cinema's Department to encourage the emergence of rising talents developing their first or second long-term feature.
A full working program conceived in tight relation with the Festival de Cannes and the Marche du Film, La Fabrique aims to help the achievement of the projects through a privileged access to international film industry networks. Its high-quality workshops or its various professional meetings have given the projects carriers opportunities to find international co-producers.
Mendoza is the first Asian to win the prestigious Best Director Award at the Cannes Film Festival for his film "Kinatay" in 2009. Last year, his "Ma'Rosa" was in the festival's Main Competition, where Jaclyn Jose won the prestigious Best Actress award.
RELATED: Brillante Mendoza to teach Cannes fest directors about Filipino culture