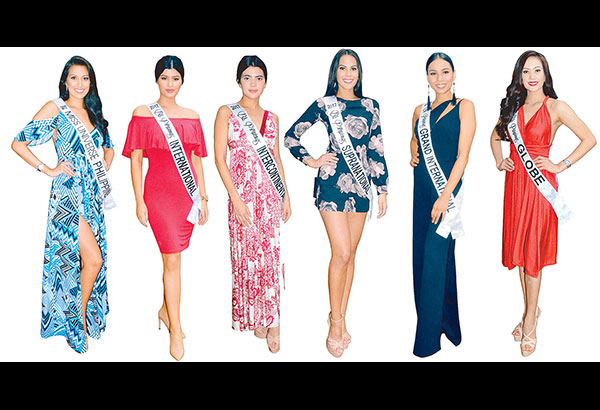 The reigning Binibinis(from left): Rachel Peters, Universe Mariel de leon, International; Katarina Rodriguez, Intercontinental; Chanel Olive Thomas, Supranational; Elizabeth Clenci, Grand International; and Nelda Ibe, Globe. — Photos by VER PAULINO
There's showbiz in 4 Binibinis
FUNFARE
-
Ricky Lo
(The Philippine Star) - May 11, 2017 - 4:00pm
Just like most of their predecessors. The new crop of Binibinis might just end up in showbiz.
Of the six, four have already showbiz in their system:
Bb. Pilipinas-Universe Rachel Peters is the daughter of the family that owns Midas Promotions which produces concerts featuring international artists.
Bb. Pilipinas-International Mariel de Leon 100 percent showbiz. Her parents are Christopher de Leon and Sandy Andolong, Lara de Leon and Pinky de Leon are her aunts; and Lilia Dizon is her grandmother (and the late Gil de Leon was her grandfather). There are more relatives along the line. She has tried acting in a teleserye and a movie but she said that it's not for her. "I want to pursue a career as an opera singer," said Mariel who is a member of Opera Belles.
Bb. Pilipinas-Intercontinental Katarina Rodriguez is under Viva (managed by Joji Dingcong) and has hosted a TV show.
Bb. Pilipinas-Supranational Chanel Olive Thomas was linked to actor Jake Cuenca even before she first joined a beauty contest (she finished Miss Philippines-Air in a Miss Earth Philippines pageant).
Eventually, given a chance, Bb. Pilipinas-Globe Nelda Ibe and Bb. Pilipinas-Grand International Elizabeth Clenci might try maybe not acting but hosting.
Meanwhile, here are the two other questions missed in The STAR's exclusive interview with the six queens, said to be bitin (lacking) by some readers.
A Miss U question: What would you do if you discovered that your boyfriend is gay or straight but having an affair with a gay?
Nelda: Oh my God, I wouldn't know! But I want to make one thing clear… I don't have any problem with the LGBT community. I'm okay with my boyfriend and I'm sure of what he is. (Nelda is a cadet pilot and her boyfriend is a pilot.)
Rachel: I trust that he would never cheat on me. Regardless of whether he cheated on me with a woman or with a gay, that would be the end of our relationship, hahaha!!! (Rachel has been going steady with Camarines Gov. Migz Villafuerte for more than four months.) Since this is our topic, I'd like to say that somebody who I really look up to is Joey Mead-King. I have a lot of respect for her; she's one of my idols. I'm sure people know Joey and her husband Ian King (who "outed" himself and insisted that he still prefers women). I've spoken to her several times and I feel that we have a few things in common. Initially, people suspected that it was all for publicity but when you talk to her you will know that she is genuine and sincere, it was so heartfelt. I really love Joey.
Katarina: I would be mad if he cheated on me. I would say, "No more!" because of the cheating part. It happened to one of my close friends. Her boyfriend turned out to be gay and they remained friends. He was the one designing her gowns when she served as a muse in an event. If it happened to me, I would stay close to my ex…I'm the clingy type, you know. He can be gay if he wants and I would still let him hold my hands and let him bring me to the movies. I want him to still love me, I'm so malambing you know, but not in a romantic way. The point is, don't cheat on me, just tell me first and we can talk about it.
Mariel: Cheating is cheating whether it be with another woman or with a gay. He's gonna feel my wrath, not only my wrath but the wrath of my mother and my father and all my kuyas. So he better be careful.
Chanel: I'm free for a while now and I'm taking my time before I enter a relationship. I must add that I really respect what (Jake) and I had before. (Chanel went steady with Jake Cuenca; they broke up and got back together until they broke up for good.) I believe that whoever I end up with, our relationship should be built on trust.
Elizabeth: I think infidelity is probably the key. It's not a matter of gender orientation or sexuality, it's more about infidelity. It's okay to have a certain view in life. Things change and people change but infidelity and playing with somebody's trust is never okay. You put your trust and love in a relationship and if one of the partners breaks that, whether with a man or a woman, I don't think that's right.
What would make you give up your crown — maybe a proposal from a prince or a man that means the whole world to you?
Nelda: Maybe my profession as a pilot. Before joining Bb. Pilipinas, I told myself that, win or loss, I would go back to my profession as a pilot. And that's exactly what I'm doing after my reign.
Rachel: I won't give up my crown for anything. If he loves me, he can wait. Winning this crown is a dream come true. It's an honor and a responsibility, and we are under contract for 18 months. I want to fulfill my responsibility and after that I can do whatever I want in my life. He understands that 100 percent and he's very supportive.
Katarina: I would never give up my crown for a boy. But I think if you're really a queen no one can take your crown away from you. The reign is only a year, I'm still young, I'm 24, no need to get married just yet. When the time comes, I can get married and have little princes and princesses.
Mariel: Maybe if there's an emergency but, knock on wood, I hope nothing happens. With me, family is always first; I will do everything for them.
Chanel: If he can give me a new crown, why not? That's the only reason I could think of.
Elizabeth: I guess I agree with all of them.
Richard and Angel are together again
After starring in the GMA action-adventure series Mulawin several years ago, Richard Gutierrez and Angel Locsin are back together in a movie to be produced by Star Cinema.
That's welcome news for their fans who have been waiting for the reteam-up.
"It's about time," said Richard's mom Annabelle Rama who stays as manager for Richard and the rest of the Gutierrezes (including husband Eddie; Raymond, Ruffa and their siblings; Richard's girlfriend Sarah Lahbati and their son Zion; and the other grandchildren).
Annabelle wishes to announce that anybody who wants to enlist the services of her talents should call her directly at celfone +63977-693-2281 or landline 442-4120.
(E-mail reactions at entphilstar@yahoo.com. For more updates, photos and videos, visit www.philstar.com/funfare or follow me on Instagram @therealrickylo.)