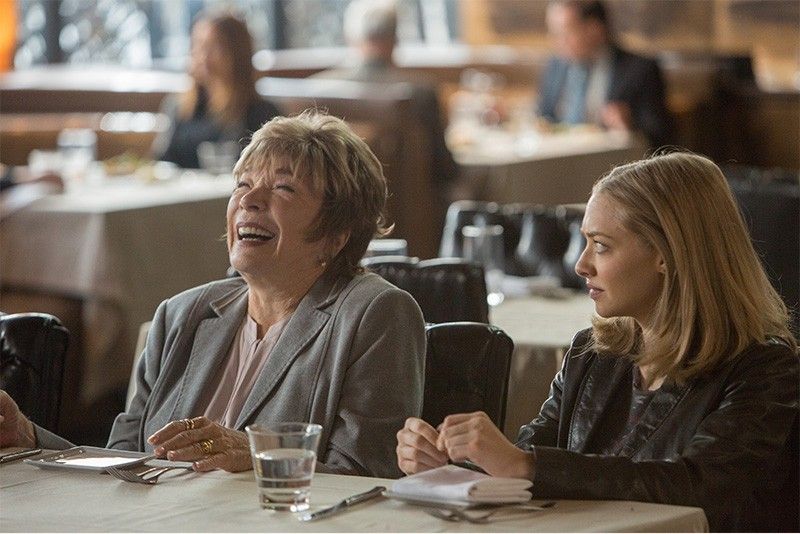 From left: Shirley MacClaine and Amanda Seyfried star in "The Last Word"
ABS-CBN/Released
Shirley MacLaine has 'The Last Word'
(Philstar.com) - March 20, 2017 - 2:15pm
Mortality becomes more than just a passing thought when you are an octogenarian. It becomes serious business.
Some prepare for it by readying a will, checking and double checking their bank account and memorial plans. Others tell their children or nearest relative they want a "do-not-resuscitate" policy.
But not Harriet Laurer (Shirley MacClaine). She is the character to whom the comedy-drama, "The Last Word," revolves. Ever the control-freak, Harriet wants to make sure her obituary is done right. So, she hires young writer Anne Sherman (Amanda Seyfried) to write it and begin by asking people what they think of her (Harriet).
That is where the problem starts. Not a single person likes Harriet, who ran her advertising agency the way a hot-tempered lion does, underestimates her estranged daughter, and calls her ex-husband a "jackass."
The wealthy, lonely Harriet seems doomed to a life of solitude. But look closely, and you will discover that this feisty woman is capable of emotions other than rage and condescension.
MacLaine's talents shine with the brilliance of someone who can be raging mad one moment, busting with laughter the next, tender another moment, and everything else in between. Her hands, her eyes, the way her voice rises and falls, say everything. At some point, words are superfluous.
But when she does utter a line or two, MacLaine says them with such force, such confidence, you end up hanging on to every word.
Watch out for "hugot" lines like "Don't say, 'Have a nice day!' Say, 'Have a day that matters'." Or "You don't make mistakes, mistakes make you."
The woman is far from charming. But she has the wisdom and spunk that touch a raw nerve in young Brenda (Annjewel Lee Dixon) and softens the jaded Anne's heart.
Harriet also gets a lot of help from the power of music to speak in a language octogenarians, 20-somethings and children understand. No, the film is not a musical. But it sure knows how to use the music to create magic in the most unlikely places.
Star Cinema, in its continuing bid to tie up with international film companies, decided right in timing the release of "The Last Word," several days before Holy Week (the film opens Wednesday, March 22 in cinemas nationwide).
Without him knowing it, director Mark Pellington came up with a film that will make Filipinos prepare for Holy Week by giving their direction in life deeper thought. He came up with a powerful tale that will pluck them out of the humdrum of every day and see the purpose of each sunrise, the story in every song. In other words, Pellington – with a lot of help from MacLaine – will show moviegoers there is more to life than going through the motions at work, in school, and at home.
After the international audience at Sundance, where the film was shown in January, it is the Filipino moviegoers' turn to see life in the eyes of a woman whose days, though numbered, burst with meaning and purpose.
After seeing the film, they will never be afraid to fail — and make fun of their mistakes — again.