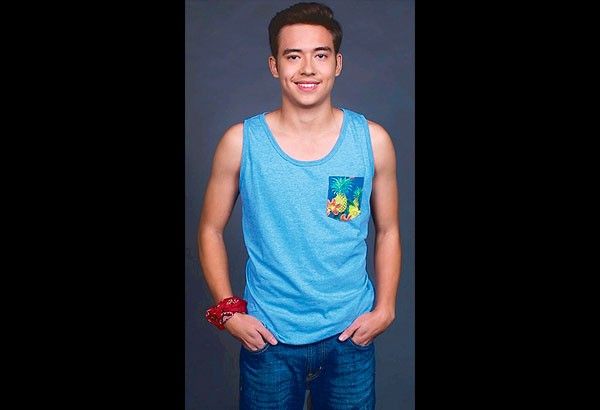 Jameson Blake can be seen in Wansapanataym's My Hair Lady and My Dear Heart
Jameson eager to do more acting
Jameson Blake joined showbiz by way of Pinoy Big Brother (PBB) 737. He didn't win the season's top prize, but he came away with something better — a burgeoning showbiz career. Soon after his time as a housemate, Jameson won a place on the all-male dance group Hashtags. As part of that group, he got to dance in It's Showtime! every day, perform to a sold-out crowd at the KIA Theater and record an album.
?It was partly thanks to his increased public profile as a result of being in the Hashtags that he was cast in the 2016 Cinema One Originals Film Festival entry 2 Cool 2 Be 4gotten. He did so well in that movie that he was named the festival's Best Supporting Actor, beating veterans like Joel Torre and Ricky Davao.
?"Someone called to tell me that I won," recalls Jameson, who wasn't at the awards night because he had another work commitment. "Siyempre, it was really unexpected. I was speechless. I didn't think I would win an award for my first movie, so I was really happy."
?When Jameson found out about his big win, he felt like all the hard work he put into his role as Filipino-American Maxim Snyder was worth it. For one thing, the character wasn't an easy one to take on.
"My character in the movie has a dark personality. You could even say he's a psychopath," Jameson says. "They had a go-see for the movie, and I thought the role would suit me because Maxim and I are kind of similar in real life. My personality isn't as dark as his naman, but I think what put me over the edge was when I told the production staff about my life, my story. I didn't have a lot of acting experience, I've never done any workshops, but I still got it."
?For Jameson, the toughest scene was a sensitive scene he had to do opposite Khalil Ramos. He admits to having second thoughts about it, but after a conversation with the movie's director Petersen Vargas, he steeled himself and did it.
"The first thing that entered my mind at the time was, 'Why is this scene in the movie at all? Why do I have to do it? What is its purpose?' So direk Petersen explained it to me, and after he did, I tried to figure out a way to do it properly. It was very hard for me, actually. It was the hardest scene I had to do for the movie. It was a struggle, but I managed to pull it off and that's what matters."
When Jameson saw the finished film, he was overwhelmed. "It was my first time to see my face on the big screen and it felt different. I'll always be grateful to direk Petersen and his staff for taking a chance on me. I learned so much and I enjoyed working on the movie, but while I was watching it, I couldn't help thinking that I could've done better in some scenes. I couldn't keep thoughts like that out of my head. But it's alright."
He now sees 2 Cool 2 Be 4gotten as more of a learning experience than anything else. Because of everything he's learned, not to mention winning the Best Supporting Actor award, he's eager to continue working as an actor. "I do enjoy dancing, but acting is new to me. Winning boosted my confidence and motivated me to do more acting, so I'm hoping for more opportunities in that area."
?Luckily, he didn't have to wait that long. Dreamscape, an ABS-CBN TV production unit, gave Jameson not one, but two projects: An episode of Wansapanataym titled My Hair Lady, and a teleserye titled My Dear Heart. (He co-stars with Loisa Andalio and newcomer Mark Oblea in both projects.)
"I play the role of Dominic Divinagracia, the nephew of Tita Coney's character, in My Dear Heart. I want to thank Dreamscape and Sir Deo Endrinal for this opportunity because it's my first teleserye. I'm happy because I'm learning a lot about acting from Tita Coney and Tita Susan Africa," he beams.