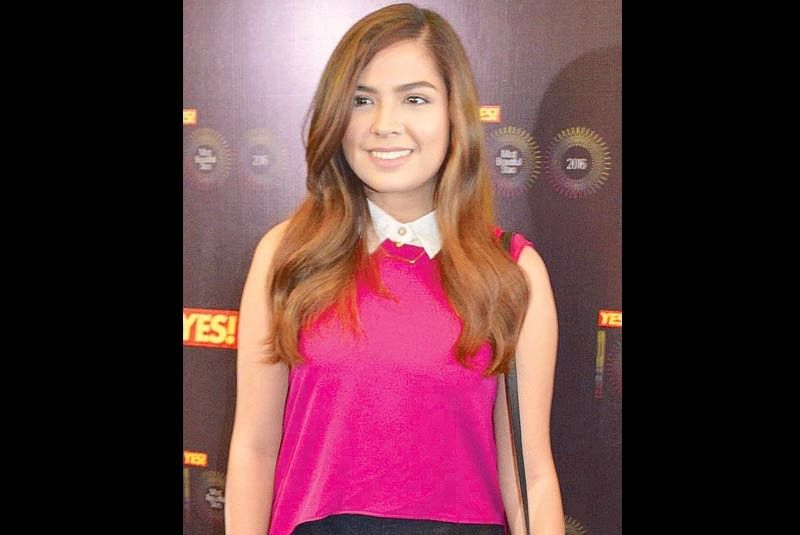 Alexa Ilacad comes as a welcome breath of fresh air with the release of To the Moon and Back, an album of catchy, spunky pop-rock anthems
VER PAULINO
Most of the young female singers currently making waves in the industry are cut from the same biritera cloth as Regine Velasquez. So when Alexa Ilacad released To the Moon and Back, an album of catchy, spunky pop-rock anthems, she came across as a welcome breath of fresh air.
Alexa has always loved music, but her tastes run a little differently compared to other girls. She was and still is a big fan of American rock bands My Chemical Romance and Paramore. But she never really thought about making music herself until she joined the reality music competition show We Love OPM: The Celebrity Sing-Offs last year.
?"Everyone's first reaction to me being on that show was surprise. They asked, 'Aren't you an actress?' But as the weeks went by and they saw me perform with my group Oh My Girls, they said I was a revelation. It was then that I realized how much I love singing, especially with a live band. When the show ended, I missed being onstage," Alexa says.
?Once Alexa had been bitten by the singing bug, there was no going back for her. She decided to dive headfirst into making an album of her own. Thankfully, Alexa knew what kind of music she wanted to make — "I wanted a pop-rock sound, but not bubblegum pop and not noisy rock, like heavy metal. I wanted my album to sound young" — and who she wanted to collaborate with.
That made the whole process much easier. ?Alexa linked up with the OPM band Gracenote, fronted by female rocker Eunice Jorge, to write the songs that would go on To the Moon and Back. Eunice normally doesn't write for or with other artists, so she was somewhat apprehensive about working with Alexa. But that changed when she talked shop with the Goin' Bulilit and Luv U alum for the first time.
?"We clicked instantly," says Eunice. "I felt a connection with Alexa, so when I sat down to write songs for her, everything went smoothly. It became easy for me to put myself in her shoes and write about what it's like to be a girl her age, falling in love for the first time and dealing with strict parents and things like that. Writing for her came naturally to me because I was able to connect to her. The first song I wrote for Alexa's album was the carrier single Pakipot, Suplado. The fact that she sings well also inspired me."
?Alexa says all the songs on To the Moon and Back are very personal because she really opened up to Eunice during the writing process. Eunice turned the stories Alexa shared with her into songs. For instance, after Alexa talked about crushing on Enchong Dee and Justin Bieber, Eunice wrote a song called Dream Boat. There's also a song called Puso that Alexa dedicates to her loyal fans, the Alexanators.
?"When I talked to Ate Eunice, I told her I had pegs for each song. I asked her to write about certain situations that I know people my age are going through because I'm also going through them," Alexa explains.
?When asked if her onscreen partner Nash Aguas is the subject of any of her songs, Alexa said yes. "Actually, he's really the inspiration for the whole album. He's ready to be in a relationship, but I'm not. At least not right now. I'm not really thinking about that. There are a lot of things I want to achieve first. Also, he's already 18 and I'm only 16. I'm not allowed to have a boyfriend until my Mom says I can. She and my Dad haven't given me the go-signal yet and I respect that. But yes, Nash and I do understand each other."
?Their understanding became the basis of To the Moon and Back's carrier single, as well as another track on the album titled Kung Pwede Lang. But as much as she likes Nash, Alexa says her career —specifically music — is her priority. She's having too much fun with it right now.
"Every time I step on the stage to perform, I become a different person. The way I move onstage is very different to the way I move when I'm offstage. When I'm performing, I act like the stage is mine. I want people to see me having fun so they'll have fun, too." —With reports from Almed Garcia and Julian Mauricio