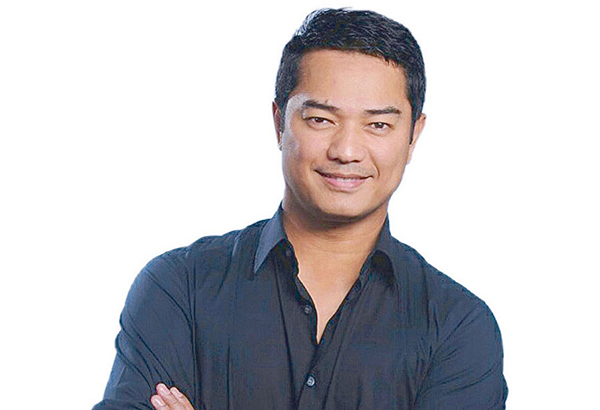 Ariel Rivera headlines #LoveThrowback2 on Feb. 14 along with Christian Bautista, Joey G., Jinky Vidal, Nina and Hajji Alejandro.
Ariel return to concert stage
MANILA, Philippines - Come Valentine's Day, six OPM hitmakers will share the stage in a show titled #LoveThrowback2 at the Plenary Hall of the Philippine International Convention Center (PICC) in Pasay City. The show will be headlined by Ariel Rivera, Christian Bautista, Joey G., Jinky Vidal, Nina and Hajji Alejandro.
As the stage director of the all-star Valentine concert, what excites me aside from directing for the first time the original Kilabot ng Kolehiyala Hajji Alejandro and former band frontman Joey G., is the idea of having to work with Ariel. I've always wanted to do a show with him because I believe he's got one of the most distinct voices in local music industry, plus the charm he exudes on stage seems not to cease over the years.
I first met Ariel over two decades ago when we were both artists of Backroom, Inc., the talent management company of Boy Abunda, now called Asian Artists Agency. Around that time, I was a member of the company's in-house dance group called BodyTalk. I could vividly recall the first time we were his back-up dancers was in a concert at the Folk Arts Theater. Whenever Earth, Wind and Fire's September is on his setlist, we'd be in the same show to get the audience up on their feet dancing.
But one of my most memorable projects with Ariel was during his hosting days in SaLinggonAPOSila, the defunct Sunday noontime variety program of ABS-CBN. In one of the episodes, they wanted him to dance for the first time on national television. I was assigned to choreograph the number and teach Ariel the routine in one session. On the day of the rehearsal, Ariel and I spent three hours for him to master the choreography. For someone who considers himself with two left foot in dancing, it was good enough and fast. He even jokingly said, "No sweat!"
So when I got to sit down again with the singer-turned-actor during the media call for the concert at Salu Restaurant in Quezon City, I reminded him of this story and he burst into laughter. Then I started to ask why he slowed down on his singing career and opted to concentrate on acting.
"Because roles in teleseryes were always offered to me," he instantly answered. "I actually miss the high from performing in front of people and the immediate artistic satisfaction and fulfillment. That's why I'm looking forward to performing with the artists in #LoveThrowback2. It's an interesting mix since we come from different genres," he added.
Unfortunately, Ariel has no plans yet of releasing a new album since he's busy taping for Hahamakin Ang Lahat, which airs on GMA 7.
"It's hard to record a full album when you don't get enough sleep and rest. And I'm taping for our show three times a week," explained Ariel.
I also asked him that if he were given a chance to do a revival or cover song, which song would that be? He answered, Don't Know What To Do (Don't Know What To Say), popularized by another singing heartthrob, Ric Segreto.
During the height of his singing career, Ariel was tagged as the new Kilabot ng Kolehiyala which was first bestowed on Hajji. How did he feel about this? "Honestly, I was never the Kilabot ng Kolehiyala. That title has only belonged to Hajji, and only him. I've never acknowledge the title as mine," he stressed.
Ariel, who considers Sana Ngayong Pasko composed by Jimmy Borja as his favorite among his hits, said that he'll be working on more teleseryes and a few live shows this year. And when asked if what song best describes his persona, he answered in jest, Simple Lang.
(A production of Royale Chimes Concerts and Events, Inc., #LoveThrowback2 is supported by Echo Jham Productions, Salu – The Filipino Restaurant, Icon Hotel, 105.1 Crossover FM, 106.7 Energy FM, 94.7 Mellow, 97.9 Home Radio, Retro 105.9 DCG FM, DWWW774, 104.7 Brigada News FM, WhenInManila.Com, Inquirer.Net, Philstar Global, Philippine Concerts, Manila Concert Scene, MNL Online, Soundcheck Manila and Business Mirror. For tickets, call TicketWorld at 891-9999, TicketNet at 911-5555 or SM Tickets at 470-2222).