UH barkada celebrates 17 years of friendship
January 20, 2017 | 12:24am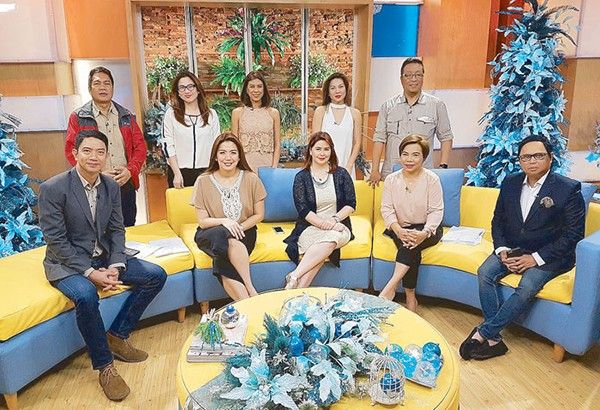 You know you have a solid program when the people who make it up no longer see themselves as merely colleagues but as family members. This is what one can see in Unang Hirit (UH), the country's longest-running and top-rating morning show.
Though the years, UH has been our companion as we jumpstart our day. We turn to it for the latest weather updates, breaking news and other special features to keep us, the viewers, informed and entertained.
UH currently has 10 hosts and four segment hosts. Yes, that's how the barkada has grown over the years. Joining pioneering hosts Arnold Clavio, Suzi Entrata-Abrera and Lyn Ching-Pascual are Rhea Santos, Lhar Santiago, Love Añover-Llanko, Susan Enriquez, Connie Sison, Ivan Mayrina and Luane Dy. The group is made extra colorful with the presence of Nathaniel "Mang Tani" Cruz, lawyer Gaby Concepcion, Mareng Winnie Monsod and Regine Tolentino, plus regular UH katambays Juancho Triviño and Hiro Peralta.
Spending a few minutes with the hosts off-cam allows one a peek into the natural banter they have — an extension of the rapport we see on TV. Arnold says it's no longer a secret that their bonding on- and off-cam has been the foundation of the show's success. UH, he claims, is already second family to them that doing the show every day does not feel like work anymore.
"Ang saya pumasok sa isang programa na parang hindi ka nagtatrabaho kasi masaya 'yung samahan, totoo yung barkadahan, in and outside of the program," shares Connie.
For Mang Tani, becoming part of the show was not something he really expected. The Kapuso resident meteorologist also did not imagine himself waking up extra early in the morning every day. But every moment spent with what he considers as his second family is worth waking up to, he claims. "Sulit na sulit dahil sa mga kasamahan," he says.
Right after UH, all the hosts become busy with their other commitments. Igan and Susan both have their separate radio shows and public affairs programs. Connie and Luane have Balitanghali at noon. Lhar attends to showbiz news, Mang Tani continues giving weather updates and lawyer Gabby has work at MTRCB. The rest have tapings for their shows such as Rhea and Suzi.
Still, the hosts make it a point to get together outside UH. Aside from playing bowling games after the show, they share shopping moments, have coffee, go on videoke sessions, and eat out and have drinks.
"We have get-togethers at one another's houses," reveals Lyn. During Christmas, the group usually goes to Igan's house, bringing food for everyone to enjoy. Over the years, their spouses and kids tag along.
If viewers enjoy what they see in the show, they might find it more interesting to know that each UH host has a different personality.
Lhar, for one, knows the Bible well. Lawyer Gaby makes delicious oatmeal cookies while Connie is the Adobo Queen — her version of adobo is to die for. Igan, on top of being the kuya who gives pieces of advice, is also the comedian of the group.
While everyone is expected to be early at the studio, Susan earns the early bird trophy mainly because she does the voice over for the news headlines. But when asked who always comes in last, everyone agrees it has to be Suzi.
"Aminado naman ako na lagi akong late lalo na ngayong malamig ang panahon," she cheerfully says. She makes up for being late though by always bringing food. She is also considered the girl scout among the hosts — she seems to have in her bag everything one needs to survive such as wet wipes and stain remover.
"Si Connie naman ang pinakamadaling bentahan," Suzi reveals. Apparently, Connie has the reputation of buying from companies and small businesses they feature in the show.
"I just want to support them," Connie reasons out.
Over the years, UH not only dominated the ratings game, it has earned the nod of various award-giving bodies as well. This is why being part of the UH barkada is an honor for all of them.
"It drives you to really work harder and do your best. And it really is a group effort because all of us contribute to giving ideas as well," shares Lhar.
To celebrate its 17th anniversary, UH went around the country to spread the Magic of Pasko. Arnold and Susan kicked off the month-long Pasko Pilipinas celebration by going to Davao City last Dec. 5. Suzi and Connie went to the City of Pines a week after to spread the warmth of the Christmas season. Rhea and Ivan joined the Cebuanos on the first day of Simbang Gabi last Dec. 16.
On Dec. 23, UH spent time with the people who would wake up early every day — security guards, vendors, traffic enforcers, etc. — just like what UH has been doing for more than a decade now. UH gathered their kasabayan sa paggising sa umaga at Luneta Park and even gifted five lucky individuals with negosyo packages. The hosts also treated a hard-working panadero (baker) from Barangay Dolores, Taytay, Rizal. Sonny Magpantay, who has been a baker for 20 years, was given his very own bakery.
As Unang Hirit begins another chapter this year, we can only expect that the UH barkada will continue to be our special ray of sunshine — bringing us greater mornings to inspire us throughout the day.