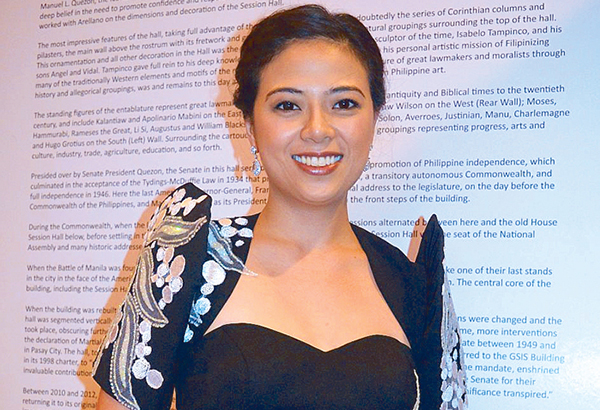 The Film Development Council of the Philippines (FDCP) under its chair Liza Diño is striking while the proverbial iron is hot — Photo by Ver Paulino­
Liza has big plans for the industry
Another golden age of Philippine cinema is here. Our filmmakers are winning in international film festivals. Lav Diaz bagged the Silver Bear in Berlin for Hele sa Hiwagang Hapis. He won the Golden Lion for Ang Babaeng Humayo. His other film, Ang Araw Bago Ang Wakas, got the Principal Prize at the International Short Filmfest in Oberhausen, Germany and Best Feature at the Tabor Filmfest in Croatia.
Jaclyn Jose is the first Filipina to win Best Actress honors in Cannes (for Ma'Rosa). Cannes Best Director Brillante Mendoza's film may have not been shortlisted in the Oscars' Best Foreign Language Film category, but it was reviewed in Variety and The Guardian.
The Film Development Council of the Philippines (FDCP) under its chair Liza Diño is striking while the proverbial iron is hot. Since she assumed office months ago, the hardworking Liza has lived out of a suitcase, promoting Filipino films not only in the country, but abroad.
Liza's travel assistance program for filmmakers who join international festivals spares these talented people from the agony of begging for airfare and money for accommodations abroad.
Speaking of financial help, FDCP helped bankroll Ma'Rosa's bid for a nomination in the Oscars' Best Foreign Language Film Category (it didn't make it to the shortlist, though).
The momentum has become too strong to let go of. Next year will be even more hectic and exciting.
Up high on Liza's to-do list is a three-day film congress in October that promises to make the Philippines a motion picture hub in Asia.
It will expose Filipino indie filmmakers to experts in marketing and distributing films around the world.
"There are so many projects and grants filmmakers can access to fund their projects," says Liza.
For her — and the film industry — it's the more, the merrier.
It's also the more, the merrier for filmmakers who dream of having a good venue where their creativity and hard work can be shown without the risk of being pulled out after the first few days of exhibition.
The good news is that FDCP has partnered with SM cinemas to show these films nationwide. FDCP will provide the movies to be screened in eight SM cinemas.
Indie films to be shown in SM cinemas will enjoy a wider audience, and longer exposure where it matters most — the mall most families go to.
You don't have to go to Manila anymore to watch your favorite indie. It will be shown in the provincial SM Mall nearest you.
FDCP is going to remote places that deserve all the help it can get.
Compostela Valley, for instance, has been holding an indie film exhibition at the town plaza for four years now. This breeding ground of local talent has even won a citation for Responsible Tourism, Community-Based Category.
It's about time the place gets its own movie theater, or cinematheque. The same is true for Antique, which will also have its cinematheque, as soon as construction on the building is done.
"We're working on an P8M budget," explains Liza. Thanks to Sen. Loren Legarda, that budget even grew bigger to cover the construction of three cinematheques.
FDCP is also teaming up with the University of the Philippines (UP) Film Institute to come up with a teaching manual, online workshops, and others on film. Liza and company are sponsoring inter-collegiate filmfests nationwide to help young, budding filmmakers from universities nationwide.
If plans push through, these students will go to Subic for their research. FDCP will convert part of SBMA's (Subic Bay Metropolitan Authority, which Liza's dad, Martin Diño heads) vast facilities into a film archive.
And just so filmmakers can come up with more outputs this year, Liza is working on a proposal that would include the film industry in the government's investment priority plan. It will entitle films to get tax rebates from government.
Liza has big plans and she needs, and deserves our full support. —With reports from Almed Garcia and Julian Mauricio