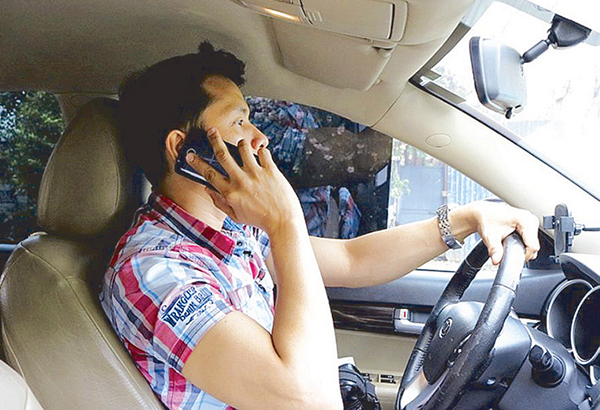 Talking on the cellphone while driving even when temporarily stopped at a red light is now punishable under the new Anti-Distracted Driving Act
A lesson on the Anti-Distracted Driving Act
(The Philippine Star) - December 9, 2016 - 12:00am
Learning law the showbiz way
MANILA, Philippines - Actor X was on his way to a television studio in Quezon City from Makati for a telenovela taping. While driving along EDSA, the show's production assistant called him on his cellphone to tell him about the sudden change of script.
Actor X discussed the new script in detail with the show's production assistant while driving on the road. When Actor X reached a full stop at the corner of EDSA and Kamuning Road, he continued talking on the phone. A policeman went to his side of the car and apprehended him for "Distracted Driving."
Actor X reprimanded the police for not knowing the law. Actor X said he cannot be made liable as he was talking on his cellphone while stopped during a red light.
Is Actor X correct?
No. Actor X is not correct. He can be punished under the new Anti-Distracted Driving Act or Republic Act 10913. This law defines "distracted driving" as engaging in certain actions while in motion and even when the vehicle is temporarily stopped at a red light. These actions include the following:
•Sending or reading messages on a mobile device
•Making or receiving calls
•Playing electronic games
•Watching movies
•Surfing the Internet
•Reading e-books
•Performing calculations
Under the new Republic Act 10913 or the Anti-Distracted Driving Act, motorists who engage in distracted driving while driving or while stopped by a red traffic light on the road can face a fine of P5,000 for the first offense, P10,000 for the second offense, P15,000 and a three-month suspension of driver's license for the third offense, and a fine of P20,000 and revocation of driver's license for succeeding offenses. The use of a mobile device while driving is allowed only when the driver uses hands-free tools such as a speaker phone and earphones.
Drivers of public utility vehicles, school services and common carriers with "volatile, flammable or toxic materials," and drivers who commit distracted driving within a 50-meter radius from school premises face a higher punishment of P30,000 and suspension of driver's license for three months. The law will also hold liable operators of PUVs and commercial vehicles along with the offenders themselves if they fail to prove that they exercised diligence in the selection of supervision of the drivers they hired. Those who are exempted by the law are drivers who use their mobile phones for emergency purposes such as contacting law enforcement agencies, hospitals and fire departments. Motorists using their phones while driving an ambulance, fire truck, and other vehicles providing emergency assistance are also exempted.
To learn more of the Anti- Distracted Driving Act, please watch author in Law Profile in the television show Serbisyong Kasangbahay today at 4:30 p.m. on UNTV Channel 37.
(E-mail author at dotgancayco@ymail.com or text 0927-7402700.)