Maxine welcomes Miss U staging in Philippines (Other beauty queens agree)
MANILA, Philippines - Will "home court advantage" work for 2016 Miss Universe Philippines Maxine Medina? Fellow Pinay and reigning Miss U Pia Wurtzbach is set to pass the crown to her successor on Jan. 30, 2017 in the Philippines, as announced recently by the Department of Tourism.
"I'm very excited because first of all, my fellow Filipinos will cheer for me," Maxine told The STAR last Saturday, on the sidelines of the Cebu stop of PLDT Home's The Regine Series nationwide tour featuring Regine Velasquez. Maxine graced the event being a PLDT Home Ambassador. "It's overwhelming since this is my first pageant and then, I came after Pia. Of course, we want to keep that crown. I want it myself."
Maxine doesn't want to let the pressure affect her. "At first (I felt the pressure) because of the expectations of the people and of course, we're all expected to deliver back-to-back (victories). For sure, I'll be giving my 100 percent. I'm working hard for it by training," said Maxine, adding that she's intensely training every day, from 9 a.m. to 5 p.m., doing gym and having Dale Carnegie and John Robert Powers workshops, among others.
Asked how ready she is, the 25-year-old model and interior designer said, "For now, 80 percent kasi maaga pa, there's a lot I need to learn, to know about pageants. And I have to be more fit. Compared to other candidates, as I've been stalking them (on social media), lahat sila sobrang fit, toned, with abs."
One thing is for sure, she's enjoying her journey, keeping the negative thoughts at bay. She considers joining (and eventually winning) Binibining Pilipinas early this year already an achievement in itself because "my biggest fear actually is standing on a stage in front of many people but I was able to do it (with the pageant)."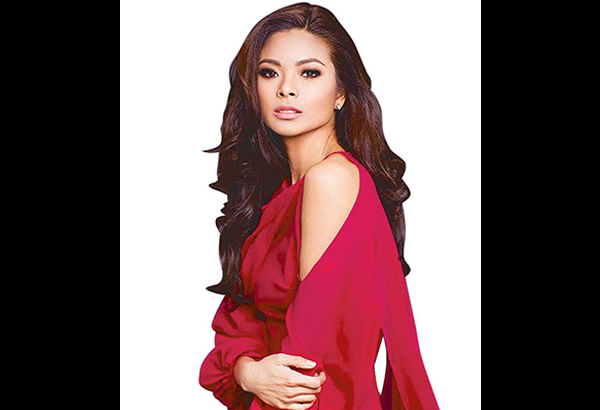 Photo from Bb. Pilipinas official Facebook page
Maxine shared that becoming a beauty queen was never in her plans. After her first Binibini attempt in 2012, which didn't work out, she couldn't stop thinking about trying again. "Naka-focus na ako bilang interior designer. My plans were all laid out. I was planning to take my board exams, then put up a firm for myself, para sunod-sunod na and maging stable na ang life ko. I was ready to leave the modeling industry at that time, but then all of a sudden…Actually, I was praying sa Baclaran, 'Lord, please enlighten me kasi di ko talaga alam, lahat ng opportunities nakalatag na for me, the only thing that I will do is to choose.' So, parang OK, may mga signs ako, so (I joined again) Binibini. Then, when I was there, I enjoyed it all the way, no pressure for me."
She added, "Before, pageants for me was like, why do you have to compete your face, your beauty? Now, I see its relevance, it's more about awareness and giving voice to those who can't speak for themselves."
Maxine is happy to get words of encouragement from Pia. When she first heard of the news that Miss U was going to be held in the country, she texted Pia "and she said, 'Don't worry… I will guide you.' She advised me to be strong, be yourself, it's all about you... your character, characteristics, what you want to share with other people."
Meanwhile, former Miss U rep MJ Lastimosa believes that having the pageant staged in the country will work to Maxine's advantage. "I know this is her dream. I'm excited to watch her on stage wearing the Philippine sash. I think it's a very good advantage for her that it will be held in her own country because of the solid support. I've told her, manalo or matalo ka, hindi ka makakalimutan ng Filipinos, like what happened to Charlene Gonzales (she was the representative in the 1994 Miss U pageant in the Philippines), but of course, you should also do your best but don't let the pressure get to you… It's gonna be like two hours of your life that you will be representing your country to the pageant, so why not give your all and make your country proud?"
The Miss U pageant will reportedly cost $11M. DOT had said that the private sector will shoulder the expenses. Asked to respond to some criticism on social media about the decision to host such an event when there are more important matters that the country must attend to, MJ said, "It's something that lifts the spirits of the Filipinos. Yan yung isa sa mga bagay na mahal talaga natin. I mean in every barangay, province, there's a beauty pageant… I think it will inspire in a way, it's something positive, it's not about the expenses. I know Filipinos will help hand-in-hand (for this), especially the private sector."
MJ added, "I'm very happy for the Filipinos. It's going to be a big celebration since the Philippines is one of the biggest supporters of the Miss Universe pageant. Iba yung mapapanood mo na live than just watching it over and over on TV. And it's a great tourism stint for our country. I hope we all work hand in hand for this because it's not only the representative but the whole country will benefit from it."
Another beauty queen equally excited to see it unfold in the country is 1993 Miss Universe Dayanara Torres. The Puerto Rican beauty queen posted on her Instagram account: "#missuniverse 17 in the Philippines. My 2nd home. What great news! Sobrang nakakaexcite & nakakasenti. Got to get my secret stash out. Miss na miss ko kayo!"
Dayanara was the Miss U when the Philippines last hosted the contest in 1994. She lived and pursued a showbiz career in the country after that.
It will be the third time the country is hosting the pageant. The first one was in 1974 at the Folk Arts Theater. To date, the Philippines has three Miss U winners — Gloria Diaz (1969), Margie Moran (1973) and Pia.