Direk Gino admitted 'initially intimidated' by Piolo Pascual and Dawn Zulueta (below, with co-star Coleen Garcia), cast in an August-October romance in Star Cinema's Love Me Tomorrow. 'I realized that my apprehension was unfounded,' said Gino.
Photo from Gino Santos' Facebook
Direk Gino Santos: Why directing & not acting
FUNFARE
-
Ricky Lo
(The Philippine Star) - May 26, 2016 - 12:00am
Because he is good-looking, Gino Santos, 26 (Nov. 12, 1989), is invariably asked why he decided to be a director rather than an actor.
"Actually," said Gino amused, "it never crossed my mind. Oh yes, I've always been a film lover. As far as I can remember, I've always been watching films since I was a kid, mostly suspense-thriller. I grew up in the '90s. There was even a time when I wanted to be a chef so I took up Culinary Arts."
Until Gino got so fascinated by the Quentin Tarantino film Pulp Fiction that he told himself, "I would like to do a film like that." That clinched it. (Incidentally, it was the same film that also inspired Quark Henares to be a director.)
In 2008, Gino graduated with a degree in Digital Filmmaking from De La Salle College of Saint Benilde. Then, he took up filmmaking workshops at Asia Pacific Film Institute, The Marilou Diaz Abaya Film Institute, and the New York Film Academy Workshop in Japan.
Besides suspense-thrillers and Tarantino films, Gino is also an avid follower of, as he puts it, "all kinds of films," and his other favorite is Ang Pamana, an indie by Romeo Candido which Gino described as "hindi sikat," hardly watched.
"It's about Philippine folklore, about aswangs and duwendes," said Gino, "a film ahead of its time."
That description ("ahead of its time") doesn't apply to Gino's latest work, Star Cinema's Love Me Tomorrow which is about an August-October romance starring Dawn Zulueta (whose character is into her late 40s) and Piolo Pascual (whose character is in his 30s), with Coleen Garcia (as a millennial in her early 20s).
Gino has worked with Coleen in #Y and Ex With Benefits (with Derek Ramsay as leading man), so he felt comfortable with her.
"We first met many years ago," shared Gino. "Coleen and I did a commercial for the (kiddie wear) Ginger Snaps. She was eight years old then and I was 11. When we met again, Coleen was with Star Magic and starting her stint as It's Showtime co-host (she has quit last year)."
Benefits marked Coleen's baptism as a daring actress.
"I made her do love scenes with Derek," continued Gino, "but I made sure that they were done in good taste."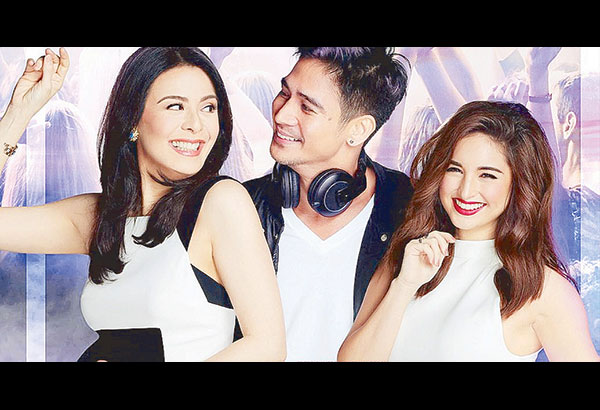 Before #Y and Benefits, Gino did several short films that attracted attention both locally and internationally (In Berlin, L.A., etc.). Ang Tangke (The Water Tank) and Bangungot (Sleep Paralysis, tagged as "experimental") both won Honorable Mention honors from Gawad CCP; while Labing Dalawa (Twelve), his college thesis, got a Short Film nomination from the 35th Gawad Urian.
Every Other Time, another short film, competed at the Seventh Cinemalaya Philippine Independent Film Festival where Gino's first full-length film, The Animals, also competed the next year and received an award for Best Editing, and more awards (Best Screenplay, Best Cinematography and Best Musical Score) at the 36th Gawad Urian before it was shown at the Stockholm International Film Festival and the New York Asian Film Festival.
Between #Y and Benefits, Gino co-directed his second full-length film, Island Dreams, with Aloy Adlawan (also the scriptwriter). The film won Most Gender Sensitive Award at the New Wave Category of the Metro Manila Film Festival.
"I was scared when Love Me Tomorrow was offered to me," admitted Gino. "It's the kind of film na pang-Inang (Olivia Lamasan), isn't it? Imagine, Piolo and Dawn as lead actors. So intimidating!"
Gino's apprehension turned out to be unfounded.
On the first shooting day, Gino shot a scene between Dawn and Piolo, with Piolo coming out of the shower semi-nude (Piolo was quoted as saying that his "front" was covered, by what he didn't say).
"At first, I thought baka pagalitan nila ako," laughed Gino. "They are so light to work with. They are outgoing and, like me, they are not afraid to go crazy and be silly."
Asked how he was able to "strip" Piolo (who hasn't done a similar scene), Gino said that before the shoot, he discussed the scene with Piolo and Dawn.
"It's in the script, I told them," related Gino (who used the same gentle persuasion during the shoot of Coleen and Derek's love scenes in Benefits). "As I do with my actors, I asked Piolo and Dawn, 'Are you comfortable doing it?' They assured me that it was okay."
By the way, has Gino, like Piolo's character, been involved with a girl older than he is?
"Not yet," he blushed. "Maybe one or two years older but not as old as Dawn's character."
(Star Cinema's Love Me Tomorrow is now showing nationwide.)
(E-mail reactions at entphilstar@yahoo.com. You may also send your questions to askrickylo@gmail.com.)