Iza Calzado: Hollywood can wait
MANILA, Philippines – Iza Calzado is not Hollywood-bound just yet. But her recent sojourn to Los Angeles saw the actress testing the waters, so to speak, by exploring the audition landscape there.
"I didn't study a specific acting course," Iza shared. "I studied an audition technique. We are not used to auditioning here (in the Philippines for a role). I (also) studied some improv. I always think that there's so much room for improvement. I'm not where I want to be as an actress (but) I'm happy where I am."
Iza went to the Acquila Morong, whose owner is a casting director. Whatever new insights she has gained from it will surely help her secure a mainstream or an independent film in the US. If not, she can use the experience (like learning an accent) in every project that may come her way in the local scene.
"It's better to be prepared," Iza said. "I wanted to explore several things… Whatever it is, I'm just preparing for my future… Why do you have to wait for a role to come to you? Why don't you prepare for it?... I'm just preparing for, if for one day, I just want to move there for a certain period of time. I'd rather be prepared and know that I can actually live there. It's more of an ocular inspection. I always wanted to go beyond the Philippines — it could be regional (like) Southeast Asia. I just feel that we should keep on expanding our audience and market."
Iza also shared a piece of good news, if one may call it, that when she was in the US, the actress was able to book an independent film (thriller) with a Filipino director. If this materializes, she will be working with Jake Macapagal.
"It's ongoing and it is not yet set," Iza said. "It's good (that) something came up with my trip."
For actors like Iza, it is important to think of the next logical step by setting new goals. As she put it, "You just keep on exploring and trying."
Following the "globalizing" trend in the creative arts, especially on TV and in film, Iza has to be on her toes and always on the lookout for new acting playing field to explore. Although it's safe to say that chasing the American dream is on her wish list like most Filipinos do, Iza is still bound by her commitments in the local tinseltown. One of which is My Candidate, also star-ring Derek Ramsay and Shaina Magdayao, and premiering tomorrow, May 11, in theaters nationwide.
"May pagka-maldita siya," described Iza of Vera Sanchez, the former girlfriend of Derek's character Sonny Suarez, who is also running for a senatorial seat in the movie. "She is very ambitious and she will stop at nothing to get what she wants." Iza added that her role "wasn't patterned after any politician" and it never crossed her mind that the Quark Henares movie could be perceived as a political statement. After all, My Candidate is a rom-com set in an elections milieu.
Aside from acting in mainstream movies, Iza said that an upcoming soap and an indie are in the pipeline.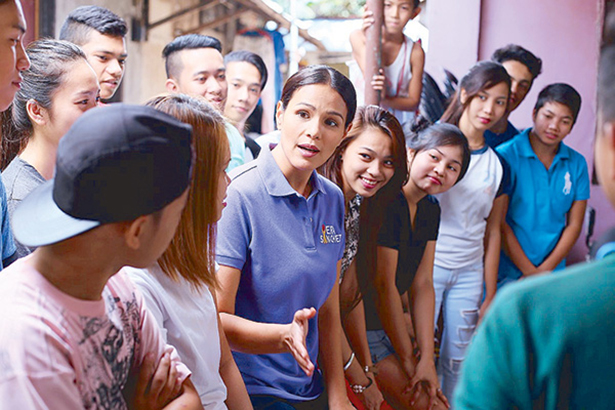 As Senatoriable Vera Sanchez in the political rom-com My Candidate
"ABS-CBN ang aking tahanan," she shared. "I would be (starring in a soap) with Bea. I'm also currently working on a project with Jerrold Tarog. It's a psycho-thriller, one of my favorite genres. I auditioned for the part. When I was asked to read for it, I was so thrilled." The movie is more sensual as Iza implied. She might be baring some skin as much as she is baring her talent.
Having attended recently the wedding anniversary of close friends Judy Ann Santos and Ryan Agoncillio, is Iza pressured to tie the knot? "Wala," she replied. "Hindi talaga. Wala pa. Hindi naman na ako bata, but (I'm not getting married) this year."
If and when she and her boyfriend decide to start their forever, will marriage stand in the way of her Hollywood dream? "I think you can pursue that and get married," she said.
Now, Iza is back in Manila, doing what she loves best, and never afraid to take on eclectic, diverse roles. With that mindset, she has surpassed the celebrity tag, which is mainly based on charm and looks.
"I also had decisions that didn't quite work out," she said. "There's always a reason why things (fall into place). There's always a reason why things happened. I think I'm a bit of a risk taker like doing that psycho-thriller with Jerrold and like doing this (My Candidate). Work is work. As long as the role is fun and challenging, I'm going to accept it."
(My Candidate is produced by Quantum Films, MJM Productions, Tuko Film Production and Buchi Boy Films. It also stars Ketchup Eusebio, Nico Antonio, Tirso Cruz III, Al Tantay, Jay Ignacio, Ricci Chan, Jun Sabayton, Happy Feraren and Christine Babao.)