Aljur & Janine: Second chance, second coming
Jerry Donato
(The Philippine Star) - April 29, 2016 - 10:00am
MANILA, Philippines - Everybody deserves a second chance in love — and in life. This is the premise where Once Again is set and the storyline Janine Gutierrez and Aljur Abrenica will figure in as lovers, fighting for their unrequited love — from here on to eternity.
Their latest Kapuso primetime series is a follow-up to Dangwa, where their onscreen partnership started. Janine and Aljur are at it again to handle mature roles this time around as compared to their last — and to take up where they left off as loveteam mates.
"It's better now than before," said Janine of her working relationship with Aljur. "I have got to know him more. We can talk (practically) anything, which makes the scenes easier to do. We are comfortable to each other. I can feel that he is very happy doing this. Our bonding has been fast-tracked. I've discovered that he is really a gentleman at ang kulit, kulit niya na akala ko (noon ay) seryosong tao. Mukha lang pala."
Among the discoveries of Janine is their interest in history. It is important since the two need to understand the "personal history" of their characters.
As for Aljur, the feeling is mutual. "In Dangwa, we never had the opportunity to talk more. With Once Again, we've had the opportunity to talk about things we share in common like how it is like to be the eldest, family values and being a doting brother or sister."
Although the project gives another chance to their budding team-up, Janine and Aljur see it as a venue to prove their worth as actors. "It's (definitely) another chance and a huge opportunity," she shared. "I have been given a good story (to be part of and a good role to play). It has a big cast and the director is very good."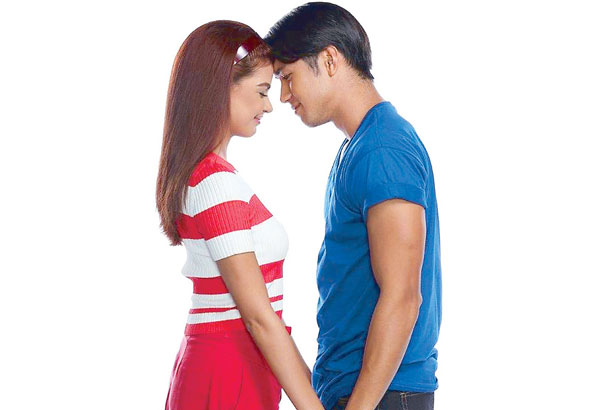 Aljur and Janine as lovers in their latest Kapuso primetime series, a follow-up to Dangwa, where their loveteam started.
"I don't consider it a second chance. I see it as a second coming," said Aljur, who thinks the issue involving him and GMA in the past is a case of "misunderstanding between the network and the artist." He admitted that he was also at fault. But what matters now are the lessons Aljur learned from the controversy.
"I have known myself better," he said on hindsight. "Now, I know what I want and what I don't want. I want to stay long in the industry and go farther with my career. Masaya ako na nakakapagbigay kasiyahan ako sa mga taong nanonood sa akin. I know I can share more with the viewers."
In Once Again, Janine and Aljur will be seen each in dual roles, one from the past and the other one in the present.
"It is challenging because I'm playing two characters technically," she shared. "They are Reign (Soriano) and Des (Javier). Somehow I have to show the connection that binds the two, like their beliefs." According to Janine, Reign is claustrophobic and cannot figure out its cause. The character could connect it with her experience being trapped inside the car trunk.
"I have to portray my characters well and make a distinction between them. I have dramatic moments," she added.
Aljur is expected to do the same as Edgar del Mundo and Aldrin Sanchez. "I intended to lose weight for my role because my character is 22," he said, adding that he is "better than yesterday" and happy. "(Once Again) is a different kind of love story. It is a reincarnation story and revolves around the power of love. We will see and explore how far — and to what extent — love can go and endure."
Prior to Once Again, Janine and Aljur have shown their acting mettle and versatility in their respective Sinag Maynila Film Festival entries. She is a lady, who is escaping her dark past in the psychological-thriller Lila, while he as trigger-happy sadist in the Ato Bautista masterpiece Expressway.
To Janine, her stint in the Gino Santos movie has somehow helped her prepare for her roles in Once Again.
"The learnings I had gained from doing Lila are a great help in my latest project," she shared. "Since it was horror, I had moments where I was scared, neurotic and nervous. With the TV series, I'm being terrorized by the character named Lukas. He is obsessed with me. I'm afraid of what he is capable of doing. This is where my (experience in) Lila comes in handy."
On his part, Aljur said, "I can't say what (the televiewers) can expect from me. I'm just excited with (my new soap) because as an actor, I will be able to use my experiences (in previous projects)."
For now, let's take a second look at Janine and Aljur's team-up in Once Again, which premieres on May 2 after Poor Señorita and airs weeknights thereafter.