Boy George, Culture Club together in Big Dome concert
FUNFARE
-
Ricky Lo
(The Philippine Star) - April 6, 2016 - 10:00am
Close on the heels of Madonna who did (a highly-controversial) concert here for the first time last February, another "first" is happening on June 17 and 18 at the Smart Araneta Coliseum — yes, Culture Club featuring Boy George.
According to the producer who fed Funfare this "breaking news," the global icon is back together on tour after more than 12 years…with the original members, including guitarists Mikey Craig and Roy Hay, and drummer Jon Moss.
From the same producer, this backgrounder:
Formed in 1981 in London, Culture Club catapulted to international fame after the release of their number one single, Do You Really Want to Hurt Me? The following year, they went on to achieve nine Top 10 singles in the US and Canada, selling over 50 million albums worldwide. Their additional chart-topping hits include Time (Clock of the Heart), I'll Tumble 4 Ya, Church of the Poison Mind, Karma Chameleon, Miss Me Blind, It's a Miracle and The War Song.
The group achieved stunning success in the Eighties, scoring three Top Ten US hits from their debut album, Kissing to Be Clever, and becoming the first group to hit that milestone since the Beatles.
Culture Club broke up in 1986 and got back together in 1998. Their last album, Don't Mind If I Do, was released in 1999. Asked about the reunion, Boy George said in one of his interviews, "For me, it was all connected to kind of getting my house in order, being sober, kind of wanting to address some things that had some loose ends.
"There wouldn't be any point in doing it if it wasn't everybody. I think when bands try to come together and they got like a different singer or a different drummer, it's never quite the same. There's a kind of magic about those four people that created the band."
After all these years, Culture Club has not missed a beat! The group kicked off with their tour last year and their fans are really just happy to see them back on stage.
In addition to the comeback tour, Boy George and the band have recorded a new studio album, Tribes, which is set for release later this year. The album will feature their lead single, More Than Silence.
Boy George, who is now regularly seen as a judge in The Voice UK, is reported to be excited to perform for their Filipino fans.
"He expects it to be one big party and a celebration of one's individuality," said the producer.
Speaking of "individuality," in his Culture Club days, Boy George was admired for his androgynous fashion sense. Though he has since become an outspoken advocate for gay rights, he did not come out when he was in Culture Club and gave a variety of answers to interview questions about his sexuality.
The wider acceptance of LGBT people today is "a kind of world that I always wanted," George noted in most of his interviews. He said he was accepted in the '80s because of his celebrity status — but said today there are still many who are fighting for acceptance.
"There were different rules when you're famous, people forgave you more. But there are people out there in the world who are still facing difficulties… there's a lot of work to be done."
For Boy George and Culture Club, the reunion concert tour will be part of music history as they try to rewrite and continue the story and journey of their group. Be part of Culture Club's history and watch them perform live in Manila.
(Culture Club featuring Boy George Live In Manila is presented by Royale Chimes Concert & Events, Inc. Tickets are available at Ticketnet, 911-5555.)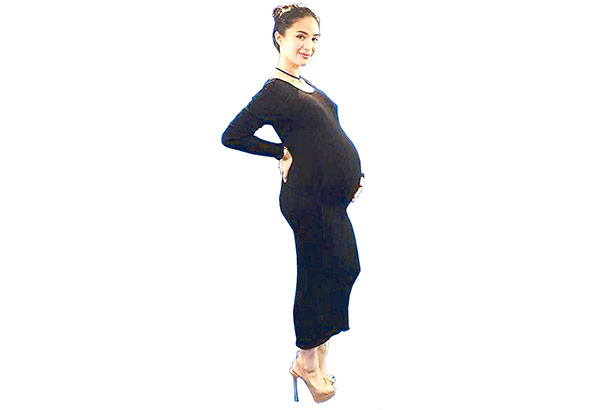 Will Heart Evangelista look like this... sa tamang panahon?
A preview of a 'preggy' Heart
Don't look now but Sen./Vice Presidentiable Chiz Escudero's wife Heart Evangelista must be so excited about getting pregnant that she posted on her Instagram a photo of how she would look "if and when."
But there's a tamang panahon for that…yes, after the May 9 elections.
"We are busy with the campaign," said Heart, "so I don't want to distract Chiz."
Was the "preggy Heart" photo meant to be for April Fool's Day (it was posted on April 1)? Or a hint that Heart's character in the GMA soap Juan Happy Love Story (with Dennis Trillo) is having a baby? Heart is mum, enjoying the guessing game being played by netizens.
Between tapings for the soap, Heart hits the campaign trail. A few weeks ago, she was drumming up for Chiz in the North with her good friend Lovi Poe (who is at-home in those parts because her ex-non-showbiz boyfriend is from there). Last week, Heart flew to Iloilo with her sister Cam Ongpauco, designer Mark Bumgarner and some friends to win votes for Chiz. Then, she played "Palengke Queen" in Divisoria and Cartimar, with side trip to the Pasay Victory Mall at the Libertad Market.
But Heart is never too busy to spend quality time with twins Chesi and Quino whom she treats as her own children. The family usually spends Sundays eating out and "malling." While Chiz (and Grace) were campaigning in the province, Heart with friend stylist Kat Cruz went swimming with the twins. She should know what to do when she becomes a real mom.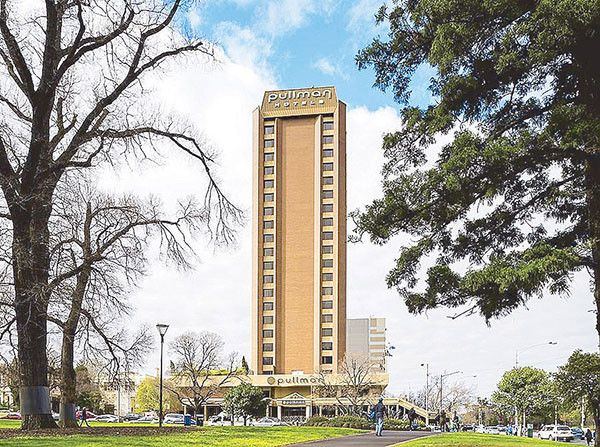 The Pullman Hotel in Melbourne where the 2016 Top Model of the World Philippines will be held sometime end of July. Twenty candidates are competing.
Top Model of the World Phl to be held in Melbourne
The candidates for the 2016 Top Model of the World Philippines will converge in Melbourne for the national finals set for July 12 to 19.
"We are expecting 20 contestants from various locations," said Caroline "Alin" de Venecia, president of the TMWP (with her sisters Christina and Isabelle as board directors). "At least one of them are from Manila. The others are coming from Toronto, New York City, L.A., San Francisco and Germany. The rest will come from Australia. The next Top Model of the World pageant will be held either in Ghana or Egypt. For 2017, Grenada (West Indies) has signed up as the host. It will be staged at a luxurious beach."
The 2016 event will consist of docklands tour and photo shoot, rehearsal/pre-judging (swimsuit, long gown, high fashion wear and cocktail dress, plus one-on-one interviews).
The grand finals will be held at Pullman (formerly Hilton) Hotel.
Kanye West to perform in Phl for 1st time
US rapper Kanye West will headline this year's Paradise International Music Festival (Paradise IMF), which will be held on April 9, Saturday, at the Aseana Open Grounds in Parañaque City.
It is Kanye's first time to perform in the Philippines. Aside from Kanye, Austin Mahone, rapper Rudimental and Swedish DJ Afrojack will also perform at the festival.
Mahone, known for his hit song What About Love, is a YouTube sensation who recently topped the Billboard hit charts.
The festival is produced by Boardworks Media Entertainment, known for producing the concerts of John Legend, Lifehouse and Chris Brown in Manila. Boardworks said stages will be set up across the field for a uniquely immersive concert experience.
Boardworks Media Entertainment co-owner Joshua Ylaya expects fans to come in from all over the globe: "We are ready to make this music festival the biggest yet in Asia. It is time to put the Philippines on the map as an international music destination."
(E-mail reactions at entphilstar@yahoo.com. You may also send your questions to askrickylo@gmail.com.)