Direk Lav: Hele not too long for Pinoys
Bot Glorioso
(The Philippine Star) - March 21, 2016 - 10:00am
MANILA, Philippines – Director Lav Diaz is certain that the screening time of his award-winning masterpiece Hele sa Hiwagang Hapis (A Lullaby to the Sorrowful Mystery) is never too long for every Pinoy. The eight-hour film that won the Silver Bear Alfred Bauer Prize in the recently-concluded 66th Berlin International Film Festival will be shown in theaters nationwide, through Star Cinema, starting on Black Saturday, March 26.
"Eight hours (screening time) is nothing when you enter the cinemas; when you plunge yourself into the film. Sandali lang po yun at hindi n'yo mararamdaman 'yun," said direk Lav on the thought that moviegoers might not be able to endure the film until its closing credits.
When one writer insisted that there are those who cannot even bear a two-hour movie, the director said, "Huwag po nating i-underestimate ang masa; ang bayan. Kaya po nila. Matatalino ang Pilipino lalo na tungkol sa kasaysayan natin."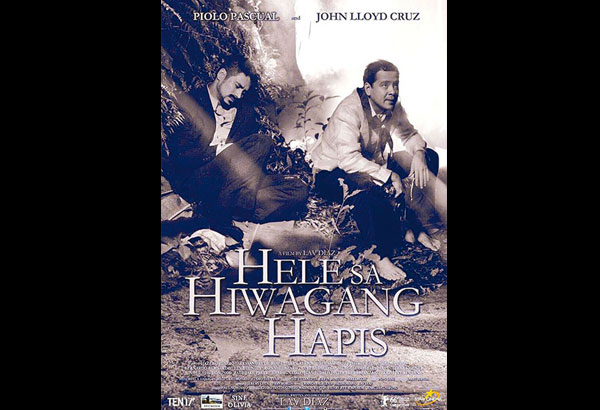 The director shared that Hele revolves around three story threads that are beautifully weaved and knitted together. The film begins with the search of Gregoria de Jesus for the body of her husband Andres Bonifacio then the journey of Isagani and Simon (played by Piolo Pascual and John Lloyd Cruz, respectively) to the house of Padre Florentino and the entry to the mythical world where the kapre (dark-skinned giant with matted hair puffing a large cigar atop a tree) and tikbalang (half-human, half-horse creature) exist. "It's about the search for the Filipino soul."
Bringing the film closer to Pinoys through its release in cinemas will lead to a better understanding of Philippine history. Direk Lav described Hele as "a more intimate look into an important part of Philippine history." Thus, it is a good opportunity for Filipinos — both young and old alike — to brush up on or discover more about our own history.
"Marami po kasing hindi tinuturo sa atin like the core of the story where Gregoria de Jesus was able to search for Andres Bonifacio's body after 30 days. Hindi totoo 'yun at hanggang ngayon po di pa nakikita ang katawan ni Andres." The characters of John Lloyd and Piolo, on the other hand, were borrowed from the novels of Dr. Jose Rizal.
Asked if he had a hard time working with the stars, especially John Lloyd and Piolo whose schedules are always hectic, direk Lav said it was a breeze having them both in the project.
"In fact, it was just like play (time) for us; nag-kakape kami sa Bulusan ng walang stress and we were able to live with the mosquitoes (laughs). It was a pleasant shoot; it was like magic that we were able to stay in one place together." And although there was a slight hitch in the actors' schedule, the director said that it didn't take them long to iron the minor kink out.
"We shot straight for 22 days in Bulusan and another three days in Bagac so we did 95 percent of the film in Bulusan and the remaining five (percent) in Las Casas de Acuzar in Bagac."
John Lloyd said he didn't think long and hard about accepting the project when the role of Simon was offered to him.
"Actually, to be honest I never thought about myself when I accepted this because I believe refusing to do this kind of project is a sin. Parang obligasyon mo yun bilang aktor para sa bayan kaya mahirap isipin ang sarili."
Same for Piolo who shared that he never hesitated the moment Hele was pitched to him. "We believe in the material. We believe in the film so it's our own way of contributing to the film industry and like what John Lloyd said it's beyond us."
Producer Paul Soriano, for his part, said he believes that the film is for a great cause and for the betterment of the Filipino people. He also expressed delight at how cinemas are all-out in supporting Hele by giving a guaranteed one-week screening.
"Definitely one week, I asked the cinemas together with Star Cinema to give us at least a guaranteed one week for now. And then direk Lav mentioned also some cinemas want to extend and we are going to do a campus tour because we want students and the youth to check this out."
In fact, 25 cinemas have already agreed to screen the film but they vary in ticket price. Ticket price at SM Cinemas, Market! Market!, Greenhills, Lucky Chinatown and Fairview Terraces is P400; Trinoma, Glorietta, Newport, and Uptown, P500; Robinsons East, Galleria, Bacolod and Iloilo, P300; and KCC in General Santos also at P300 and Gaisano in Davao and Tagum at P150.
Hele sa Hiwagang Hapis also stars Cherie Gil, Bernardo Bernardo, Susan Africa, Alessandra de Rossi, Sid Lucero, Angel Aquino, Ronnie Lazaro, Bart Guingona, Joel Saracho and Hazel Orencio.