Tom's foray into political thriller
Jerry Donato
(The Philippine Star) - March 15, 2016 - 10:00am
MANILA, Philippines – Magtanggol is Tom Rodriguez's first foray into the political thriller genre. He plays a senator, who has the makings of a president in the Felix and Bert Film Productions independent movie, directed by Sigfreid Barros Sanchez and conceptualized by Roberto Juanchito Dispo. Placed amidst an issue that involves Overseas Filipino Workers (OFWs) and their employers, his character Sen. Juancho Magtanggol Jr. is challenged to live up to the family's "human rights activist" reputation.
"The Magtanggols really stand for something admirable. Although it is a fictional family, I believe it stands for an ideal political family and speaks of the type of politicians we all dream of," said Tom of the film's main theme. "It is about the lineage of Magtanggols, all throughout history, like their involvement in revolutions and their ancestors who were part of La Solidaridad. Juancho, my character, has big shoes to fill. He has struggled along that journey."
The inner journey or the character arc of Juancho has given Tom a peek into a public servant's life. Navigating the terrain of his character is a learning experience.
"I've learned a lot (like) kung gaano kahirap na magsilbi sa taong bayan," shared Tom. "Kung mahirap na ngang mag-alaga ng pamilya, na mahirap maghanap buhay dito para sa mga mahal mo, paano pa kaya (ang mag-alaga ng) maraming constituents. In this work we do and the art we are into, we are just portraying roles and we get a glimpse and a window (of them). I can't fathom what a real politician is, especially the one who has ingrained in his heart to serve and to better the situation of his constituents. I can't even fathom the type of pressures they have to face each day."
Aside from stepping into the fictive realm of politics, what excites Tom and the rest of the cast about Magtanggol is, it advocates timely issues like the working plight of Filipino migrant workers and the importance of having a well-informed electorate.
"Before I wasn't aware of the abuses our kababayan had encountered. They just wanted to work overseas to improve the lives of their families," he shared, "Their story is encapsulated in a movie and the illustration of that life is in it — yung sinasapit minsan ng ating mga kapatid na OFW. As a Filipino citizen, I believe we should be involved, especially in the coming elections, which is a crucial one for everyone. I think the upcoming years will really shape the country's future. I just urge everyone to really think about their decision and exercise their power to decide."
So, who is Juancho Magtanggol Jr. in the multi-layered storyline of the movie?
"I may sound like a broken record but in every role given to me, there's always something challenging," Tom replied. "The person is someone way older than I am. I have to see him in so many stages of his life. He is 40 years old in the present. I'm really feeling and getting into how Juancho moves and finding where his tensions lie. I'm trying to get into his head and into his character."
Tom's skills as a conceptual artist help him stay attuned to Juancho's world and connected to the character each time the camera begins to grind.
"I've done a few sketches of Sen. Juancho (like his younger self and his present self)," Tom said. "When I get the script, I try to draw Juancho in my mind and how I see him. While I'm drawing, I try to get into who he is and with that, it links to the emotions I have. For me, it works because I grew up sketching."
The handsome actor is given the freehand to study Juancho and build it from the ground, so to speak. It shows the kind of creative atmosphere on the set of direk Sig.
"They (the production people) are so collaborative, inventive and passionate," related Tom. "They talk to you, they share with you (ideas), you can really get the dialogue going, they explain the shots, they explain the symbolisms, they explain the analogies, they explain the visual metaphors for the character arcs and it is a beautiful process to watch."
This levels the playing field between the veterans and the newbies like Tom, whose tools may pale in comparison. That's why Tom is eager to work with as many artist collaborators he can to improve his bag of acting tools.
"You just trust (your) tools and sometimes you need to get hugot or help from your co-actors who have done so much," said Tom when he doesn't have enough acting tools to approach scenes. "Ako yung dakilang tsambero, na laging nakaka-tsamba, ang mga nakakatrabaho ko are the most amazing people and are always giving to someone like me, who has struggled so many times in the past."
Asked about his dream roles, Tom answered, "This is one of them (playing Sen. Juancho Magtanggol Jr.)." Having On the Job and The Janitor on his list of favorite movies, Tom said he wishes to star in an action movie and doesn't mind to deglamorize himself for it. "I'm ready to do anything I would have to for the role," he said. "I know I will have tons of fun."
(Magtanggol will open April 26 in theaters.)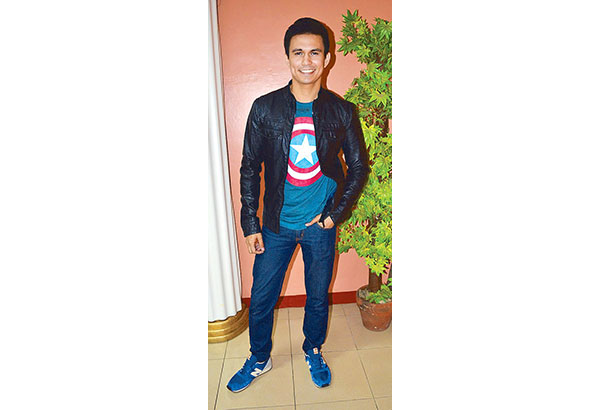 Tom: I believe we should be involved in the coming elections, which is a crucial one for everyone. I urge everyone to really think about their decision and exercise their power to decide. — Photo by VER PAULINO