IN PHOTOS: Pia Wurtzbach starts work as Super Bowl 50 correspondent
February 2, 2016 | 9:05pm
MANILA, Philippines — Pia Wurtzbach attended the opening night of the National Football League (NFL) Super Bowl 50 football game in San Jose, Californoa--and it seems like she's a hit!
The 26-year-old beauty queen is covering the Super Bowl 50 as a special correspondent for the US newsmagazine TV show "Inside Edition."
WATCH: Pia Wurtzbach all set for Super Bowl 50 reporting gig
She went to work immediately after her homecoming tour in the Philippines last week.
Fans and even the NFL players are smitten with Pia. Football players like Denver Broncos' Kayvon Webster and Corey Nelson and Carolina Panthers' Stephen Hill took selfies with the Pinay.
"We're so excited. It feels like a party in here," Pia said in a clip posted on the official "Inside Edition" Facebook page.
The Super Bowl 50, the football game between Carolina Panthers and Denver Broncos that will determine the champion of the 2015 season of the NFL, will be held on Sunday, February 7 in the US.
Check out photos of Miss Universe Pia Alonzo Wurtzbach during the opening night of Super Bowl 50: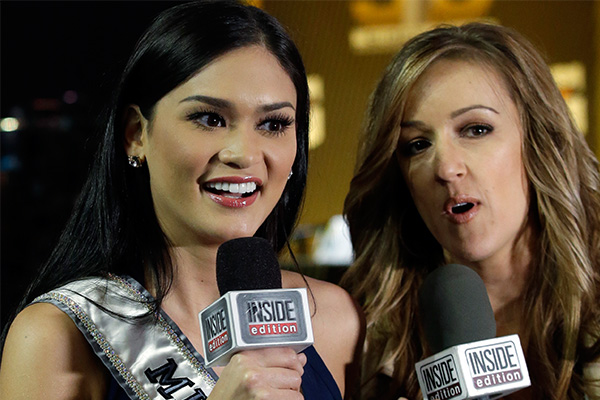 Miss Universe Pia Alonzo Wurtzbach is seen during Opening Night for the NFL Super Bowl 50 football game Monday, Feb. 1, 2016, in San Jose, Calif. AP Photo/Jeff Chiu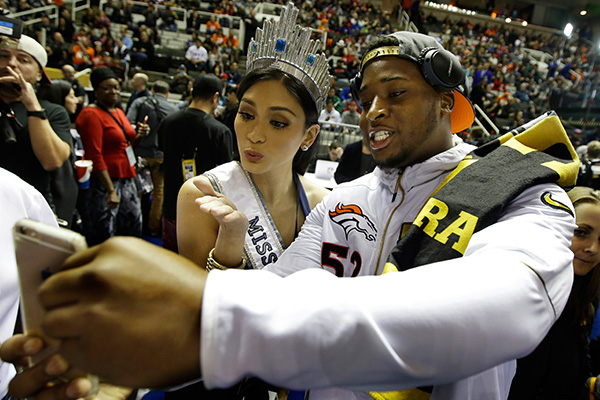 Miss Universe Pia Alonzo Wurtzbach poses for a cell phone photos with Denver Broncos outside linebacker Corey Nelson during Opening Night for the NFL Super Bowl 50 football game Monday, Feb. 1, 2016, in San Jose, Calif. AP Photo/Marcio Jose Sanchez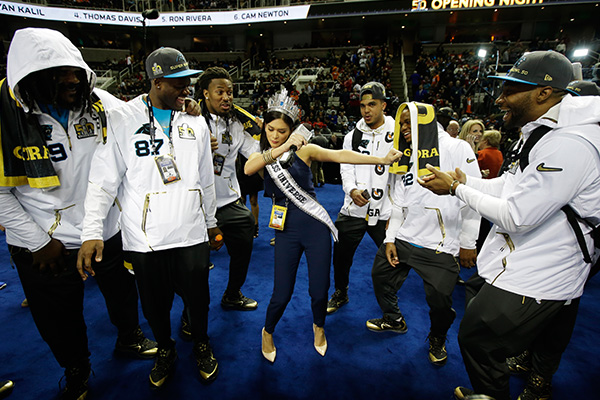 Miss Universe Pia Alonzo Wurtzbach dances with Carolina Panthers players during Opening Night for the NFL Super Bowl 50 football game Monday, Feb. 1, 2016, in San Jose, Calif. AP Photo/Marcio Jose Sanchez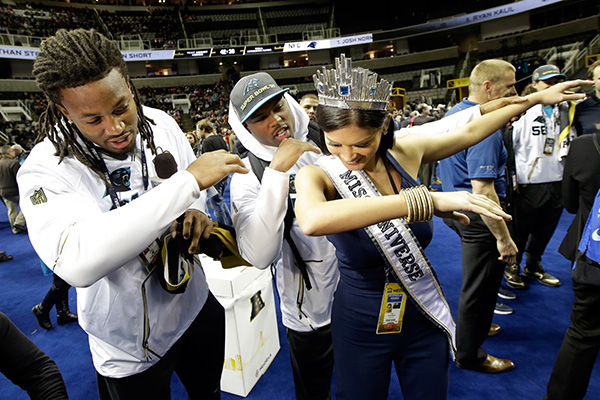 Carolina Panthers' Ryan Delaire and Bene' Benwikere dance with Miss Universe Pia Alonzo Wurtzbach during Opening Night for the NFL Super Bowl 50 football game Monday, Feb. 1, 2016, in San Jose, Calif. AP Photo/Jeff Chiu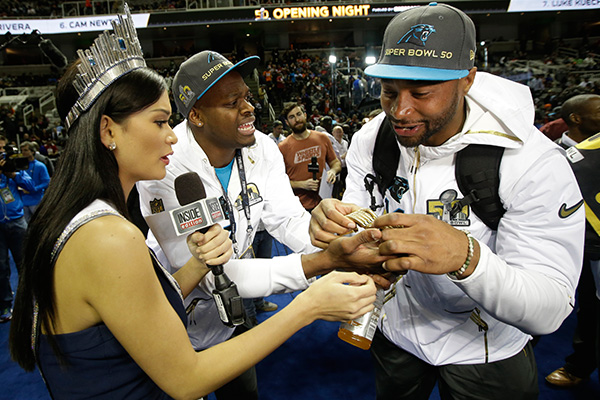 Miss Universe Pia Alonzo Wurtzbach speaks with Carolina Panthers wide receiver Stephen Hill, left and quarterback Joe Webb during Opening Night for the NFL Super Bowl 50 football game Monday, Feb. 1, 2016, in San Jose, Calif. AP Photo/Marcio Jose Sanchez