9 gorgeous photos of Miss Universe Pia Wurtzbach from Manila presscon
January 24, 2016 | 9:30am
MANILA, Philippines - Pia Wurtzbach is home. And first on her agenda: meet the local pess for a homecoming news conference.
The 26-year-old beauty queen officially met the members of the media during a press conference at the Novotel Araneta on Sunday as part of Manila homecoming as the winner of the 64th Miss Universe pageant.
READ: Pia Wurtzbach hopes to have 'fresh start' with bashers, doubters
"I am very overwhelmed," she said as she addressed the media.
"The last time I was here in this hotel was for the press conference of my send-off. And I was very emotional that day... I am so happy that I am back here today for this, that I am back here for a press conference because I actually won," she said, turning emotional.
Pia added, "It was a long journey. I hope my story becomes an inspiration of determination, discipline, faith and hard work."
Here are nine stunning photos of the most beautiful woman in the universe, Pia Wurtzbach, from her Manila press conference: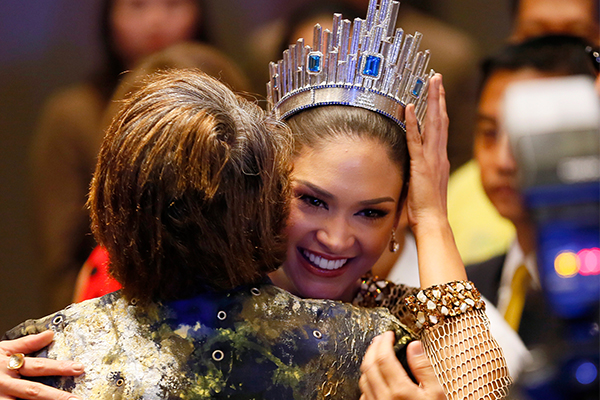 Newly crowned Miss Universe Pia Alonzo Wurtzbach is greeted by friends following a news conference at suburban Quezon city northeast of Manila, Philippines Sunday, Jan. 24, 2016. AP Photo/Bullit Marquez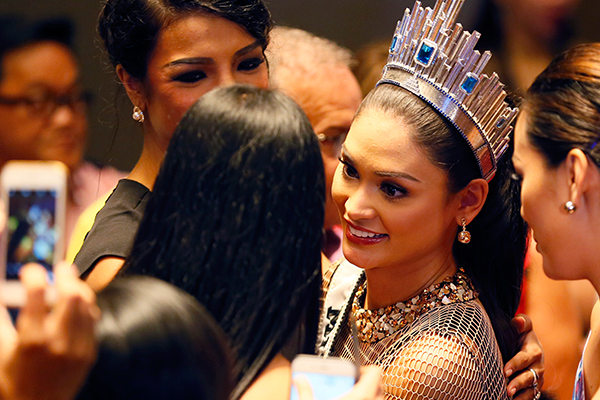 Newly crowned Miss Universe Pia Alonzo Wurtzbach is greeted by friends following a news conference at suburban Quezon city northeast of Manila, Philippines Sunday, Jan. 24, 2016. AP Photo/Bullit Marquez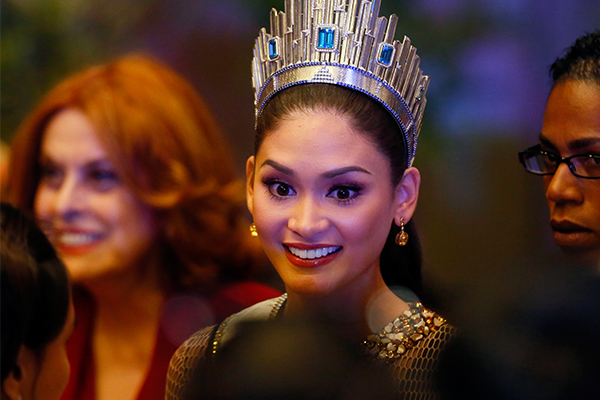 Newly crowned Miss Universe Pia Alonzo Wurtzbach is greeted by friends following a news conference at suburban Quezon city northeast of Manila, Philippines Sunday, Jan. 24, 2016. AP Photo/Bullit Marquez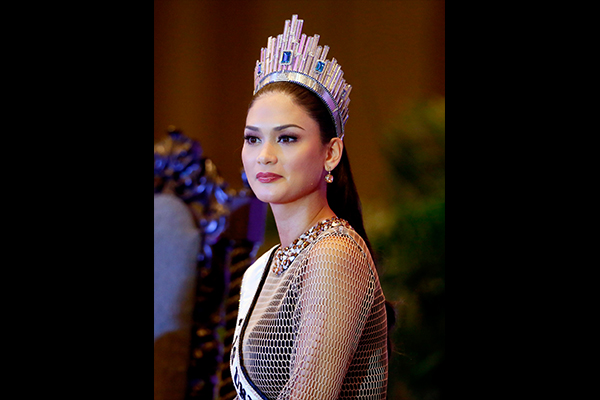 Newly crowned Miss Universe Pia Alonzo Wurtzbach listens to a question during a news conference at suburban Quezon city northeast of Manila, Philippines Sunday, Jan. 24, 2016. AP Photo/Bullit Marquez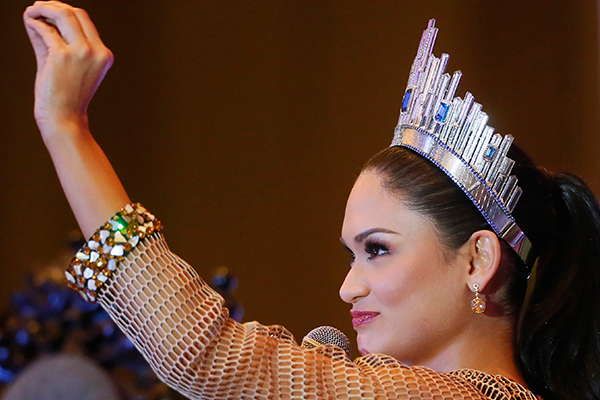 Newly crowned Miss Universe Pia Alonzo Wurtzbach gestures about her next dream during a news conference Sunday, Jan. 24, 2016 at suburban Quezon city, northeast of Manila, Philippines. Wurtzbach said her next dream is to become a "Bond Girl." AP Photo/Bullit Marque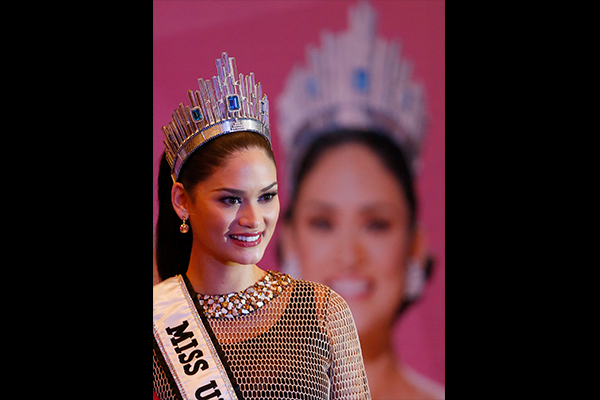 Newly crowned Miss Universe Pia Alonzo Wurtzbach poses for the media following a news conference Sunday, Jan. 24, 2016 suburban Quezon city, northeast of Manila, Philippines. AP Photo/Bullit Marquez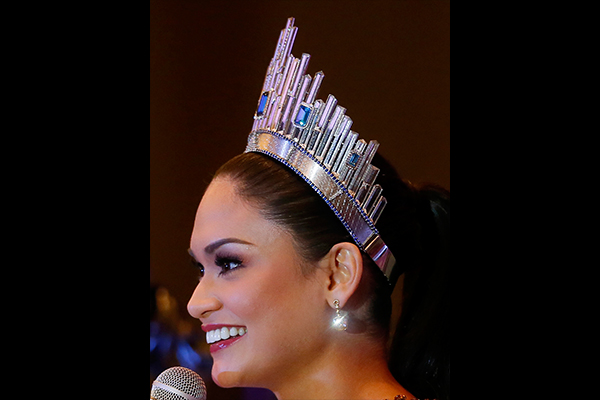 Newly crowned Miss Universe Pia Alonzo Wurtzbach addresses the media during a news conference Sunday, Jan. 24, 2016 in suburban Quezon city, northeast of Manila, Philippines. AP Photo/Bullit Marquez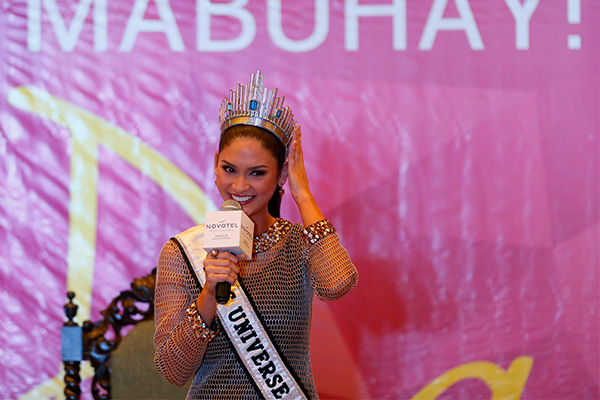 Newly crowned Miss Universe Pia Alonzo Wurtzbach addresses the media during a news conference Sunday, Jan. 24, 2016 in suburban Quezon city, northeast of Manila, Philippines. AP Photo/Bullit Marquez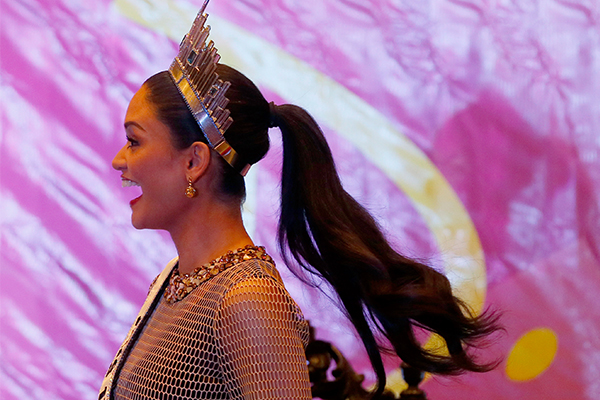 Newly crowned Miss Universe Pia Alonzo Wurtzbach reacts upon seeing a friend prior to a news conference Sunday, Jan. 24, 2016 in suburban Quezon city, northeast of Manila, Philippines. AP Photo/Bullit Marquez
More articles on Miss Universe Pia Wurtzbach homecoming:
Miss Universe Pia Wurtzbach returns home
9 stunning photos of Miss Universe Pia Wurtzbach from Manila arrival
Pia Wurtzbach hopes to have 'fresh start' with bashers, doubters
Pia Wurtzbach says she's 'sawi' when it comes to love life
Pia Wurtzbach says next dream is to be a Bond girl
What Pia did on her first day home