Film review: Haunted Mansion, tale of a retreat house
MANILA, Philippines – For followers of horror movies, the film one can easily recommend is Jun Lana's Haunted Mansion produced by Regal Films.
While the studio is almost always synonymous with Shake, Rattle & Roll, it comes as a big surprise that the producers can come up with something fresh, something well-written and something not very predictable.
The project probably didn't come easy for director Jun as he has to work with a cast not necessarily the kilig prince and princess of the hour and whose following isn't connected with blockbuster movies.
But it worked for Jun as he was able to evince natural acting from the relatively unknown actors.
But to one's surprise, Janella Salvador comes up with a performance worthy of the critic's attention while newcomers Marlo Mortel and Jerome Ponce show a lot of promise.
The seasoned actors, however, make a strong presence in the film namely, Vangie Labalan, Janice de Belen, Archie Adamos, Joem Bascon and Iza Calzado, among others.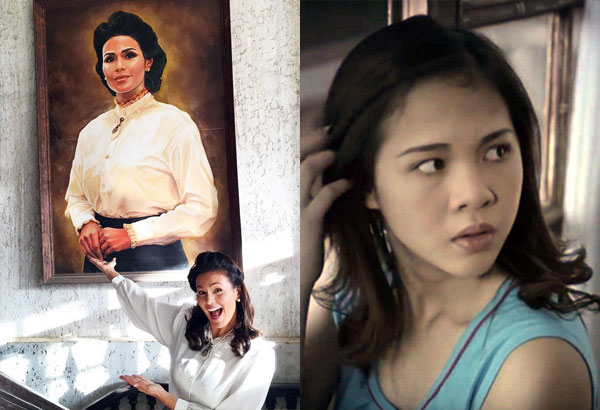 Iza Calzado (left) pointing to her ominous portrait in the movie: A deeply felt portrayal of a dead person. Janella (right) delivers a finely-chiseled performance
The setting is an old house now converted into a retreat venue for young people who are inclined to make fun of spirits inhabiting old houses.
To the horror of those tasked to keep order in the retreat house, the suspense builds up when young people meet untimely death.
There is a big portrait of the owner of the house (Iza) whose story gives the house a chilling association. A brief flashback reveals her to be wary of her sister's relationship only to be unmasked that she has her own hidden agenda, both vile and salacious.
Midway into the movie, you get to know the dead people's backgrounds. One is a story of unrequited love; the other is a tale of lust and selfishness.
Iza as Amara, the matriarch of the house, comes up with a performance that finds amazing contrast with the young actors as victims.
Janella, for one, holds her own as Ella and it is comforting to see a young actor metamorphose into a focused performer.
Having watched the film on a midnight screening after a busy day, one was prepared to doze off and indeed the film might just look like a backdrop from a recurring nightmare.
But watching Jun's Haunted Mansion kept one awake for an hour and a half.
To be sure, the film elicited endless gasps and regular volley of horrified screaming from the audience. But the director made sure the audience has its much-needed respite from the screaming to be able to focus with the rest of the story. Indeed, the writing is first-rate but even more commendable is the quality of the story and its fine execution.
As it is, Jun re-emerged a fine and sharp storyteller in this film and the solid, if, unerring craftsmanship will surely make him a top contender in the Best Director category in this coming Metro Manila Film Festival (MMFF).
He made the best out of the young cast enough to make Janella a contender for Best Actress. But the most revealing virtuoso performance was that of a dead woman with a horrible past played with incandescent brilliance by Iza.
On top of it, this horror film has outstanding cinematography, an excellent musical scoring and a fairly commendable production design.
Haunted Mansion is — thus far — one of my candidates for Best Picture and Best Director for Jun who — in his latest outputs — has proven he is at his best doing both indie and mainstream projects.
Haunted Mansion, produced by Regal Films, is now showing.