Maria Ozawa accepts Robin Padilla's apology after social media spat
Chuck Smith
(Philstar.com) - October 12, 2015 - 11:51pm
MANILA, Philippines – There is no bad blood between former Japanese adult video star Maria Ozawa and actor Robin Padilla after their social media spat over the actor's withdrawal from their Metro Manila Film Festival (MMFF) entry.
During the press conference for the MMFF movie "Nilalang," Maria said she accepts Robin's apology. The 29-year-old actress added she's willing to work with Robin in the future, given the chance.
"Of course, of course. There's nothing weird [about working with Robin]. I would love to," he told Philstar.com and other members of the press on Monday.
READ: Maria Ozawa apologizes to Robin Padilla, Mariel Rodriguez
It can be remembered that Maria and Robin exchanged messages on social media after the actor pulled out from "Nilalang" when his wife Mariel Rodriguez suffered a miscarriage. The Japanese actress called Robin "unprofessional" in an Instagram post. She later apologized to the actor and his wife for her comments.
Cesar Montano replaced Robin as the movie's lead star.
"Nilalang" is Maria's first movie in the Philippines and her third in Asia. "I had fun [working on the film]," she said.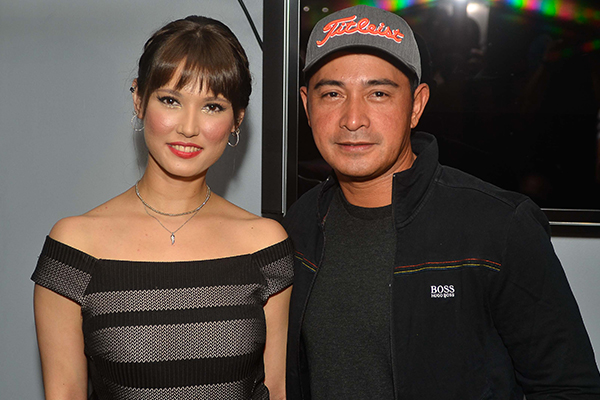 "Nilalang" main stars Cesar Montano and Maria Ozawa during a press conference on Monday, September 12. Cesar replaced Robin Padilla as the male lead of "Nilalang," a Metro Manila Film Festival entry, after the latter backed out following his wife Mariel Rodriguez suffered from a miscarriage. Contributed photo/Kris Ryan Zara
Asked what she learned after working on the movie, Maria said she found out how different Filipinos are from the Japanese, especially when it comes to work and family.
She admitted finding it difficult to adjust how "family comes first" in the Philippines. However, Maria said she later on came to appreciate how differently Filipinos deal with family issues compared to the Japanese.
"In Japan, everything comes before family… Work is so important in Japan. You just can't skip anything for work. Here, it's family comes here. So it's hard for me to handle that because it's so different from how [I was raised]," she said.
"But now that I've stayed here longer, getting the different thinking, maybe [I'm liking] the love and the family," she said.
"It's like so different from Japan. It's so better here," Maria also said.
Watch Maria Ozawa explain her "impression" about Filipinos here:
Shooting for "Nilalang" is finished, and Maria is expected to attend the different activities of the MMFF in December, such as the annual Parade of Stars and the Awards Night.
She is "definitely" open to doing more movies in the Philippines after the MMFF, noting that she heard the Philippines has done a lot of "mistress-type movies" in the recent years and would like to do one herself.
Is Maria expecting to be nominated for her work in "Nilalang"? "I hope so! I wish I will. It will just be perfect," she said.
"I'll just live here if I get nominated," Maria quipped.
"Nilalang," which also stars Yam Concepcion and Meg Imperial, is part of the 2015 Metro Manila Film Festival and will open in theaters on December 25.