Amazing Race duo Marc and Rovilson now host Asia's Got Talent
MANILA, Philippines - The country's eligible bachelors and Amazing Race's Philippine pride Marc Nelson and Rovilson Fernandez scored another victory for the country and a huge break for their careers as they bested other artists who auditioned to emerge as the official hosts of the brand-new franchise Asia's Got Talent set to premiere on AXN on March 12 across Asia.
Marc and Rovilson, described by celebrity main judge and multi-Grammy award winner David Foster as "amazing hosts who did an incredible job on the show" revealed the tough process that they had to go through to clinch the coveted position as main hosts and anchors of the 63rd franchise of Got Talent all over the world. Asia's Got Talent will be participated by 15 countries from the region, including the Philippines. The panel of celebrity judges also include, aside from Foster, Indonesian rock icon Anggun, Taiwanese pop superstar Van Ness Wu and UK pop sensation and former Spice Girls member Melanie C.
Marc and Rovilson share the honor of having been picked by AXN for the job. Marc said, "It's a bit of a shock to our system to be in the biggest talent show in the world and the biggest TV show in Asia. We're dumbfounded. Very, very flattered and we're still pinching ourselves to wake up, lest we're dreaming."
Rovilson said, "It's been a really tough journey. Just to get to where we are now, in front of you. It wasn't handed to us in a silver platter. We had to go through the toughest audition. We've sort of been spoiled to be given work consistently but this one we went through the ringer. We flew back and forth for auditions here and there. I like the fact that we earned it. We absolutely earned it. Being on this show, is an amazing opportunity and a big learning opportunity for us. We've been hosting for many years but the things that we've learned on this show so far are invaluable."
The show, Marc and Rovilson's third outing under AXN (that started with The Amazing Race and then followed by The Duke) has so far brought the duo to Singapore, Malaysia, Thailand, Hong Kong, Jakarta and the Philippines.
Rovilson, who co-hosts GMA 7's weekly show Ang Pinaka in the Philippines says, "We've been very blessed. AXN has given us these wonderful opportunities. We believe our brand is beyond the Philippines and it's just so cool to have friends and fans from all over the world. We love our Pinoy friends but we feel its also right to be pushing our brand to other countries. And we are also representing the Philippines in our own way."
Rovilson has to carefully juggle his schedule to accommodate both hosting stints in his calendar. There was one day he flew to Manila to tape for Ang Pinaka and then fly back right away to Singapore again to resume work for Asia's Got Talent.
They call this a worthwhile endeavor and is definitely worth all the hard work that they put into. After all, they both love traveling so much and have this unending passion for hosting. Marc, who is a co-host of ABS-CBN's Sports Unlimited for his part said, "We haven't been home in four months. I miss my bed. I'm lucky I have a co-host (Dyan Castillejo) who is able to run things there so well. When I fly back soon, maybe first week of February, I'll try to shoot as much episodes in the show as I can."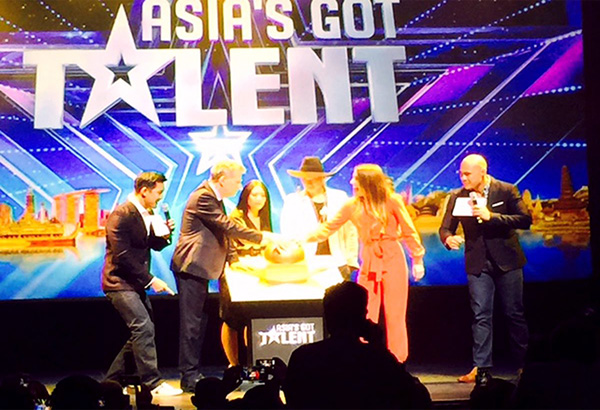 Marc and Rovilson with celebrity judges (from left) David Foster, Anggun, Van Ness Wu and Melanie C
The two also revealed the wealth of talent exhibited by Filipinos who auditioned in the show. "The Philippines has phenomenal singers but it's not just them that came to the auditions. There are a variety of acts that we saw. And we are so impressed by how the Philippines has been represented. It's really hard to be objective but we are Pinoys and we root for them. They are really great acts," says Marc.
Are they allowed to root for Filipinos? Marc replies, "To be fair, we root for all of the acts but when we see a Filipino act, we can't help it. We chat in Tagalog a little bit. There is instant connection and its really great. And seriously, the Filipino talents are really good."
The duo, who say their talent fees back home remain at the bracket where it is right now, consider their job as hosts to be such a privilege. "I think the best part is getting to interact with both the contestants and the judges. They are superstar-judges from all across the world. Everyone knows who they are. But then, weekly we have stars in the making that we got to talk to before they become enormous and it's great seeing that and being part of that journey," Marc shares.
Since this is their first time to work alongside the biggest superstar-judges from all over the world, Marc and Rovilson share their thoughts about their experience with them so far. Marc started, "Melanie C works out. If she's not on the judges' table, she is on a treadmill, I swear to God. My goodness that woman is a workout machine."
The duo were pleasantly surprised by Taiwanese superstar Van Ness for being such a nice guy. Rovilson said, "We have preconceived notions about boyband dudes. We were just thinking maybe he has limited vocabulary or wont even look us in the eye. But we were wrong. For being the rock star that he is, Van Ness is the most down to earth, the most kind-hearted judge. He speaks six languages, he is a producer, director, and when most boyband guys' career had already fizzled out, his career is still skyrocketing. He is a smart guy because it takes a smart guy to prolong your career. More power to him."
David Foster has been dubbed by his co-judge Van Ness as a "dream crusher" in view of his upfront comments to undeserving talents who auditioned. But Marc described him as "both a dream crusher and a dream maker. He is a legitimate. He will tell you exactly how you are. If you are not made for the world stage, he will tell you straight up. But if you're good and if he tells you you're good or you're great then you know that you are one of the best in the world."
Both went on to say that the people should look out for all the comments of the other judges as well because "each judge brings something different to the table. Yes, their background is a singing background of sorts but Melanie is very much theater, she's involved in Broadway now so she can appreciate a theater voice in that dynamic. The dancer is Van Ness, because that boy can dance. He is very meticulous and how be breaks down things for analysis. Anggun is an absolute sweetheart but if you think she is an easy judge, no! She can be a stickler. When there's something that she doesn't like about the act, she's not afraid to say it but in the most beautiful way possible. With her giving you the buzzer, you would actually welcome it hearing her say that in her beautiful lilting voice."
Coming from a background of a reality show, can they share tips to the contestants? They echoed, "Be yourself. Be brave. Follow your heart and follow your dreams. This is what this is all about, following your dreams."