TECERUMA: A dream come true
TECERUMA Spa and Salon is the brainchild of Maria Teresa "Tess" Docabo Herbst before she immigrated to the United States to join her husband, John Herbst. He used to run an international machinery manufacturing business, which has customers and partners around the world.
Tess, who grew up in Barangay Bugas, Borongan, Eastern Samar, dreamt of providing livelihood and a better future for her family, relatives and friends. "As a child in Eastern Samar, I always wanted to become successful and to help my family and friends. My life in rural Borongan was limited primarily to farming and fishing. In my early years, I had no idea how I would become successful. Once I started working in spas and salons, I vowed to myself that someday I will have my own business. I am grateful that John has been very supportive to help make my dream come true," Tess said.
When Tess was a teenager, she was sent to Manila by her grandmother to care for a sick aunt. "In a few years my aunt's health improved so I needed a paying job to help support my family. I learned the spa business from my Aunt Gloria more than 33 years ago. She taught me beauty services such as manicure, pedicure, hair cutting, hair-related procedures, facials, and basic massage," Tess recalled.
Prior to migrating to the United States, she worked as a spa trainer and supervisor in leading five star hotels in Makati. Tess and John travelled extensively in search for the best spa services across the globe. John's business travels have taken them to Fiji, Bali, China, Vietnam, Brazil, USA, Thailand, Singapore, Malaysia, India, Romania, Czech Republic, Turkey, Mexico, Italy, Australia, Germany, England, Switzerland, Japan, among others.
TECERUMA was established on May 26, 2012. Tess explained, "TECERUMA came from my first name and the first names my sister, cousin and sister-in-law. TE – Teresa, CE – Cecille, RU – Ruth, and MA – Mayet. Each letter also represents the qualities and goals of our business: T – Teamwork (build a multi-skilled team with no drama!), E – Expertise (continual training and developing new spa technologies), C – Customer-oriented (the customer must be treated as kings and queens), E – Excellence (in all areas of our company), R – Respect everyone (clients, suppliers and our team), U – Unity (create a positive and close family working environment), M – Marketing (develop effective sales tools that will grow our business), and A – Aggressive (take action quickly and develop a sense of urgency with all our staff)."
TECERUMA represents teamwork and excellence among its staff; passion for its customers who are served by expert hands with utmost care and respect; unlimited possibilities for achieving total relaxation and revitalization with maximum satisfaction from its varied but consistent services; market-driven and aggressive but never obtrusive.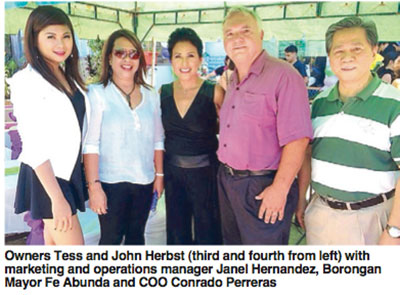 It offers high-quality services with its licensed spa therapists. In the salon, it has skilled make-up artists, hair stylists and manicurists/pedicurists who efficiently give make-over services.
Despite her success, Tess looks back to where she came from. TECERUMA recently opened its new branch in Borongan, Eastern Samar. (Last year, she opened TECERUMA in Dolores, Eastern Samar.) The opening ceremony was officiated by Borongan Mayor Fe Abunda. Tess and John were present to welcome the guests. Tess said, "The grand opening was fun! It started out with a Mass and then we opened up the facility for inspections, spa tours and a catered dinner. The next day we had a parade, blessing, some short speeches, music and all-day complimentary dining. We had a full list of reservations for services which started at 10 a.m. and continued until midnight."
She added, "I realized that a spa in Manila would only help the Samareno staff. Building spas in Samar will not only create spa jobs but will also help the entire community. By building the two spas in Samar, TECERUMA has provided job opportunities for local construction craftsmen, hotels, caterers, farmers, restaurants, banking, transportation companies and material suppliers, among others."
Tess shared some words of wisdom to those who dream of having their own business. "Don't be afraid to dream. I started dreaming to have my own successful business when I was a little girl. It all started with a dream, and dreams don't cost anything. Dreams become goals and with hard work and dedication, dreams can turn into realities. Don't be arrogant. Everything you achieve in life will only be accomplished with the help of other people. Always practice the 'golden rule.' Treat others as you would like to be treated."
TECERUMA's main branch is located at Unit 618 BSA Twin Towers, Ortigas Center, Mandaluyong City. For inquires, you can call +63-2-654-3099, +63917-713-4750 and +63917-713-4755. TECERUMA Borongan is at No. 8 Bocar St. Barangay G, Borongan City, Eastern Samar. Please contact 0906-3885485 and 0999-1571875.