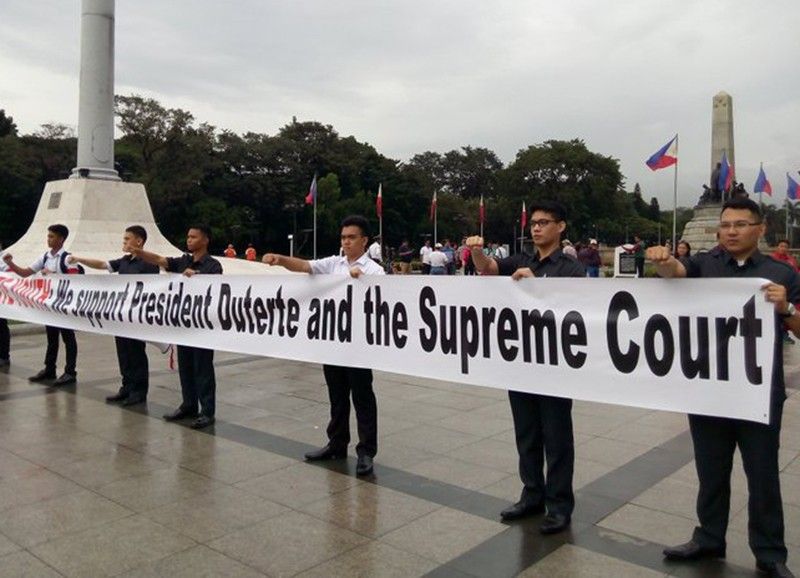 SEVEN STRONG: Cardema (R) and six other members of the Duterte Youth hold up a banner during a Black Friday protest against the burial of the remains of ousted dictator Ferdinand Marcos at the Libingan ng mga Bayani in November 2017
The STAR/Ghio Ong, file
Comelec OKs withdrawal of original Duterte Youth nominees
(Philstar.com) - June 4, 2019 - 5:00pm
MANILA, Philippines (Corrected 7:18 p.m.) — The Commission on Elections allowed the withdrawal of the original nominees of the Duterte Youth but only gave "due course" to former National Youth Commission chairman Ronald Cardema's substitution as a nominee for the party-list he was chairman of while heading the NYC.
Upon the recommendation of its Law Department, the Comelec granted the withdrawals of the party-list's original nominees Ducielle Marie Suarez—Cardema's wife—Joseph de Guzman, Benilda de Guzman, Arnaldo Villafranca and Elizabeth Anne Cardema.
The poll body allowed the nomination of new nominees as substitutes — Ronald Cardema, Gian Carlo Galang, Catherine Santos, Kerwin Pagaran and Sharah Shane Makabali.
But Commissioner Rowena Guanzon, who dissented in the Comelec en banc's decision, clarified Tuesday afternoon that Cardema is not yet the party-list's nominee.
READ: Comelec Commisioner Guanzon: Cardema's party-list substitution 'not yet granted'
Duterte Youth will not have a rep in the HOR until the DQ petition is resolved. Tahan na kayo... may hika po ako sorry no interviews.

— Rowena V. Guanzon (@commrguanzon) June 4, 2019
"Re:Cardema Not the substitution but his application for substitution was given due course," Guanzon tweeted within minutes of Comelec spokesperson James Jimenez making the announcement on social media.
"Given due course" means a petition has moved forward but does not necessarily mean it has been approved or disapproved.
"His substitution is not yet granted because there is a pending petition or opposition on the ground that he is over 30 years old and cannot be a rep of a youth sector party list," Guanzon added in a tweet that Jimenez also shared on social media.
READ: Original Duterte Youth nominees unwilling, unready for Congress
Cardema's last-minute petition to substitute as the first nominee of Duterte Youth drew widespread criticism as all five nominees withdrew their substitution on the same day.
Among the issues raised against Cardema were his being older than the age limit for representatives of the youth sector and his bid for substitution being filed at 5:30 p.m. on a Sunday. He had also used NYC email addresses to send out press releases in favor of the Duterte Youth.
Commissioner Rowena Guanzon was the lone commissioner who dissented while Commissioner Luie Tito Guia abstained from voting.
"I abstain to be consistent with my earlier vote to deny the accreditation," Guia wrote in the resolution.
Even before the Comelec issued a resolution on his substitution, Cardema already claimed a seat in the 18th Congress.
Late last month, the former NYC chair updated his Facebook profile indicating that he is an "incoming congressman" in the House of Representatives.
He had also been attending meetings of party-list representatives even before the Comelec allowed his substitution. — Patricia Lourdes Viray
(Editor's note: This article has been updated to reflect a clarification made by Comelec Commissioner Guanzon)