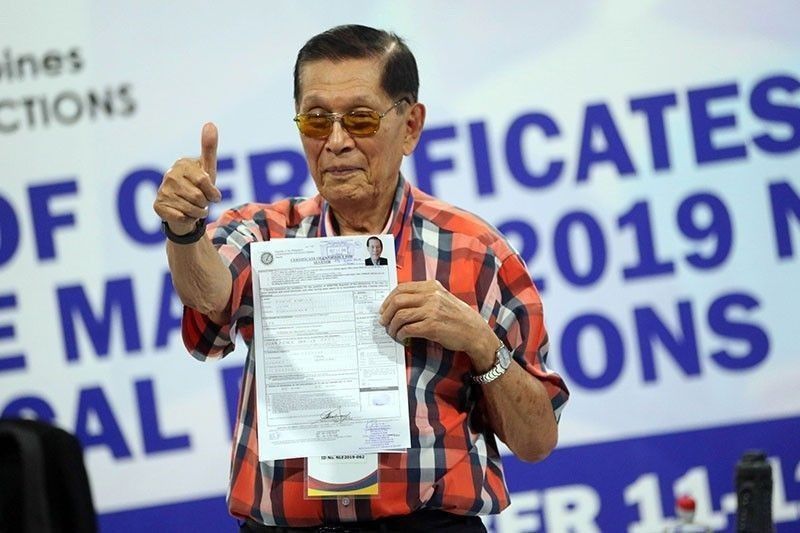 In this Oct. 17, 2018 photo, former Senate President Juan Ponce Enrile, 94, files his certificate of candidacy for senator in the 2019 midterm elections.
The STAR/Krizjohn Rosales
'Happy' no more?: Enrile loses senatorial bid
MANILA, Philippines — At the age of 95, it seems like former Senate President Juan Ponce Enrile is finally ending his more than 50 years of public service in the country following his recent loss in the 2019 midterm polls.
Enrile, known as "Manong Johnny," currently ranks 22nd in the partial and unofficial results of the Senate race of the Commission on Elections with 5,263,047 votes. At 9:28 p.m., the results are now at 97.69% election returns processed.
This is not the first time that Enrile lost in his senatorial bid. He did not enter the winning circle in the 1971 elections and also lost a Senate seat in 2001.
The nonagenarian previously served four terms in the Senate during the 8th (1987-1992), 11th (1995 to 2001), 13th to 16th (2004 to 2016) Congresses.
In July 2014, Enrile surrendered on plunder and graft charges for his alleged involvement in the multi-million peso pork barrel scam.
He was freed a year later after the Supreme Court in August 2015 allowed him to post bail for P1.45 million.
Prior to being a senator, Enrile was a member of the House of Representatives from 1992 to 1995 for the 1st District in Cagayan, where he hails.
He also served as acting Secretary of Finance from 1966 to 1968, Secretary of Justice from 1968 to 1970 and Minister of National Defense from 1972 to 1986.
Enrile announced he would retire from service during his last Senate session in July 2016.
Last October, however, Enrile filed a certificate of candidacy to run for senator anew citing that he wanted to "join the fun."
He campaigned independently for the 2019 midterm elections but ran under the Pwersa ng Masang Pilipino. He still went by his famous campaign slogan "Gusto ko happy ka (I want you to be happy)."
Enrile was able to serve the following seven presidents throughout his political career: Ferdinand Marcos, Corazon Aquino, Fidel Ramos, Joseph Estrada, Gloria Macapagal-Arroyo, Benigno "Noynoy" Aquino III and Rodrigo Duterte.
Had he won in the May 13 polls, Enrile could have been hailed as the oldest living politician in the world dethroning 91-year-old Mahatir Mohammad, the current prime minister of Malaysia. Mahatir was also named as the Oldest Prime Minister by the Guinness World Records.
READ: Aged 94, Juan Ponce Enrile may break a world record if elected in 2019
Despite his loss, Enrile took to social media to thank his supporters.
"Maraming salamat sa lahat ng nagpakita ng suporta nitong mga nakaraang buwan!" Enrile said in a post last Tuesday.
(Thank you to everyone who supported me in the past months!)
"Nakakataba ng puso ang makita kayong lahat muli para sa ikabubuti ng kinabukasan ng ating bansa!" he added.
(It is heartwarming to see you all for the betterment of our nation's future)
(Editor's note: An earlier version of this article noted that it's the first time that Enrile lost in the Senate race. A correction has been made.)