The breakdown of students' allowance
Mark Canlas
(The Philippine Star) - May 26, 2014 - 7:46pm
MANILA, Philippines - For many parents, the question of how much school allowance should they give their children is a lingering one.
By philSTAR.com's computation, parents could spend anywhere between P25,000 and P30,000 (computed at three times a week of classes for 18 weeks of two semester at P250 allowance per school year)
College school students typically get P150 to P250 (excluding transport allowance) per day. Students from exclusive schools like Ateneo and DLSU receive where surrounding places to eat tend to be more expensive receive higher allowance. The allowance covers P50 to P100 for lunch, P30 to P50 for merienda, P20 on average for photocopies, and P50 to P80 for school requirements like printing, buying pens, etc.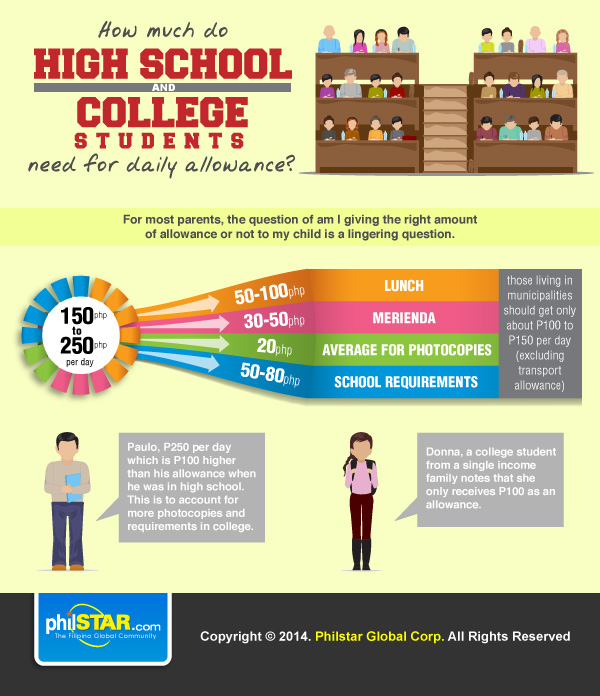 Students outside of Manila, especially those living in municipalities usually get about P100 to P150 per day (excluding transport allowance). Transport allowance is easy to compute, however.

Emma, mother of a college student, says that she gives her son, Paulo, P250 per day which is P100 higher than his allowance when he was in high school. This is to account for more photocopies and requirements in college.

She notes that "giving too much allowance to a student risks financial irresponsibility including unnecessary hanging out with friends and playing LAN-based games in computer shops".
Donna, a college student from a single income family notes that she only receives P100 as an allowance. Even if she deems this insufficient, she notes that she understands that with the death of her father, it means less resources and she needs to make do with what is given. Her siblings who are in high school in Ibaan, Batangas receive P30, which is enough for the needs of a student in a public high school.

The frequency of giving the allowance is another issue. Students who live with their parents usually receive their allowances daily or weekly. Students who move to study away from their homes receive theirs weekly or monthly. Consider the cost in terms of time and transaction charges when deciding the frequency of remiting allowance for children who live away from home.
It is a good idea to teach kids budgeting skills as early as when they are high school. There is nothing more real than the pain of a grumbling stomach to teach them about handling their finances well.