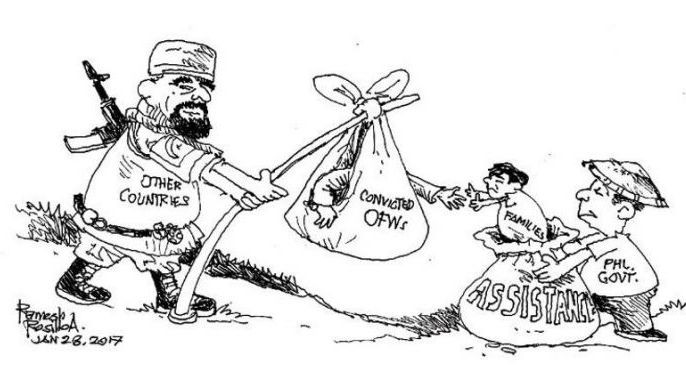 EDITORIAL - A crime is a crime, for which no reward is given or expected
(The Freeman) - January 28, 2017 - 12:00am
A Filipino woman has been executed for the crime of murder in Kuwait, a crime for which she protested her innocence to the very end. Her case, though, was not the first time a Filipino was executed in a foreign land. And in virtually all of these instances, the Philippine government undertook actions that sent wrong signals to society in general.
There is no argument that the Philippine government has to take every effort necessary to try and save Filipinos convicted of crimes abroad. After all, their convictions do not necessarily wipe out their citizenship. And for humanitarian considerations, they and their families must be given all the assistance they need. But there is a limit to what assistance the government can give without making it appear like a reward for a job well done.
The Philippine government must remember that while it may be hard for anyone to accept guilt, whether by the victims and their families or even their fellow Filipinos, there is one thing that one must remember — these victims have been convicted in accordance with the laws of the countries they are supposed to have committed their crimes.
Our own feelings of innocence or guilt notwithstanding, there is nothing anyone can do, the Philippine government included, to stop and thwart the sovereign legal processes of another country. We need to respect them if we need them to also respect us. And, for the sake of our own people, our own society, the message from all of these unfortunate incidents must be very clear: Crime does not pay.
But the way the Philippine government has been acting, it appears that crime actually does pay. In this latest incident, the surviving children of the victim have already been all assured of scholarships. Now that may be good for the poor children. But what message does it send to others? What moral lesson can society hope to learn from this?
If such assistance is truly necessary, whether in the form of scholarships or other, let it be taken care of by good Samaritans in the private sector, of which there surely must be plenty of. But the government should not be a part of it. Money from the taxes of law-abiding citizens cannot be used for ends associated with a criminal act. Besides, what is so special about OFWs? How come the children of local killers are not as "fortunate" with government's bleeding heart?