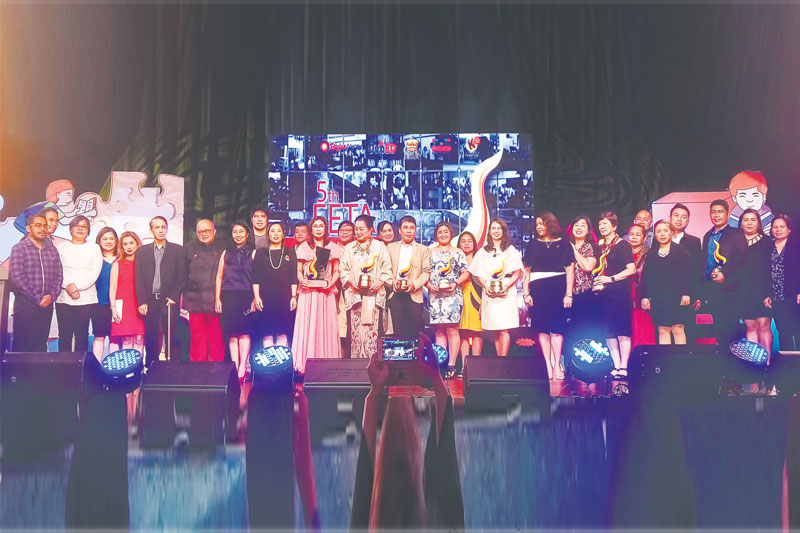 Recipients of the 5th Excellence in Educational Transformation Awards pose for a group photo during the awarding ceremony held at the Dolphy Theater in ABS-CBN. Coleen Santos
Academic champs lauded for changing educational landscape
The education sector is faced with many problems, not least of which is keeping students in schools, encouraging them to finish their studies, reaching those in far-flung areas, and ensuring that their scores in various competencies improve.
No matter the challenges plaguing Philippine education, there are academic institutions that change the educational landscape by applying innovative approaches to help solve prevailing problems.
These schools and school divisions were recognized during the 5th Excellence in Educational Transformation Awards (EETA).
The EETA recipients are: Lawit Elementary School for innovations in access to education and learning methodology for learning effectiveness), the Department of Education – Schools Division of Carcar for innovations in quality education: learning materials and learning methodologies for learning effectiveness, the Department of Education-Schools Division of Camiguin for innovations in access to education, and learning spaces and places, Chiang Kai Shek College for innovations in leadership, governance and management, Create, and Learning Paths School and Diliman Preparatory School for being the most transformative school for learning effectiveness and school efficiency.
Lawit Elementary School (LES) of Gingoog, Misamis Oriental and Create and Learning Paths (CLP) School of Paranaque City were chosen for their valuable contributions in the field as they mightily challenged odds through a winning formula combining creativity, embracing change, and courageous innovations.
Two public school districts, the Camiguin and Carcar (Cebu) school divisions of the DepEd, were awarded for formulating innovative and superior strategies in order to attain better education outcomes in terms of quality, delivery and economy, despite of limited resources.
Through its Two Subjects, One Day (2SOD) approach, the Carcar division enhanced students' competency levels and thereby also eased the burden of teachers in terms of their preparation time. It also allowed for more flexibility and creativity in designing class sessions and greater interdisciplinary opportunities for linking the eight subjects together due to the pacing of the classes.
Under the DepEd banner of "Education for All," the Camiguin division came up with the Open High School Program (OHSP), which enabled students to learn without having to physically go to school every day. Class schedules became flexible (weekends, night time). The pace of education was altered as individual students worked on their self-learning modules in their own time. The system of grading and reporting was also revised. Students could take up to six years to finish high school.
For Chiang Kai Shek College (CKSC) to meet the challenges of 21st century education, its president, Dr. Dory Pua, spearheaded a five-year strategic planning process and articulated the values and virtues that must be embraced by the school. A new structure was created to deliver CKSC's five domains of education that encompassed morality, wisdom, physical well-being, social skills and artistic skills.
Recognizing the need for change, Diliman Preparatory School (DPS), under its chairman and president, former senator Anna Dominique Coseteng, adopted the Whole Brain Learning System (WBLS) with the guidance of Dr. Cecile Manikan.
A holistic learning system that integrates the seven life-long skills of learning to think, to intuit, to lead, to communicate, to do, to lead and to be (the best that one can be), WBLS became the core of the DPS curriculum, which fully reinforced and embraced the concept of "bringing out the genius in every child."
For the second consecutive year, the OML accolade, named as a tribute to Dr. Oscar M. Lopez (OML), chairman emeritus of the Lopez Group of Companies and chairman of the board of trustees of the Knowledge Channel Foundation Inc., is awarded to an educator who has developed and implemented transformative programs and has led a school, district, division, or region towards excellent learning outcomes.
The OML Award for Educational Leadership in 2017 went to Maria Cristina Robles, principal of Navotas National High School.
The Excellence in Educational Transformation Awards is spearheaded by Bayan Academy in partnership with Knowledge Channel, REX Bookstore, ABS-CBN Lingkod Kapamilya and the Department of Education.