YouthHack's journey from Manila to the global stage
(Philstar.com) - August 16, 2015 - 8:55pm
MANILA, Philippines - It's not every day that you see a graduate fresh out of high school heading a global phenomenon rooted in the value of youth empowerment.
Meet David Ongchoco, now an incoming college sophomore in the University of Pennsylvania. Flash back to a year ago, David brainstormed the idea of creating an organization focused on helping youth learn more about startups. It was upon completing the application process for colleges in the United States that he came across numerous business plan competitions, hackathons and startup weekends. "I asked myself why there weren't as many programs like these in the Philippines," recalled David in his introductory speech during the 2015 YouthHack Startup Challenge held in Xavier School last July 25 and 26.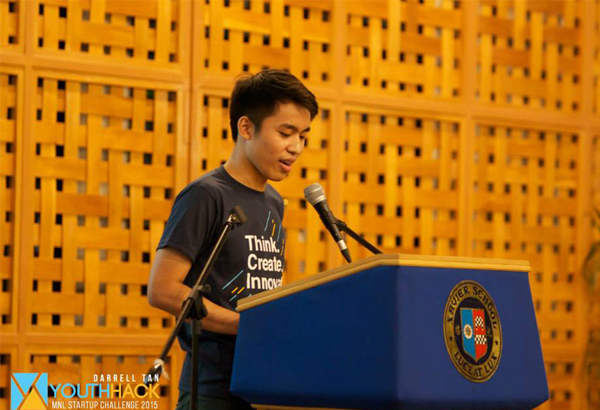 David Ongchoco
Armed with a whole lot of motivation and a four-month long summer, he took his vision to "make it happen" to a team of friends. From there on out, the idea for YouthHack was born.
Early stages of inception
Inspired by the visions of big names in the startup industry such as Bill Gates, Steve Jobs and Mark Zuckerberg, David yearned to someday tell a story similar to theirs. However, his journey to reach that goal was far from over. Although he and his team had already fleshed out their idea, they were at a loss on how to begin. Fortunately, through consulting a mentor, they found the Ripplerz conference. It was there that they were able to pitch their idea to experienced entrepreneurs and collect feedback. Various doors were opened for them after this experience. "It was so exciting. I felt like we were actually doing something real," he said.
With only two weeks to go, the venue, speakers and sponsors were ready, and had the team raring to begin. However, one incredibly essential factor was missing: the participants. Word about the event had not reached the outside world, until David stumbled across a group photo of the Ateneo Junior Summer Seminar students while scrolling through Facebook. He came up with the idea to message every single one of them, and lo and behold, it worked. Over 23 teams registered, and more than 100 students attended.
A vision comes into fruition
On July 12 and 13, YouthHack Manila 2014 was held in Gates Professional Schools. Through playing around with the concept of startups in the technological world, David and his team were able to host a two-day event to educate high school students on technology and entrepreneurship. After sharing their expertise, participants were asked to pitch their own ideas. Needless to say, the competition was a huge success.
Even after the event, the second place team, thePhilApp (now called Applica), pursued their idea by entering a Harvard University competition, and winning. Their idea made its rounds to other schools in the United States such as Stanford and Wharton, gathering its fair share of followers. A professor at Wharton, curious about the beginning of YouthHack suggested that David expand the event by bringing it to Philadelphia. "The thought of pulling this off was just too much for me to ignore," David admitted. It wasn't too long till this idea was transformed into a concrete mission.
With only four weeks to prepare, it was time for YouthHack to go global.
Branching out to Philadelphia
Despite the endless days of hustling, cold emailing and encountering a fair share of logistical nightmares along the way, YouthHack made its debut in Philly last April 2015. The team consisted of chief executive officer and founder David Ongchoco, Dhuv Agarwal, Michelle Abigan and Nibras Islam. Together, they worked to give students the opportunity to "dive into the startup world," and turn their ideas into a reality.
YouthHack Philadelphia "Shark Tank" Challenge, the one-day event featured guest speakers such as Christopher Gray, Daniel Fine and Jonathan Grzybowski - entrepreneurs who worked their way from the bottom to secure a spot as the industry's best. The event encouraged the involvement of the students by letting them pitch their ideas to a pool of judges and experts. "The best part was that as each student made their way toward the exit, they came up to me, thanking me for helping them realize that you're never too young to chase your dreams and make an impact," narrated David of his experience.
YouthHack had officially gone international, and this was only the beginning.
YouthHack touches down at Singapore
The next chapter of the YouthHack journey came into fruition when David received an email from a high school student in Singapore. "One Skype call later, and we're working on organizing the YouthHack Singapore Challenge," David excitedly recalled.
Finally, in June 2015, the seasoned YH team brought the technopreneurship startup scene to Singaporean soil. The one-day event was open to high school and university students alike, and similar to its previous installments, had the contestants venture through ideation, business planning, and pitching. At the end of the event, they were given the chance to pitch their ideas in front of Kevin Ng (CEO of Hyron Infotech), Michael Lints (Venture Partner at Golden Gate Ventures) and Mohan Belani (Director of e27).
"The ideas that are pitched in each country are different because of the type of problems they face," explained David when asked about how the international chapters compared to one another. Despite the varying situations faced by the contestants, "the nice thing about these startup challenges is that it really forces the students to come up with solutions."
Coming full circle
"It's really exciting how fast the YouthHack brand is growing and we really hope to continue to grow and increase our impact," David adds as his organization delves further into the global market. Their next international stop will be in Hong Kong this coming August 22.
With YouthHack now over a year old, the YH community has captivated both professionals and amateurs in the technopreneurship world.
Recently, YouthHack wrapped up the inaugural Code Weekend with Microsoft Philippines, and the second YouthHack Manila Startup Challenge in Xavier School. "It was pretty special since it was just one year ago when I had graduated from Xavier School, yet I was able to come back and hold the largest YouthHack event yet," David reminisced of his favorite YouthHack experience. With over 250 people in attendance, the event had indeed gone a long way from its humble beginnings. Not only did it open the competition to university-level students, but it also included its very first Startup Fair. This exposed the students to startups currently existing in the Philippines, allowing them to interact with other aspiring technopreneurs.
"Just seeing how much YouthHack has grown in one year was really surreal and fulfilling," said David. After all, it seems that there really is no stopping this generation's community of hackers.
Future ventures
YouthHack plans to hit the ground running once again, with future events scheduled in Washington D.C. and South Jersey. Side projects are being developed already such as a 'franchise' model enabling anyone in the world to run YouthHack programs. A mobile application is also in the works. This will eventually serve as an "education platform" for students that wish to immerse themselves into the world of startups, technology, and entrepreneurship. Ultimately, the team envisions a YouthHack Global Summit that will "bring together student entrepreneurs and young changemakers from all over the world to collaborate and share their experiences and ideas with each other."
From a bright-eyed high school graduate to an internationally acclaimed youth startup community builder, David Ongchoco has nothing but words of encouragement for young and aspiring technopreneurs. "I think what most young people don't understand is that being young is such an advantage, especially in the world of business," he claims, addressing one of the greatest misconceptions in startup. "Don't be afraid to try. You never know what can happen."