Ateneo apologizes for viral Imelda photos
MANILA, Philippines — The Ateneo de Manila University reacted to criticisms arising from the photos of Ilocos Norte Rep. Imelda Marcos gracing its scholarship foundation's event.
"I apologize for any doubts that may have arisen on the mission of the school and the pain this event may have caused," Ateneo President Jose Ramon Villarin said in a statement Sunday.
"As I hope for your understanding, I would like to assure you that we in the administration have learned our lesson to be more mindful of those we invite to our celebrations," he continued.
The photos showing Villarin, school officials and students posing with the late strongman Ferdinand Marcos' wife circulated on social networks over the weekend.
One particular photo questioned by Ateneo alumni and other netizens shows Marcos striking a pose with some students making the "V" or victory hand gesture, historically associated with those loyal to the late dictator.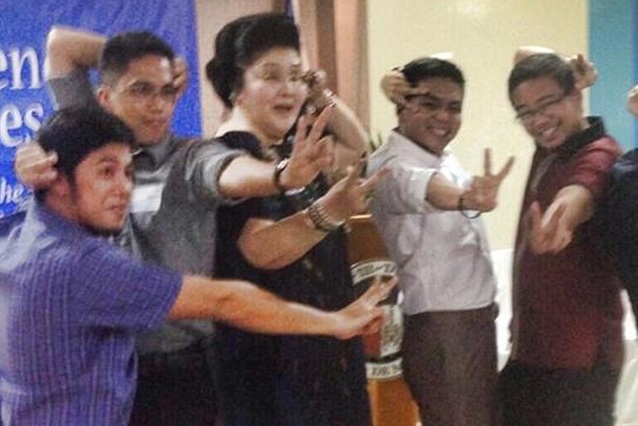 A photo showing Ilocos Norte Rep. Imelda Marcos, wife of the late strongman Ferdinand Marcos, striking a symbolic pose at an Ateneo de Manila University event on July 5, 2014.
Critics pointed out the work of alumni from the Ateneo High School's "freedom batch" of 1986 who participated in the People Power Revolution that drove the Marcos family from power.
Netiens also remembered the fate of alumnus Edgar Jopson, considered by the student body as one who embodied Ateneo idela,s who was among the most outspoken youth leaders against the Marcos regime. After being forced to go underground, Jopson was captured by military in 1982 and was killed.
The former First Lady was invited to the 40th anniversary event of the Ateneo Scholarship Foundation (ASF) on July 5. Villarin admitted that proceeds from the Van Cliburn piano concert organized by Marcos in 1974 was the initial donation to the fund.
"While not an official school arm, the ASF has been a source of many scholarships ever since its inception. The event last Saturday was a social one and, in spite of the visit of Mrs. Marcos, the evening was really a celebration of our scholars, the foundation's scholarship programs, and the generosity of the countless benefactors over the last 40 years," Villarin said, explaining the event.
Vilarin assured the public that "Ateneo de Manila will never forget the Martial Law years of oppression and injustice presided over by Mr. Ferdinand Marcos" in educating its students.
"We would not be catching up on nation building as we are today, had it not been for all that was destroyed during that terrible time," the university president said.
He said that future leaders coming from Ateneo will have learned the "darkness" besetting the country under Marcos.
"We will not compromise on our principles in forming those who would lead this nation, striving at all times to be 'constantly true' to ourselves and to our God," Villarin concluded.