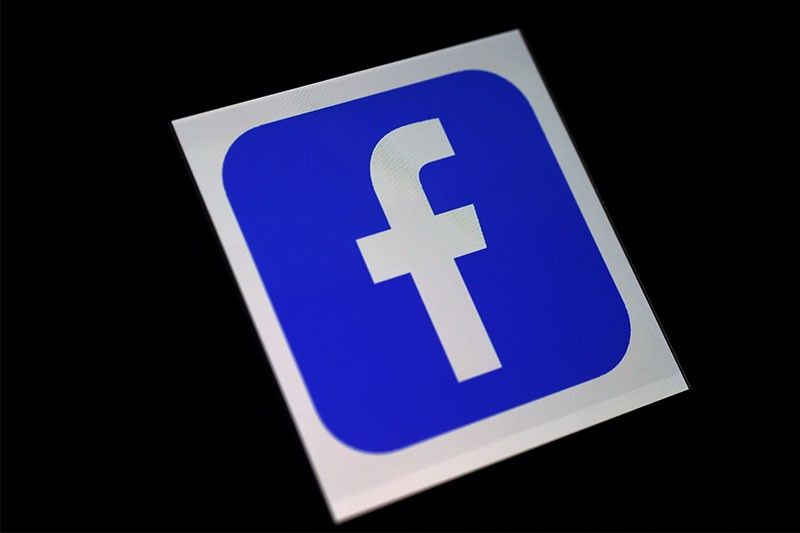 In this file illustration photo taken on March 25, 2020 a Facebook App logo is displayed on a smartphone in Arlington, Virginia.
AFP/Olivier Douliery
Facebook to advise use of masks amid latest virus spike
(Agence France-Presse) - July 3, 2020 - 7:40am
WASHINGTON, United States — Facebook said Thursday it would offer reminders to its users to wear protective masks, responding to the latest surge in US coronavirus cases, which has sparked renewed fears of containing the pandemic.
The social network giant said it would include the alerts at the top of feeds on Facebook and Instagram, starting in the United States with plans to expand in the future.
"With the rise in COVID-19 cases in the US, we're putting an alert at the top of Facebook and Instagram to remind everyone to wear face coverings," the company said in a statement.
Facebook will also include additional prevention tips and links to public health agencies in its COVID-19 Information Center.
Twitter appeared to join in the call for masks with a sardonic message which referred to a longstanding demand from users for a tweet edit button.
"You can have an edit button when everyone wears a mask," said a tweet from the official Twitter account, which was shared some 93,000 times within an hour.
The moves come amid a rift in some parts of the United States on the need to wear masks, with some Americans rejecting the face coverings as government intrusion.
President Donald Trump, who has yet to be seen in public wearing a face mask during the crisis, said this week he would have "no problem" doing so under certain circumstances.
"If I were in a tight situation with people, I would absolutely," Trump said in an interview with Fox Business, as many US states reported a surge in the number of cases.
Heath experts expressed alarm last month when Trump held a rally in Tulsa, Oklahoma, without requiring attendees to wear masks.
Eight members of his campaign staff working at that event tested positive for the virus.
As It Happens
LATEST UPDATE: August 5, 2020 - 11:04am
The latest news about Facebook, Twitter, Instagram and other social media platforms.
August 5, 2020 - 11:04am
President Donald Trump defends his demand for the US government to get a piece of the action to let Microsoft or any other company here buy popular China-based social media app TikTok.
Trump's stance was slammed by critics who said it appears unconstitutional and akin to extortion.
"We have all the cards, because without us, you can't come into the United States," Trump says during a White House press briefing. — AFP
August 4, 2020 - 7:36am
President Donald Trump says that Chinese-owned hugely popular video-sharing app TikTok will be "out of business" in the United States if not sold to a US firm by September 15.
"I set a date of around September 15, at which point it's going to be out of business in the United States," he tells reporters.
"It'll close down on September 15th unless Microsoft or somebody else is able to buy it and work out a deal." — AFP
August 1, 2020 - 11:16am
President Donald Trump says he will bar fast-growing social media app TikTok from the United States as American authorities have raised concerns the service could be used by Chinese intelligence.
Speaking to reporters on Air Force One, Trump says: "As far as TikTok is concerned, we're banning them from the United States." — AFP
August 1, 2020 - 10:47am
The hackers who accessed dozens of high-profile Twitter accounts in mid-July gained access to the system with an attack that tricked a handful of employees into giving up their credentials, according to a company update.
Twitter says in a security update late Thursday that the July 15 incident by bitcoin scammers stemmed from a "spear phishing" attack which deceived employees about the origin of the messages.
The hackers "targeted a small number of employees through a phone spear phishing attack," according to a Twitter Support statement. — AFP
July 18, 2020 - 1:54pm
Hackers involved in the high-profile hijacking of Twitter accounts earlier this week were young pals with no links to state or organized crime, The New York Times reports.
The attack, which Twitter and federal police are investigating, started with a playful message between hackers on the platform Discord, a chat service popular with gamers, according to the Times.
The paper says it had interviewed four people who participated in the hacking, who shared logs and screenshots backing up their accounts of what happened. — AFP