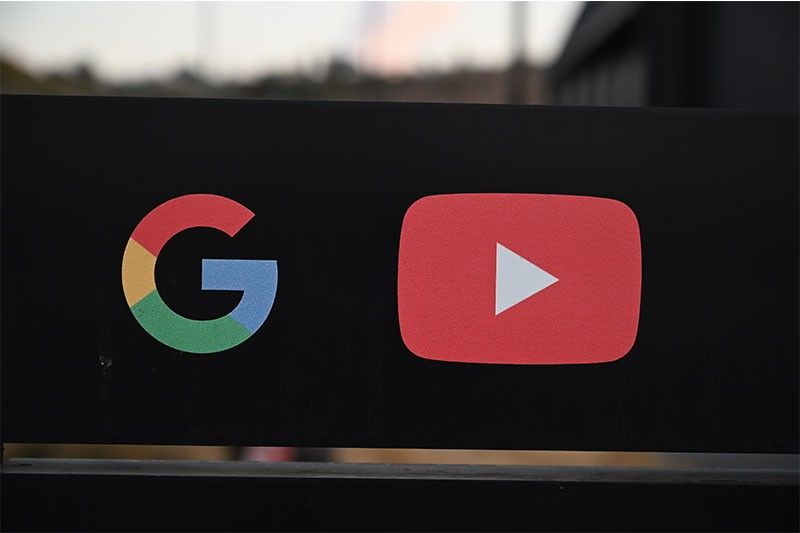 In this file photo taken on November 21, 2019 the Google and YouTube logos are seen at the entrance to the Google offices in Los Angeles, California. YouTube on April 28, 2020 began adding fact-check panels to search results in the US for videos on hot-topic claims shown to be bogus.
AFP/Robyn Beck
YouTube expands fact-check panels in move against misinformation
(Agence France-Presse) - April 29, 2020 - 8:46am
SAN FRANCISCO, United States — YouTube on Tuesday began adding fact-check panels to search results in the US for videos on hot-topic claims shown to be bogus.
The Google-owned video streaming service said it is expanding to the US a fact-check information panel feature launched last year in Brazil and India.
Fact-check information panels highlight credible findings by third-parties so YouTube viewers can make informed decisions about claims, according to the company.
"Over the past several years, we've seen more and more people coming to YouTube for news and information," the service said.
"The outbreak of COVID-19 and its spread around the world has reaffirmed how important it is for viewers to get accurate information during fast-moving events."
YouTube described the fact-check feature as part of ongoing efforts to raise the profile of authoritative sources while reducing the spread of misinformation.
Two years ago, YouTube began testing panels providing vetted sources of information on topics prone to bogus assertions such as the world being flat.
"We're now using these panels to help address an additional challenge: Misinformation that comes up quickly as part of a fast-moving news cycle, where unfounded claims and uncertainty about facts are common," YouTube said.
Fact-check panels will be shown at YouTube when people search on specific claims found to be false, such as COVID-19 being a bioweapon, according to the company.
YouTube said that more than a dozen US organizations including FactCheck.org and PolitiFact were partners in the effort.
It will take time for the feature to fully ramp up at YouTube, which planned to expand it to more countries as the accuracy of the system improved.
As It Happens
LATEST UPDATE: July 7, 2020 - 12:22pm
The latest news about Facebook, Twitter, Instagram and other social media platforms.
July 7, 2020 - 12:22pm
TikTok says it is stopping its popular video snippet-sharing app from working in Hong Kong due to "recent events."
The move by TikTok, owned by China-based ByteDance, comes as Facebook, Google and Twitter put a hold on requests by Hong Kong's government or police force for information on users, following China's imposition of a sweeping new security law. — AFP
June 30, 2020 - 2:00pm
TikTok denies Tuesday sharing Indian users' data with the Chinese government, after New Delhi banned the wildly popular app in a sharp deterioration of relations with Beijing two weeks after a deadly border clash.
"TikTok continues to comply with all data privacy and security requirements under Indian law and have not shared any information of our users in India with any foreign government, including the Chinese government," TikTok India chief Nikhil Gandhi say in a statement.
"Further if we are requested to in the future we would not do so. We place the highest importance on user privacy and integrity," he said, adding that it had been invited to a meeting with the Indian government "for an opportunity to respond and submit clarifications".
TikTok is owned by China's ByteDance and was one of 59 Chinese mobile apps banned late Monday by Prime Minister Narendra Modi's government. — AFP
June 27, 2020 - 10:57am
Facebook says it would ban a "wider category of hateful conduct" in ads as the embattled social media giant moved to respond to widening protests over its handling of inflammatory posts.
Chief executive Mark Zuckerberg also says Facebook would add tags to posts that are "newsworthy" but violate platform rules -- following the lead of Twitter, which has used such labels on tweets from President Donald Trump. — AFP
June 26, 2020 - 7:35am
Facebook says it was looking to add notifications about the source of coronavirus-related posts and will warn users when they share stories that are more than 90 days old.
The moves aim to add more context to stories shared on the leading social network and seek to stem the flow of misinformation.
Facebook Vice President John Hegeman says in a blog post the social media giant would be seeking to direct people to "authoritative" information about the COVID-19 outbreak through its hub on the pandemic. — AFP
June 24, 2020 - 7:57am
Twitter hides a tweet from President Donald Trump in which he threatens to use "serious force" against protestors in the US capital, saying it broke rules over abusive content.
The move appears to be the first by Twitter against the president for an "abusive" tweet. In a growing dispute, the platform has recently labeled other Trump tweets as misleading and violating its standards on promoting violence.
"There will never be an 'Autonomous Zone' in Washington, D.C., as long as I'm your President. If they try they will be met with serious force!" Trump tweeted.
The action by Twitter requires users to click through to read the Trump tweet, with a tag on the message that it "violated the Twitter rules about abusive behavior" but that it would remain accessible "in the public's interest." — AFP
There will never be an "Autonomous Zone" in Washington, D.C., as long as I'm your President. If they try they will be met with serious force!

— Donald J. Trump (@realDonaldTrump) June 23, 2020