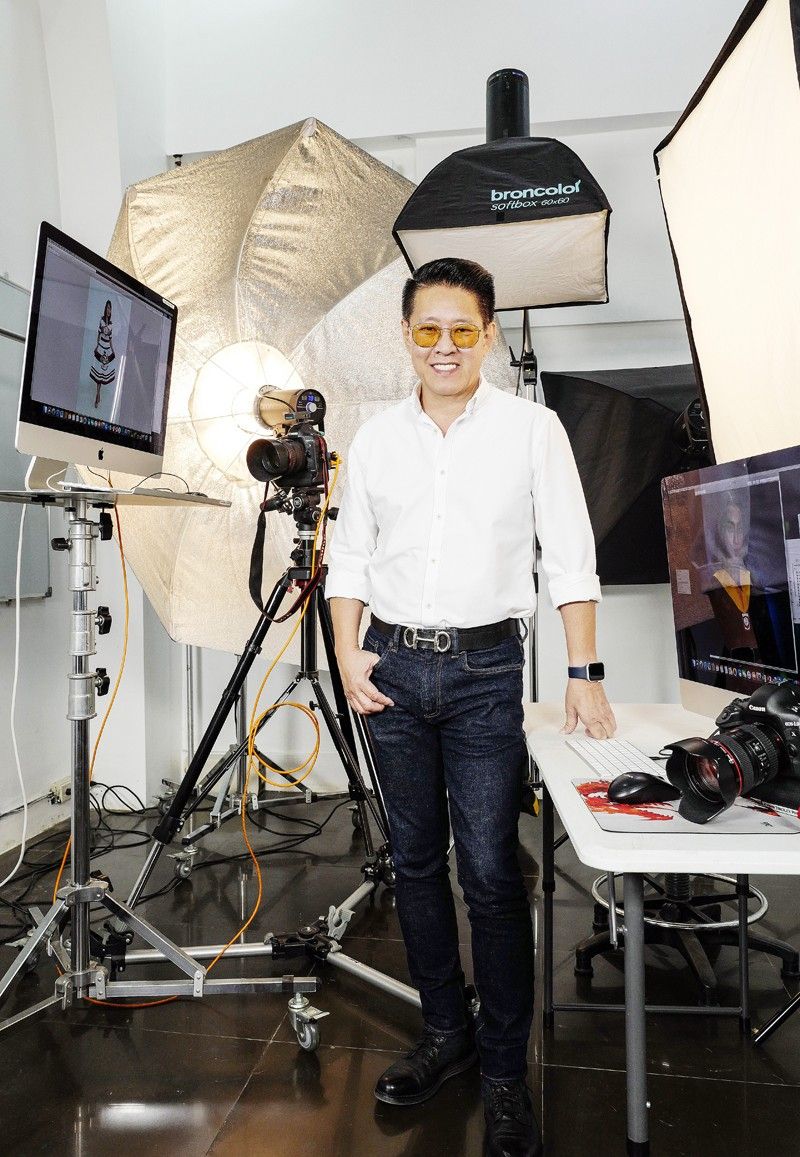 Tino Ley in his hi-tech studio at Tino Ley Digital Photography
Photos by Tino Ley
Have you been shot by Tino Ley
Kathy Moran
(The Philippine Star) - August 12, 2019 - 12:00am
MANILA, Philippines — As a yearbook portrait photographer, digital photographer Tino Ley values quality — it's his first priority.
"With the photo papers before, photos could still fade, said Tino Ley of Tino Ley Digital Photography. "I used to have a one-hour photo stations before and we would all claim our photo paper would be archival. The only real archival paper before was of Chat Peypoch because they really used fiber paper then."
I laughed at what he said because I remembered my own high school and college school photos by Chat Peypoch and how we had to sit in a frozen pose as she captured our best angles — yes she was the only one who did school photos at the time — at least that is what I knew.
Fast-forward to the 21st century and the wonders of digital photography — and you have Tino Ley — a technological artist in his craft today. Ley told me as a child, as early as when he was about nine years old, he already had an interest not just in taking photos but also in the materials used to capture a photo. "I am grateful to my mother who let me learn all about photography at a young age," Ley recalled. "She spotted my interest in the craft and then went all out to support my growing interest."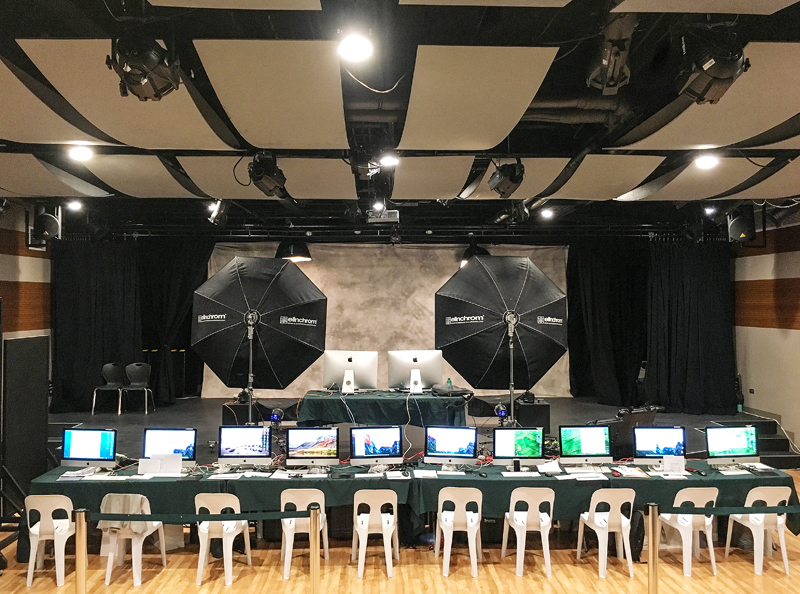 A school setup with latest computers, lighting and cameras so students can see their photos right after a take
Today, Tino Ley Digital photography is on top of its class as can be seen from the high tech equipment his studio is known for. I got a glimpse of the photos he had taken of the schools he is the main photographer of and it shows from the output of his prints to the equipment used for the production process. "Whenever a new gadget or equipment is launched, you can guarantee it's on my radar," added Ley. He's constantly on the search to upgrade his equipment to the latest the industry has to offer.
Tino Ley and his gadgets
Ley explains his gratitude to Philippine Center for Creative Imaging (PCCI) which started a school where one could learn all about digital photography — that was in the early 90s. "It was a time Photoshop was new on the market and not many people knew how to use it," Ley shared. "There was a Camera Club of the Philippines member, Jun Miranda, who was very passionate about the emerging digital photography scene at the time. He went to the States to study Adobe Photoshop and then brought it here to the Philippines."
PCCI is the only school where one can become Adobe certified. At the end of every workshop, one receives a certificate, which one can show as proof that one knows the art of Adobe Photoshop. Ley added that was a big transition in his life as a digital photographer — because at the time he had all the equipment but he did not know how to use them professionally.
Today, his arsenal includes — the latest Canon camera, Canon 1DX Mk II with 85mm, f/1.2. This camera boasts 20.2 megapixels, a true full frame DSLR camera. But there's more to a picture than just the camera, there's lighting. Ley invests in Broncolor Sirus studio lights. A company that hails from Switzerland and is famous for its quality and used by seasoned photographers.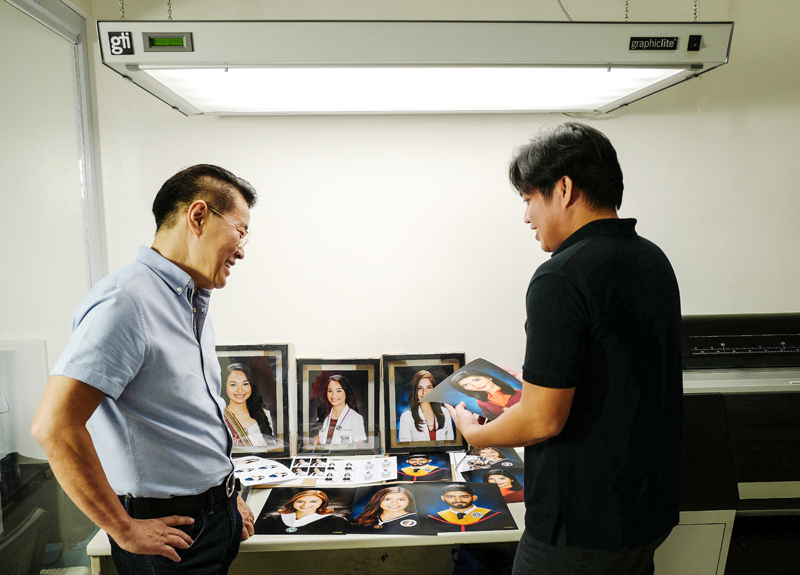 Making sure all shots are of the best quality
But beyond the camera, Ley showed us the printing machines and cutting (for different sizes of photos) he has and continues to upgrade to stay at the top of his field.
But that's not all —he makes sure his printers are able to show the fine details needed for a perfect picture. With his Noritsu QSS Green II Dry Printer, anything he prints become true to life — sometimes even richer. This is because his printer has the resolution of 1440 dots per inch. Moreover, the fact it's a dry printer adds more value because its photos last a lifetime. It's proven to be superior quality - Ley knows this because he tests his prints under a Xexon-Arc lamp which he exposes his photos to, this lamp simulates 60 years of sunlight. And it still retains the same high-grade quality as if it were just printed yesterday.
I know this might sound like too much tech jargon — but the result he showed me while I was at his simple studio on Macapagal Ave. had me in awe at what technology has done to make our photo memories truly richer and more beautiful.
With his camera and printer performing at its best, he also chooses to take the extra step to invest in on a 3.7 ghz Quad core Power Mac and iMacs 5k 3.5ghz intel core i5 for him and all his employees. To him, Apple performs best and he's sure the industry agrees. But he has one exception — the Eizo CG277 HD Monitor. This monitor is equipped with 2560 x 1440 native resolution which screens every photo taken for color management. Right after, his photos get another screening under a GTI Graphiclite, a viewing light to check the integrity and color fidelity of the color prints. This is the final and last step in ensuring a perfect photo before it's framed.
Into the next photo shoot
"I waited for the first true six megapixel camera to be released before I jumped into my craft," said Ley. "It was Nikon who came out with a really nice professional digital camera and that was the time I shifted." This was set in the 90s.
"I still maintain the name Tino Ley Digital Photography — it might sound corny now," he shared. "But back then it was what I had to offer and if my clients wanted true digital photographer I was on the first in the field."
Who do you like to shoot? I ask.
"I am most patient with little kids when I take photos," he shared. "So, I like to take photos of kinder kids. The trick is to get the shot as soon as you get their attention or if not, the moment is lost." Ley shared that as a person he is a worrier so he is not into wedding photography because booking are made a year in advance — and he worries for a year about what may go wrong if the shoot is not perfect. To help Tino in his craft, he designed a machine which cuts photos into size thus eliminating the seasonal need to hire cutters for his photos. He says this is more efficient because the machine doesn't talk or take breaks — it just cuts.
Don't get me wrong; Ley is such a kind man. Truth to tell he has adopted two office cats who spend their days sprawled on his machines. And he is hopeful one day the business he built will be passed on to his daughter, who he says is most like him in temperament.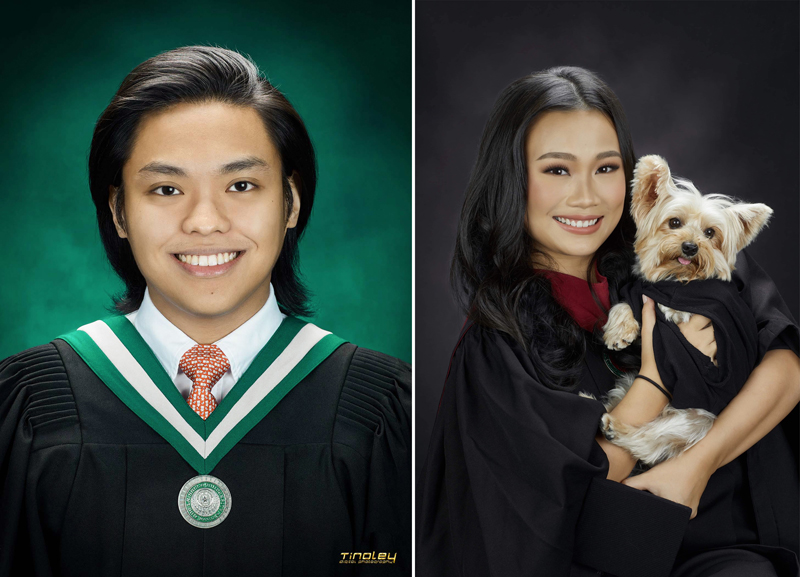 Sample of college graduation photos from his files
Ley has people who have worked with him for more than 15 years — a sign that he is a person who treats his loyal people well. Throughout the years, his regular clients have been able to count on Ley to produce the highest quality prints with his top-of-the-line equipment.
He is 24/7 on call making sure that he is able to meet the demands for the best photos at a moments notice. Proof positive of his reputation among the best digital photographers and printers is a clientele which includes schools like Ateneo University, De La Salle University Dasmariñas, Colegio De San Juan De Letran Manila, Paref Woodrose School, UERM, St. Scholastica's College, Philippine Women's University, and Emilio Aguinaldo College to name a few.
There is much to say about how photography has developed through the years —but what remains constant is the need for a photographer who can relate to the subject and is able catch that perfect moment for the best photo.
I must say, Tino Ley is that kind of a person — someone who made me feel comfortable at once and who has the patience and skill to take that perfect shot in just one or two clicks of the camera.
Now that is more that just the best equipment — it is also a good person who shoots from the heart.
* * *
For inquiries, please email info.tinoley@gmail.com.