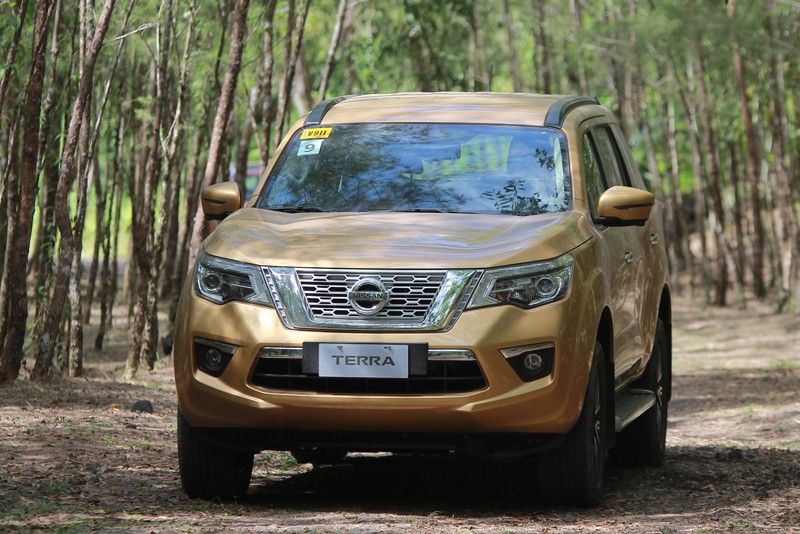 Connected we are: The Nissan Terra
Nissan Terra and intelligent mobility
Kathy Moran
(The Philippine Star) - May 20, 2019 - 12:00am
MANILA, Philippines — There is something that sparks on my mind when I think about how technology and intelligent mobility are synonymous. I got to experience this on the Nissan Terra.
As I was looking at the brochure that was in the Terra, I read that Nissan Intelligent Mobility is the journey to the future with Nissan and its products. Nissan's aim is to transform the way we drive and transform the way we live, moving us to a better and more connected world.
It is through Nissan's Intelligent Mobility vision, that it is building a better future for drivers that is more confident, more exciting, and more connected.
With that, I had decided to see what Nissan Intelligent Mobility was all about.
Here is what I discovered.
But first let me tell you just how I liked the look of the car inside. From steering wheel controls that allow you to adjust the cruise control, audio system and Bluetooth hands-free calling, to the Advanced Drive Assist Display, every journey becomes more enjoyable. Throw in smartphone integration and you get a more connected drive for you and your passengers — that's tech at my fingertips.
Then there is the view from the cockpit that allowed me to be on top of everything with the available Advanced Drive Assist Display, which provides information on tire pressure, the Intelligent 4x4 System, and fuel economy with just a touch of a button.
Of course adding to the comfort was the leather-appointed seats, ambient lighting, spacious seating capacity, and Zero Gravity front seats; every moment spent with family is in luxury.
The Nissan Terra was launched in the country to meet the market's growing demand for SUVs. It first went on sale in the country August of 2018.
So here are three features that really impressed me.
Intelligent driving
Just what is intelligent driving?
As I started the engine of the Terra and began to roll it out of our driveway I began to focus on what is intelligent. What I discovered is that the Nissan Terra gave me more confidence through increased safety, control, and comfort for everyone on board.
It is the Nissan ProPilot that offers driver-assisted safety features and more confident driving. Intelligent Driving adds to the driving; leaving some of the more boring or stressful tasks — like parking and driving in stop-and-go traffic, to be handled by the car on its own. (We don't have this in the Philippines or the Nissan Terra yet)
I was particularly amazed how the Terra made me stop on a dime when I got too close to car beside me of in front of me. A good safety feature when one takes their eyes off the road even for a bit.
Credit this to the Blind Spot Warning, which helped me keep an eye on blind spot areas. It alerts you when it detects vehicles hidden from sight, so I had more confidence whenever you change lanes
There is the Lane Departure Warning: Enhances your safety by making sure you only change lanes when you mean to. It gives you a visual and an audible alert when it detects an unintentional lane departure
Of course the Hill Start Assist: Helps you in managing steep inclines and hill ascents, preventing the vehicle from rolling backwards. It holds pressure on the brake for a few seconds, providing enough time to switch from the brake pedal to the accelerator.
And, I must not forget the Intelligent Around View Monitor, which made it easy for me to check your surroundings. The gives you a clear 360° view, allowing you to park perfectly with ease and avoid obstacles around you, while the Rear Parking Sensors lend a helping hand when backing up. Around View Monitor gives you a 360° bird's eye view of your vehicle, with split-screen close-ups of the front, rear, and curbside views. The Moving Object Detection gives you an on-screen visual when it detects moving objects, helping you avoid any parking hazards.
Just great in this SUV.
Intelligent power
Intelligent Power makes driving more exciting for customers by making it cleaner and more efficient.
Nissan is committed to a holistic approach toward a zero-emission society, putting advanced technologies into Nissan EVs, like the Nissan LEAF and related infrastructures.
Alternate sources of on-board electric power, such as fuel cells, will further encourage fuel diversity and renewable energy development.
Nissan continues to develop ICE technologies for better fuel economy yet powerful driving and a cleaner world.
By networking cars, individuals and social infrastructure, Nissan will contribute to cleaner air, a greener planet and fewer fatalities on the road.
Nissan will help connect cars to social infrastructures such as road, information and electric power networks which will eventually lead to reduced traffic jams, more efficient car sharing, remote vehicle operation and improved energy management.
The Dual-Zone Automatic Temperature Control keeps those up-front happy, while the rear seat air-conditioning with personal vents provide comfort for the rest of the crew. There's even an 11-inch Flip-Down Rear Entertainment System that's perfect for those memorable road trips. With plenty of convenience features and an abundance of storage, the Terra is the right companion for any trip.
Need additional space for your cargo? Fold the seats in for maximum space. The Nissan Terra's flat-folding seats can easily be configured according to your load, making it flexible and convenient for all kinds of travel.
Intelligent driver?
There are many things about the Nissan Terra that make it a great and easy drive. I have much fun during the test because of its many features.
I hope that with all the help that technology gives this SUV — it is also able to make me a smarter driver — but that perhaps is for another story.