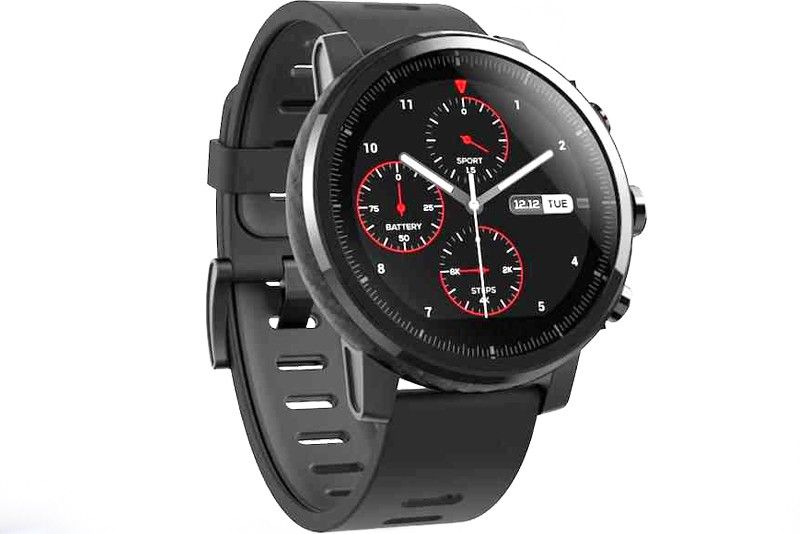 Watch your fitness: The Amazfit Stratos
Kathy Moran
(The Philippine Star) - May 6, 2019 - 12:00am
MANILA, Philippines — There are so many ways that I have tried to slim down.
I have tried diets galore and workouts a plenty — but it seems I always want more.
If there is one thing that I have learned in my over 50 years of existence it's that diets alone might make me take off the weight but, they won't make me healthy — and workouts will make me healthy but without a good diet they might not keep me slim in the long run.
And then there are wearables, the newest fitness gadget — anything to keep us on the go with a tracker of just how well we are doing — physically.
Let me share with you the latest tracker that I have come across and like most fitness trackers, the Amazfit Stratos (along with its other wearables) are compatible with iOS and Android smartphones. But unlike the others, the Stratos can do more without being synced up with your phone. It can track activities with its dedicated GPS chip and you can listen to locally stored music with a set of Bluetooth wireless headphones.
Now, that makes it an interesting watch to wear.
Let's get physical
Fresh out of the box I needed to initialize my cell phone with the Amazfit Watch App. It was easy I just needed to follow the instructions on the App and make sure that the Bluetooth on my phone was on to set to the Amazefit App. I will add that I am not one of those who likes to have to read a complicated manual — and the Amazfit Stratos did not need me to do that.
From there, it lets you more easily customize the watchfaces and other settings that are much harder to access on the watch itself.
There are few wearables companies who have a strong handle on the software side of things, and the Stratos proves that Amazfit isn't one of them just yet. While the offerings are relatively friendly to new users and data-rich, it's just a little strange that this uses a completely different app than the company's other fitness trackers.
In terms of the watch's battery life, it of course depends a lot on how you're using it. Amazfit advertises a five-day battery expectancy and it definitely delivers on that promise.
I am a regular gym-goer and I like to walk a lot, too so after a healthy mix of activities, all of which utilized the GPS sensor and heart rate tracking the Stratos watch did last a full five days. It's worth noting that turning on continuous heart rate sensing and streaming music via Bluetooth are two very good ways of tanking the battery life. But should you just use it as a watch, you're looking at more than a week of battery here.
I will add here that I did like that the Stratos was light on my wrist and looks like one regular watches so I didn't stick out like a sore thumb in a crowd and I didn't need to wear two devices (like I have seen a lot of other people do) just to keep track of my health.
The Stratos is Amazfit's most ambitious wearable, both in terms of its design and its fitness-ready features. If you're looking for a device that will be a reliable gym buddy, you'll quickly realize how expensive most of the options out there are.
The Stratos does a whole lot in the fitness department. In terms of the workout types it can track are running, walking, cycling, swimming, elliptical machine, mountain climbing and hiking, trail running, triathlon, tennis, soccer and skiing.
For example, the bottom button on the Stratos lets you trigger the lap function so you can time your reps if you're aiming to get a lower time running around the local pond. Of course, something like this comes in handy when you're swimming, which along with showering is a worry-free workout thanks to this watch's waterproofing that can withstand five atmospheres of pressure.
No matter the workout, you can easily pause your progress by tapping the top button. From what we've seen, this watch doesn't support auto-pause – something the Bip tried to questionable effect – but that's no worry because if there's something that fitness enthusiasts love, it's direct control over their metrics.
GPS and GLONASS tracking isn't the fastest we've seen – it can take around 15-20 seconds to find a lock. But you can still begin your workout while it boots up in the background. That said, it's accurate, keeping a solid connection, and we enjoyed the GFX export feature that let us look at our tracked workouts on the big screen.
If you're looking to squeeze as much utility as possible from the Stratos, the built-in heart rate sensor does a fine job. Continuous heart rate detection is toggled off by default to save battery, but switching it on will get you a constant feed of data.
Additionally, the Stratos also comes with support to sync with Bluetooth accessories like heart straps, as well as the ability track V02max, or how much oxygen you consume during a workout. Along with this metric, it can then gauge your exercise to determine how much recovery time you'll need in order to grow. Simply put, it can do a lot for the price.
Did you know that Amazfit is the largest manufacturer of wearables globally. The brand's mission is to seamlessly connect biomechanical signals and daily activities with smart data services to promote healthy living and to make their user's lives easier.
Amazfit Stratos is a premium multisport GPS smartwatch with 5 ATM water resistance,VO2max fitness level analysis, heart rate sensor, and transflective always-on color touch display. The rugged carbon fiber design case features a polished ceramic bezel, scratch-resistant tempered glass, three stainless steel physical buttons for easy navigation and an exchangeable 22mm durable silicone watch strap. The watch supports detailed sports and GPS tracking for: running, walking, cycling, swimming, elliptical machine, mountaineering, trail running, triathlon, tennis, soccer and skiing. Through a partnership with Firstbeat this watch also measures maximum oxygen consumption (VO2max), exercise load (TD) and recovery time.
If the Stratos is too bulky for you check out the Amazefit watches like the Cor2, Bip and Verge.
Amazfit is available at Lazada and Digital Walker. For more information, like @digitalwalkerstore on Facebook or follow @digitalwalkerph on Instagram #AmazfitPH #AmazingAllAround.