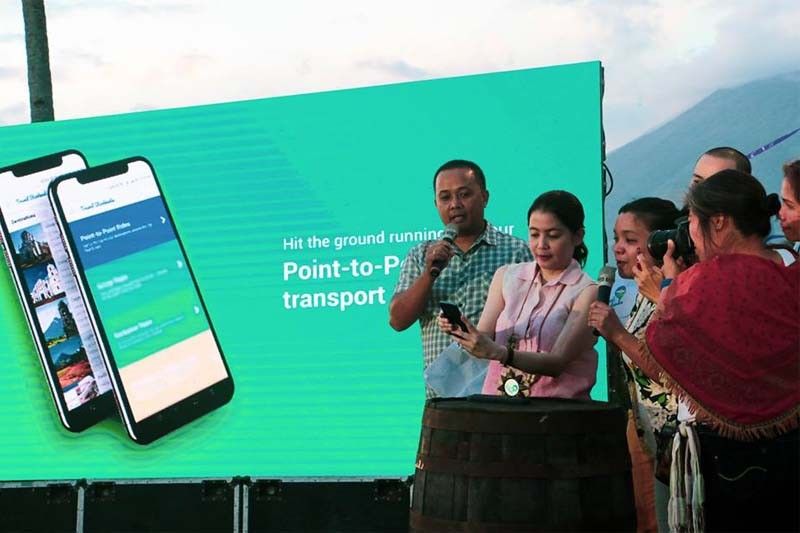 In this April 4, 2019 photo, Tourism Secretary Bernadette Romulo-Puyat tries out the mobile application at the launch of the Travel Bicolandia App in Daraga, Albay.
Facebook/DOT
Tech startup creates mobile app to make Bicol tourist destinations accessible
(Philstar.com) - April 9, 2019 - 4:25pm
MANILA, Philippines — A technology company startup recently launched a ride-sharing application to make Bicol tourists destinations more accessible to public.
Last April 4, technology firm Synergia BPO Solutions unveiled its newest mobile application called Travel Bicolandia App.
It was developed with the idea to "make Bicol destinations more accessible, affordable and enjoyable."
Tourism Secretary Bernadette Romulo-Puyat, who was also present during the launch in Daraga, Albay," lauded the makers of the ride-sharing app.
She likened the idea of the app to the spirit of "Bayanihan."
"We rely on passionate, dedicated and creative startups and MSMEs to create products and technology that bring the tourism industry forward. As technology shapes our industry faster than we realize, your role in nation building and the tourism sector is significant," Puyat was quoted as saying in her speech.
"I can't help but compare the idea behind this—sharing our means of transportation with others so more people can enjoy the sights of Bicol—with one of the rationales behind the DOT's crowd-sourced tourism campaign. It's the spirit of 'Bayanihan,' all of us pulling together to reach a collective goal," she added. — Rosette Adel