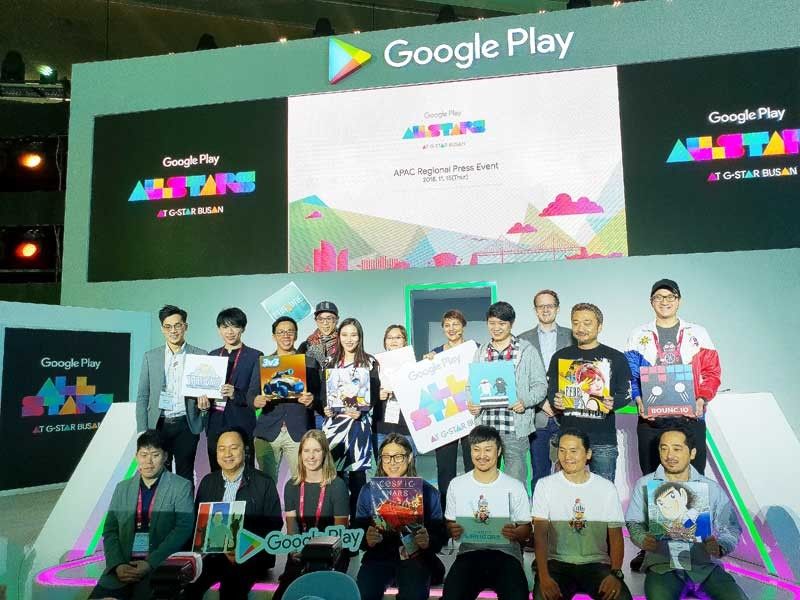 Top indie game startups from Indonesia, Malaysia, Singapore, Thailand and Vietnam and the Philippines join Google Play at the Global Game Exhibition - G-STAR 2018 in Busan, South Korea.
Filipino indie game developer joins Google Play in South Korea
Surrounded with countries equipped with advanced technology and high bandwidth connections, the Philippines has been making an impressive mark in the gaming sphere.
MANILA, Philippines — Today, the country is not only regarded for its slow Internet connection. Over the years, Filipino gamers have been bagging trophies in numerous competitions while game developers are gaining ground in the industry.
Putting a face to a thousand Filipino hopefuls in the gaming industry is MochiBits' Howard Go. He was among the Filipinos who shined at the annual G-STAR, one of the world's biggest games conference and exhibition event held annually in South Korea. For his part, his team's new game Bounce.io – Balls vs Balls stood as the first and only Filipino-made game featured at Google Play's All-Star Indie Game Zone.
One of the stars
After a long and tedious selection process, MochiBits was chosen as one of the pioneer participants of Google Play Indie Games Accelerator (IGA), a program that aims to boost the potential of top game startups through a personalized and comprehensive mentorship with the most successful developers today.
IGA is one of Google's projects, linked to its commitment to form audiences, create a safe ecosystem, launch high-quality applications and build great businesses for developers globally.
Looking back, the Filipino flag-bearer at Google Play's IGA flunked out of Computer Science in college and ended up graduating Philosophy. Before entering the gaming realm, he worked as a Philosophy professor and as a vice president of a telecommunications company in the Philippines.
"I think my biggest frustration was I don't get to make decisions for key things. And if certain things are done that I did not agree with, I would have to firefight and fix it. And if it did well, I wouldn't really reap the rewards because I am just an employee. So I wanted to do something on my own," he said.
And at that time, Go was inspired by then emerging games Angry Birds and Cut the Rope, two games built by small teams.
"So basically, it was that. I needed to do something that I have control of. If I do it right, I want to reap the benefits. If I do it wrong, it's my fault and it's my call. So I knew I wanted to be independent. And game design at the time was the perfect opening," Go said.
Since 2010, Go's small team has been behind the big hits Hexar.io and Left vs Right. Both games have already reached each over 10 million downloads. Like their other games, Bounce.io — Balls vs. Balls has also received 4.5-star ratings on Google Play Store.
The game plan
Since joining the IGA, Go and his team were able to see and fix the loopholes of their game. He said that the opportunity was a big change for MochiBits' direction.
"I think what was amazing for us was that they did not only help us [Google] fix the game, make it so much better, see all the weaknesses we did not see, but they also helped us decide what to do with our company moving forward," Howard said.
As the world sees the Philippines as one of the fastest growing markets with a bunch of talented gamers waiting to be discovered, Go advised startup game developers to know their skill sets and find the right partners to make sure they can cover as much ground as they can and to build a strong team.
He also put an emphasis on understanding the business and leading the project up to its execution. He also stressed the importance of research, advising startup developers to utilize the free resources available online.
"I've met so many people with an idea. And because of that, they think, 'I have an idea, I just need somebody else to partner with me and my idea would be great.' If you do not have good business sense, your idea would never be created. So you need to have project management skills, business sense, and game design skills. If you can find those three, then it becomes a question of funding, time, patience and resources to actually execute it and get it done," he shared.
"The other thing is research. I think what's interesting is that a lot of things that IGA provides are in the playbook, YouTube videos and tutorials. If you think of how many of these are out there, these are the equivalent of a conference that cost a thousand dollars to attend and Google gives it for free. If you are willing to work hard, do the grind and make the dream become a reality, Google has tools provided. Use it and it can happen," he added.
Knowing the struggles of game dev industry in the country, Go's next mission is to set up an incubator for aspiring game developers.
"One of my advocacies in the Philippines is to grow the indie development business and I give talks ones in a while. One of our long-term dreams, when we make a lot of money, is to set up an incubator. And one of the challenges in the Philippines for game developers is that we've got the talent but we do not have the savings and the technology," he said.
"So the incubator is the perfect solution for it," Go said. "You'll provide the basics so that they can get themselves set up. You'll mentor them, and then they can grow and work on their own"