Huawei Analyst Summit 2018: The coming of an intelligent world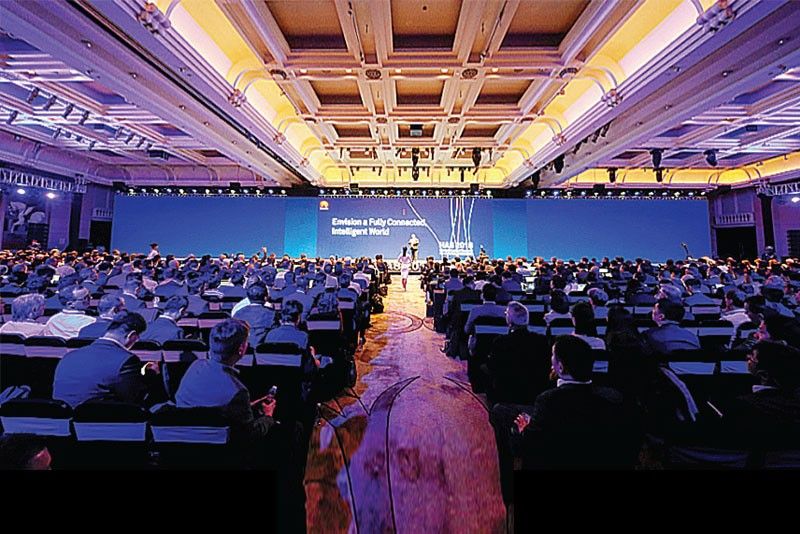 MANILA, Philippines — Fifty years ago, technology experts predicted that transmitted images today would be as clear as reality, and the entire world would be widely connected. While it was inarguably accurate, today's forecasting trend studies shorter-term and more specific technological breakthroughs, whose capabilities continuously grow at an exponential rate.
At the recent 15th Huawei Analyst Summit in Shenzhen, China, Huawei director of the board and chief strategy marketing officer William Xu unveiled the company's Global Industry Vision (GIV) 2025, a progressive report providing quantitative and qualitative predictions about the industry and society's future.
Using a unique research methodology and spanning 170 countries, the company used data and trend analyses to lay a blueprint for the industry. The report reviewed three dimensions (all things connected, all things sensing, and all things intelligent) and 37 metrics, including the amount of data generated, the percentage of enterprises that adopt artificial intelligence (AI), and the number of personal smart devices.
According to the report, there will be 40 billion personal smart devices (from seven billion in 2016) and 100 billion total connections (16 billion in 2016) around the world in 2025.
This means that in an optimistic scenario, an intelligent world will soon arise, with all things connected and able to sense, forming new industries fully based on the Internet of Things (IoT). Specifically, the report predicts a cloud Virtual Reality (VR) market worth $292 billion, a 90-percent penetration of smart assistants (smart devices) with 12 percent of homes having smart service robots, and 39 million blind people and 246 ones with impaired vision living normal lives through guide robots (e.g., visual guide helmets).
Through intelligent technologies, urban planners will be able to create new paths for sustainable development in security management and transportation planning, such as "smart city" implementations that are now being applied in some areas around the world. The city of Shenzhen, for example, gathers 30,000 photos of traffic violations every day. By using software-defined cameras and ultra-broadband private networks, and consolidating video feeds onto a single cloud to form a unified data pool, traffic violation rate has decreased in Shenzhen by 60 percent. Other cities may have more CCTVs but video data is usually not shared between private establishments and government agencies.
In the Philippines, a city in Metro Manila has partnered with Huawei to create a similar safe-city plan, which will soon give the area the green light (as well as an official public announcement).
On the business aspect, GIV 2025 anticipates more than 60 million vehicles connected to 5G networks and all new vehicles connected to the internet. Intelligence will be incorporated into manufacturing, accelerating its pace and optimizing returns on the entire ecosystem of the industry. Mass innovation, from manufacturing to services, transportation and other industries, is also expected to create a digital economy worth $23 trillion.
More than a smartphone with a nice camera
To improve its phone camera's performance, Huawei has incorporated AI through Kirin 970, a mobile phone chipset that improves image processing in complex environments by 25 times, with over 85-percent accuracy in extracting features.
To most Filipinos, Huawei means a smartphone brand with no-nonsense capabilities, especially the camera. But beyond this mobile product, the three-decade-old company has actually been offering end-to-end IT products and solutions based on customer needs in the government and various industries. Respected names such as Accenture, GE, Philips and SAP are few of Huawei's partners.
Telecom Italia, a large telco company in Europe, has partnered with Huawei to improve its cloud services, thus improving its digital storage and reducing electricity bill by 78 percent.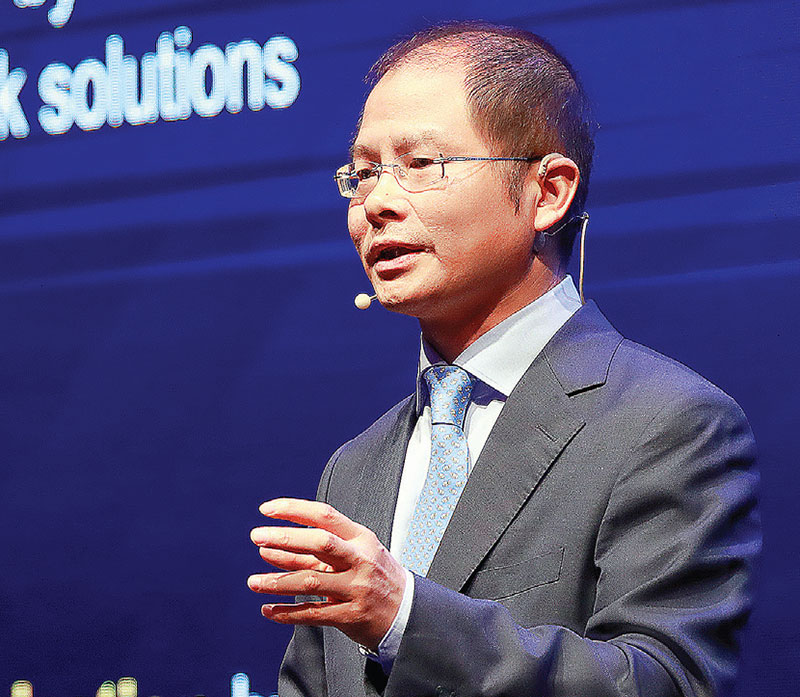 Eric Xu, Huawei rotating chairman
On finance, global Fortune 500 company China Pacific Insurance has constructed a platform together with Huawei, which has improved its customer data mining, promoted real-time query and converted data into assets. This is similar to a Chinese city where Huawei created a two-tiered cloud platform that has reduced the process time from two months to two days.
Visiting the Huawei headquarters in China, one can see (albeit cannot take photos and share them) various innovations that the company has enabled through a "AI architecture, which incorporates chips, algorithms, products, networks, cloud services, and O&M." The company has also launched a series of solutions, such as software-defined cameras, Huawei Cloud EI and SoftCOM AI.
Among the business-to-business (B2B) products and solutions displayed at the headquarters are the "smart cow," which safely detects when the cows would produce the highest quantity of milk; the "smart luggage" that weighs itself and features a unique locking and unlocking system; and a 4K television that displays four TV channels or four camera angles of a TV show (through possible partnership with TV stations) at the same window, or shows the Top 9 channels being viewed by all other viewers in real time.
"Innovation is key to the intelligent world," said David Wang, Huawei executive director of the board, and president of Products and Solutions. "Huawei's product and solution strategy centers around three concepts: All Connected, All Cloud, and All Intelligent. Based on these, we will continue to push forward with business and technology innovation across a range of enabling sectors like AI, 5G, cloud services, and IoT. We will build more open technological architecture and adopt a more open business model, working with customers and partners along the entire value chain to grow the industry and drive the development of digital economy. Together, we aim to build a fully connected, intelligent world."
Singleran Pro to tackle 5G challenges
Also highlighted in the headquarters and during the summit was the recently released 5G-oriented SingleRAN Pro solution, which (1) supports 5G while remaining compatible with 2G, 3G, and 4G platforms; (2) introduces highly integrated baseband units that maximize space and help lower overall site energy consumption and maintenance costs; and (3) deploys a mobile cloud architecture ensuring efficient resource utilization, on-demand base station deployment, and agile service provisioning.
Dr. Peter Zhou, chief marketing officer of Huawei Wireless Solution, said: "Huawei launched its SingleRAN solution in 2007 during the initial stages of large-scale 4G deployment. The all-in-one approach is an excellent answer for multi-RAT network deployment and also helps to significantly cut operators' CAPEX." He adds, "The release of SingleRAN Pro is the result of continuous innovation combined with extensive experience of several hundred network deployments over the past decade. Huawei looks forward to teaming up with global operators and industry partners to embrace the future challenges and opportunities of the 5G era."
In his speech, Huawei rotating chairman Eric Xu gave a teaser about the full-stack, all-scenario AI solutions that the company will release at the upcoming Huawei Connect conference in Shanghai later this year.
For more information about GIV 2025, visit www.huawei.com/minisite/giv/en.