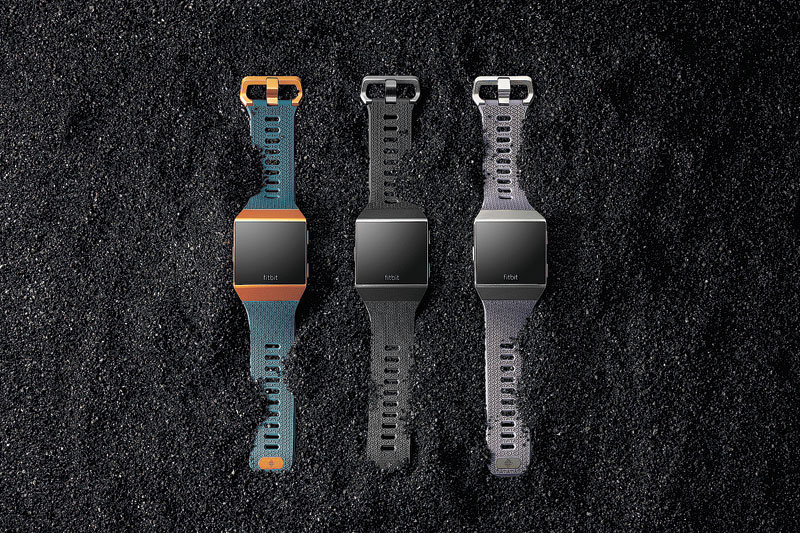 Three's the charm: The Fitbic Ionic comes in three cool colors – silver gray tracker and clasp with blue gray band, smoke gray tracker and clasp with charcoal band, or burnt orange tracker and clasp with slate blue band. Combinations: silver gray tracker and clasp with blue gray band, smoke gray tracker and clasp with charcoal band, or burnt orange tracker and clasp with slate blue band.

With every Fitbit of my heart
Kathy Moran
(The Philippine Star) - February 12, 2018 - 12:00am
MANILA, Philippines — Since I first used Fitbit, sometime in 2010, I have fallen in love with it.
A watch that was not too pricey, not too bulky, not too complicated to learn to use, Fitbit could count how many steps I took, which was the new way to workout (minus the gym) at the time. Today, step counting is still one of the most common ways people measure how much exercise they do for the day.
Stepping up, Fitbit has developed so many models – a clear sign of the brand's ability to keep up with the times and of its popularity, too. I have not tried all the Fitbit models in the market, but I must add that I like all the Fitbit watches I have tried. I also really liked the new Fitbit Ionic as soon as I saw it – orange face and blue strap, just perfect.
It took me about 30 minutes to get the whole system set up and synced with my smartphone –blame that on the slowness of the Internet connection at the office. But once up, everything was both new and familiar.
What's New
Ionic builds on Fitbit's health and fitness expertise with a new SpO2 sensor. This makes it possible to track deeper health insights like sleep apnea, GPS tracking for more device dynamic workouts and improved heart-rate tracking. The Ionic is also water-resistant by up to 50 meters.
Plus, there are other smart features like contactless payments, on-board music, smart notifications, and a variety of popular apps and clock faces available in the Fitbit App Gallery.
The Fitbit Ionic has all the core features from Fitbit, including up to five days of battery life, automatic activity, sleep-tracking, and cross-platform compatibility.
"Ten years ago, Fitbit pioneered the wearables category with the introduction of its first health and fitness tracker. Since then, we have become the leading global wearables brand, setting the pace of innovation in the category and establishing the largest social fitness network that helps millions of people around the world be healthier," said James Park, co-founder and CEO of Fitbit. "With Ionic, we are delivering what consumers have not yet seen in a smartwatch – a health and fitness first platform that combines the power of personalization and deeper insights with our most advanced technology to date, unlocking opportunities for unprecedented health tracking capabilities in the future."
Let The Tracking Begin
I fiddled with the Iconic Fitbit for a bit because there is something to be said about watches that I can personalize. I set to making the face of the Ionic my own (there are quite a few clock faces, too).
I picked "My Cat Inca" as my clock face. I was informed (based on the description of the face that appears before one installs it) that I need to "walk enough to feed Inca at least eight treats – or she will find someone else who will." The formula one treat = 10 percent of the daily step goal.
I liked it all at once. And I will find out by tomorrow if Inca will leave me – as I started using the Ionic Fitbit after lunch. This means I will not meet my step goal for the day.
What I like about the Fitbit Ionic is that it is for beginners as well as experienced athletes because it is equipped with the most advanced personal, actionable guidance to motivate me to reach my goals – all the while keeping me connected with apps and notifications, no matter what smartphone I own.
Loaded And Ready
If specs are your things, here is a list of what the Fitbit Ionic is loaded with.
• Up to five days battery life. With multiple days of battery life on a single charge (10 hours with GPS or playing music), Ionic will outlast any activity you do during the day and still track your sleep all night.
• Personal trainer with Fitbit coach. Access on-device step-by-step instructions for a seven-minute workout, 10 minutes abs and treasure chest, as well as dynamic workouts that adapt based on feedback you provide on your wrist.
•Running companion. Automatically track your run with the new Run Detect feature that kicks in GPS tracking – just step out of the door and go; see real-time pace and distance; auto-pause to grab some water or take a breather and automatically resume when you start running.
•New swim exercise mode. With water resistance up to 50 meters, and industry-leading lap counting, use Ionic in the pool and see your real-time laps, exercise duration and calories burned for pool swims.
•Industry-leading GPS. The unique design and integrated antenna inside Ionic provide a stronger connection to GPS and GLONASS satellites, delivering industry-leading GPS performance. Leave your phone behind and see pace and distance right on your wrist, as well as record elevation climbed, split times, and a map of your walk, run or ride in the Fitbit app.
•Improved heart rate technology. Ionic has enhanced PurePulse heart rate tracking with greater accuracy during exercises like cycling, intervals and running; better measure calorie burn, see real-time heart rate zones to optimize intensity, and track resting heart rate 24/7.
•New sensor technology. The introduction of a relative SpO2 sensor for estimating blood oxygen levels opens the potential for tracking important new indicators about your health, such as sleep apnea.
•Motivation through music. Leave your phone at home and find the motivation to jumpstart your workout by storing and playing more than 300 songs on device (2.5 GB of storage).
• The ability to make payments using Fitbit Pay. In the future, leave your wallet and phone at home and effortlessly pay for items right from your device, wherever contactless payments are accepted.
•Smart notifications you need most. With extended smartphone notifications, receive call, text and calendar alerts, as well as notifications from apps on your smartphone like Facebook, Gmail, Instagram, Slack, Snapchat and more.
Ionic runs on Fitbit OS, the company's new operating system for smartwatches that will be regularly updated to add new user experiences. This includes the launch of the Fitbit App Gallery, where you can select the apps and clock faces that appeal to you so you're always armed with the information you want most, in a way that reflects your own personal needs and style.
I know, I know there is still sooo much I have to learn about the Fitbit Ionic. But tomorrow brings a new day for living the fitness lifestyle, and I am ready to take the challenge – every step of the way.
Fitbit Ionic is now available at Digital Walker, Beyond the Box, iBook, Timeline, The Inboxstore, iLiberty, Globe Telecom, Proton, Mobile 1, Banana Telecom, iCenter Cebu, Ambassador, Abenson, Lazada, Zalora, and Shoplite stores in Philippines.