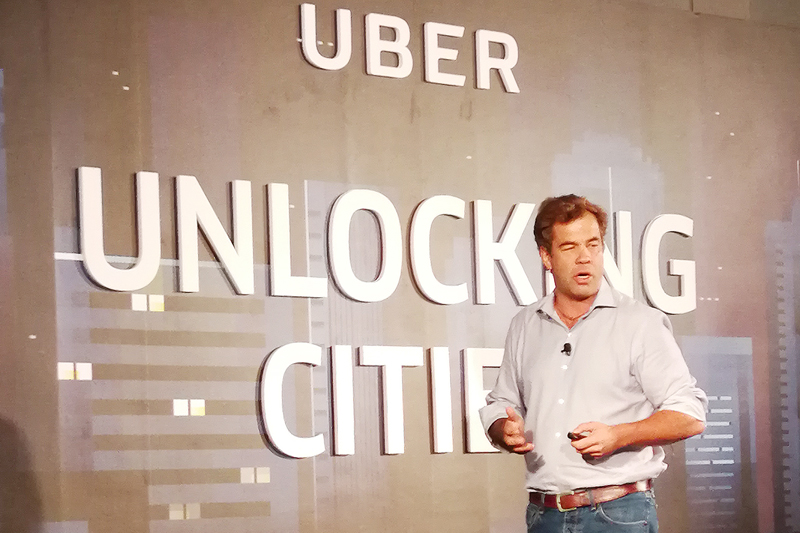 Brooks Entwistle, chief business officer, APAC at the Unlocking Cities event in Singapore, recently.
What if #Ridesharing were to become the main mode of private transport?
Kathy Moran
(The Philippine Star) - November 12, 2017 - 4:00pm
If Uber had its way #ridesharing would definitely be the way it would go. According to a study commissioned by Uber with the Boston Consulting Group on the impact of ridesharing in key Asian cities, it would result to 40 to 70 percent of cars or motorcycles off the road and a reduction of over 17 million private vehicles. There would be a reduction in congestion by between 50-90 percent across cities and, perhaps, almost eliminate congestion entirely in some cities.
But statistics are many and for those of us (myself included) who prefer to drive themselves — sometimes statistics are just a set of numbers.
So, to make us understand just how important #ridesharing is or will continue to be for cities in Asia, Brooks Entwistle, Uber's chief business officer, APAC asked us to participate in an exercise.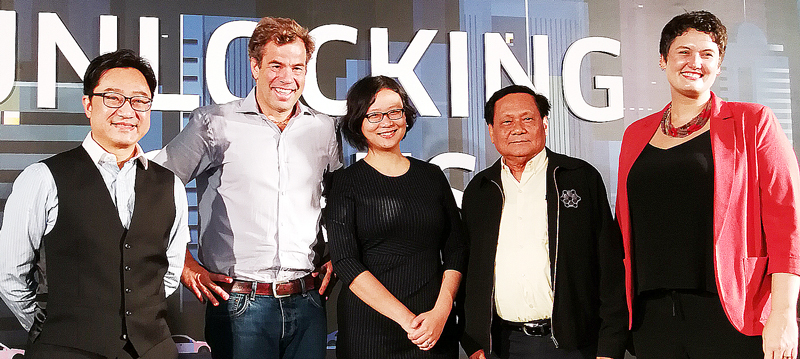 The panel discussion experts on traffic congestions and its solutions included Vincent Chin, Global leader, public sector practice Boston Consulting Group; Entwistle; Ai Kim, director of ASEAN advisory ZICO; Dr. Primitivo C. Cal, executive director PALANADES Consulting Firm and Amy Kunrojpanya, Uber director of policy and communications, APAC.

The event began with Entwisle asking us to sit to the stage — and, that meant sharing our seats (we were seated on boxes, which could accommodate at least four people — but on my box there were only two of us) to make sure there were four of us to a box.
"You can introduce yourselves to each other and make new friends, " said Entwistle. "What you will notice is that we are actually creating space by taking some of these boxes away."
We got the point — as we began to share our boxes (with people we didn't know) — and the extra boxes were removed from the room — more space created. It was that simple.
"Think of these cars being taken away because you are sitting two, three or four to a car, you are sharing a ride and that is actually what we are going to talk about today in the 'unlocking of cities,'" added Entwistle.
Sharing Is Caring
Uber has made it its mission to provide riders a way to get a ride, not just any ride. Uber aims to provide rides that are safe, reliable and that arrive on time and get you to your destination safely.
For the drivers Uber wants to be able to make them bring their passengers where they are going and in so doing share their cars with their passengers. But, most importantly Uber rides create economic opportunities for the drivers.
And, there is more — with uberPOOL there is a move to solve the traffic problems in the cities in Southeast Asia — this is why Uber has started to work with government regulators.
"There are a lot of cars in Asia and we are here to help riders, drivers and cities — to unlock the cities," quipped Entwistle. "Asia also suffers from the highest air pollution in the world — 80 percent of that can be attributable to transport we take every day."
As I listened to Entwistle I wondered whether he was against my fave thing to do — drive.
"But we want to be very clear today, Uber is not against cars — this is not a car issue," he added. "What we want to do is put more people in fewer cars and by doing this what we achieve is that we create space and lessen the congestion."
It got me to thinking about just how often I am by my lonesome in the car — I had a silent argument with myself — it is safer is my main reason for opting to drive a car daily, regardless of the traffic.
I thought to the few times I had opted to take an Uber because it was impossible to get parking in a place where I was going — and I knew that that choice made my life easier.
But, uberPOOL, am I ready for that?
Well, it seems to be the way of the young folks. I remember when I was an Uber driver for a day and one of my young passengers told me that she takes uberPOOL all the time.
"It's like riding with all my friends, who are also my neighbors," Uber passenger said. "We are all going to almost the same place in Makati — and the uberPOOL ride is kinda cool."
I recall listening to what she was saying; still unsure if I would take an uberPOOL — I like my privacy, I thought to myself.
"In order to be able to do this we have to be able to offer a reliable, safe, quick, and there when you want ride," Entwistle words broke my wandering thoughts. "We need to reduce the waiting time for the ride and we need to cover the whole city. We need to be able to go places that people want to go and not just in a to the CBD area."
#Ridetogether
It was because Uber found out through the studies that they did that most of the people who took the Uber rides were going to the same place.
"And this is why we came up with uberPOOL, " exclaimed Entwistle. "We are very excited about the uberPOOL concept."
Entwistle was in Manila a few weeks ago. He shared with us that Uber noticed that uberPOOL rides were going to where a lot of passengers of other forms of transport were going. He added that it was normally that a work area or heading out to a residential area.
"We know there are patterns and we know we can get more people into these cars and ride together," he added. "Since it started, 40 percent of the rides we do in Manila are done on uberPOOL. We have changed the way the people have opted to take rides in the city."
Manila is one of the success stories of uberPOOL,, so is Singapore.
What was believed to be an alien concept in the past has taken flight in Metro Manila and Uber feels that the way Filipinos think about ride sharing is changing — for the better.
When I was younger it was my dream to get a driver's license and one day be able to drive my own car. This explains my love for driving. My late father was also a huge car lover.
"We believe that habits are changing in Asia," said Entwistle. "My 15 year-old daughter, who is a regular Uber rider, has not even asked about a driver's license or even thought about getting car. Habits are changing and they are happening fast in Asia."
But beyond carpooling — Uber wants to be able to make Uber sharing part of the transportation network that governments have to deal with.
"We want to keep building parks and creating space that is good for our riders, our drivers and our cities," said Entwistle. "It is connectivity and people working together — and that is a very powerful solution."
14 Reasons to try UBERPOOL
1. By 2030, Asia's motorized transport emissions will be responsible for up to 31 percent of global aggregate emissions;
2. Asia suffers from the highest levels of air pollution in the world, with as much as 80 percent attributable to transport;
3. Road congestion costs Asian economies an estimated two to five percent of gross domestic product every year due to lost time and higher transport costs;
4. On average, people are stuck in traffic jams 52 minutes every day;
5. People spend an additional 26 minutes looking for parking;
6. 72 percent have missed or been late to an important event due to problem finding a parking spot;
7. 43 percent of people have missed or been late to a wedding;
8. 63 million miles of travel is saved. That's greater than the distance between Earth and Mars;
9. 1.3 million gallons of gas are saved — that would fill more than nine Olympic swimming pools;
10. 11,300 metric tons of CO2 ( for the environment);
11. Shared self-driving cars could reduce the number of cars on the road by 90 percent;
12. 55 percent of people in Asia consider ridesharing services an alternative to owning a car;
13. The more people use shared modes, the more likely they are to use public transit, own fewer cars, and spend less on transportation overall;
14. There is a need for a parking lot 25 times the size of Hong Kong to accommodate all the cars in Southeast Asia.
* Data from various surveys and studies by Uber